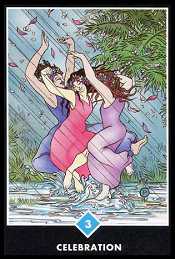 Three Of Water – Osho Zen Tarot Deck
I. The explanation of Three of Water Osho Zen Tarot
The image of three women dancing in the wind and under the rain reminds us that: to create a memory, we never need to depend on external circumstances. We do not need to wait for a special holiday or a solemn occasion, a sunny or cloudless day. A true celebration comes from joy, from the first deep experience together, and then spread into songs, dances, laughter, and yes, even tears of gratitude.
When you withdraw Three of Water Osho Zen Tarot, it implies that you are becoming more and more willing and open to taking on all the opportunities that exist in life, and you should spread this to others. Don't worry about how to plan a party on your calendar. Take off your hair, take off your shoes, and start mischievously splashing in puddles right now. The party is happening all around you at every moment!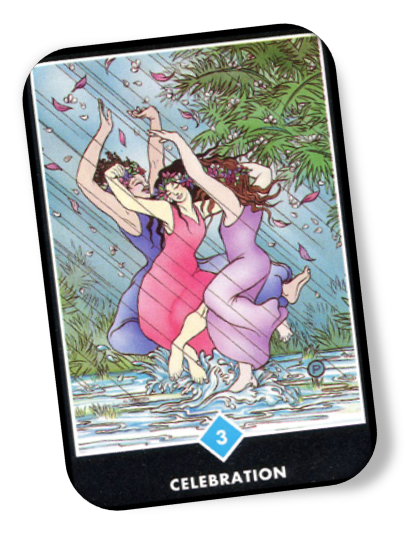 II. The energy of Three of Water Osho Zen Tarot based on Osho's teachings
Life is a moment to celebrate, to enjoy. Make it fun, a celebration, and then you will enter the temple. The temple is not for the long-faced, it has never been for them.
Look at life–do you see sadness anywhere? Have you ever seen a tree depressed? Have you seen a bird anxiety-ridden? Have you seen an animal neurotic?
No, life is not like that, not at all. Only man has gone wrong somewhere, and he has gone wrong somewhere because he thinks himself to be very wise, very clever. Your cleverness is your disease. Don't be too wise.
Always remember to stop; don't go to the extreme. A little foolishness and a little wisdom is good, and the right combination makes you a buddha.
Source: Osho, I Celebrate Myself, Chapter 4