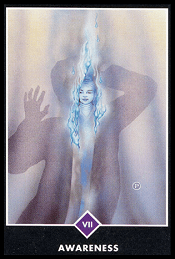 The Awareness – Osho Zen Tarot Deck
I. The Commentary of The Awareness Osho Zen
The illusion curtain or "maya", which prevents you from perceiving reality as it is, is on fire. That fire is not burning with passion, but a cold flame of awareness. When the curtain is being burnt that you will see the Buddha's elegant and pure face.
The growing awareness inside you is not a conscious action consequently, and you do not need to do something. When you use any senses to search in the dark that is disintegrating or soon dissipating. Be calm and remember that there is always exists a witness who is forever silent, conscious and immutable inside you. Meridians compare as dreaming activities, are being opened to flow to enlightenment.
The Awareness Osho Zen will help you get rid of the dream, and the new awareness will unlock the level of curtain out of your eyes.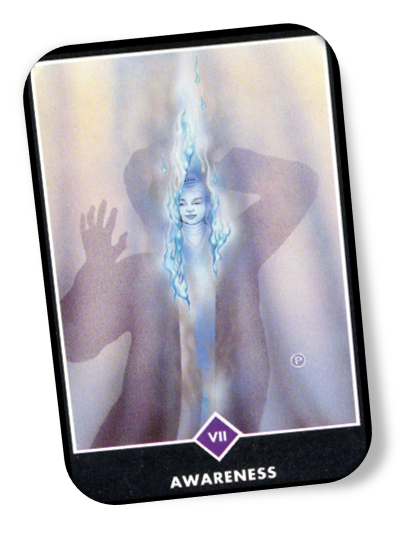 II. The Meaning of The Awareness Osho Zen
The intelligence can never be knowledgeable whereas mindfulness is knowledgeable. The mindfulness is primitive and coherent and only revolutionary mindfulness – a revolution in action.
This mind is making you a fool. Pressed by past memories, burdened by expectations of the future, you continue to live, though – "living" in the minimum sense. Since you are not living at the peak, your fire is dim. And, once you start letting go of thoughts, a new flame is going to break out – clear, bright, vivid, youthful.
When the Awareness Osho Zen appears, consequently, your whole life becomes a flame without smoke. It is all about awakening.
More The Chariot Cards from Famous Tarot Decks
1. The Chariot Rider Waite Tarot
The Chariot Rider Waite carries a picture of Julius Caesar the magnificent combat vehicle in the battlefield into Rome. He defeated the enemy and collected many spoils and lands. 
<< See More >> The Chariot Rider Waite Tarot Card Meanings
2. The Archer Wildwood Tarot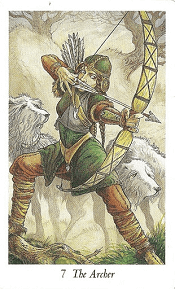 The Archer Wildwood wears a simple talisman, present quietly but confidently and intentionally. The two giant hounds beside her are metaphorical images for the messages of strength she holds within her.
<< See More >> The Archer Wildwood Tarot Card Meanings
3. The Chariot Deviant Moon Tarot 
The Chariot Deviant Moon Tarot is ready to travel across the town. Overcoming adversity in his past makes him strong, and now he is using those experiences to move into new lands.
<< See More >> The Chariot Deviant Moon Tarot Card Meanings