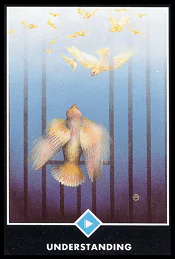 Page Of Water – Osho Zen Tarot Deck
I. The Explanation of Page of Water Osho Zen Tarot
The birds in the Page of water Osho Zen are looking outside, from what looks like a cage. This cage has no doors, and the bars are disappearing. The bar is an illusion, and this little bird is being summoned by the grace, by the desire for freedom and encouraged by the other birds. It is spreading its wings and getting ready for its first flight.
The dawn of new knowledge – the cage is always open, and the sky is always there for us to explore – can make us tremble a little at first. It's okay, and trembling is natural, but don't let it eclipse your chance to experience relaxation and adventure, right there alongside the trembling. This time, move with sweetness and courtesy. Feel the vibe inside you. Spread your wings and feel free.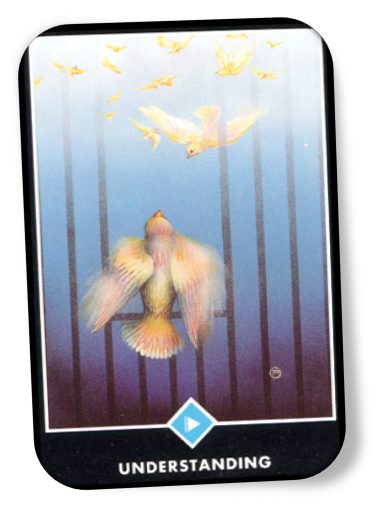 II. The Energy of Page of Water Osho Zen Tarot Based on Osho's Teachings
You are out of jail, out of the cage; you can open your wings and the whole sky is yours. All the stars and the moon and the sun belong to you. You can disappear into the blueness of the beyond… Just drop clinging to this cage, move out of the cage and the whole sky is yours. Open your wings and fly across the sun like an eagle. In the inner sky, in the inner world, freedom is the highest value – everything else is secondary, even blissfulness, ecstasy. There are thousands of flowers, uncountable, but they all become possible in the climate of freedom.     
Source: Osho Christianity, the Deadliest Poison and Zen, the Antidote to all Poisons, Chapter 6