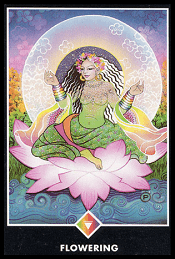 Queen Of Rainbows – Osho Zen Tarot Deck
I. The Explanation of Queen of Rainbows Osho Zen Tarot
The Queen of Rainbows Osho Zen looks like an imaginary tree that is at its peak of flowering and freshness. She is very erotic, lively, and full of surprises. She snapped her fingers to the music of love, the zodiac necklace was cleverly placed so that the Venus symbol would be at her heart. Her sleeves contain lots of seeds, and when the wind blows through, the seeds will be scattered to take root where they may. She didn't care whether they land on the soil or on the rocks – she just scattered them everywhere while enjoying life and love. Flowers fall on her from above, in harmony with her own flowering, and the stream of emotions swirled mischievously beneath the flower on which she sits.
You can feel blessings from everywhere like being in a flower garden at the moment. Welcome the bees and invite the birds to drink your nectar. Spread your joy around for all to share.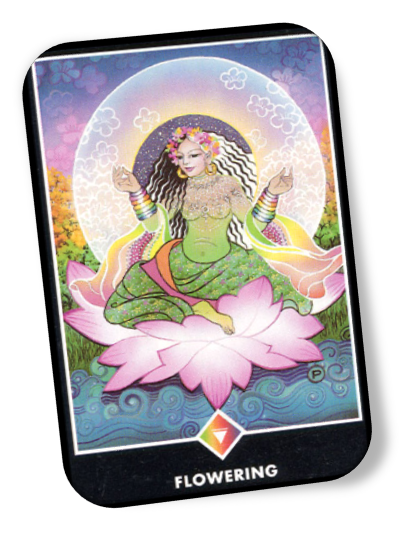 II. The Energy of Queen of Rainbows Osho Zen Tarot Based on Osho's Teachings
Zen wants you living, living in abundance, living in totality, living intensely – not at the minimum as Christianity wants you, but at the maximum, overflowing. Your life should reach to others. Your blissfulness, your benediction, your ecstasy should not be contained within you like a seed. It should open like a flower and spread its fragrance to all and sundry – not only to the friends but to the strangers too.  This is real compassion, this is real love: sharing your enlightenment, sharing your dance of the beyond.   
Source: Osho Christianity, the Deadliest Poison and Zen… Chapter 5