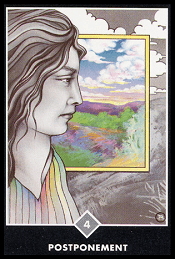 Four Of Clouds – Osho Zen Tarot Deck
I. The Explanation of Four of Clouds Osho Zen Tarot
Four of clouds osho zen tarot describe the woman in this picture is living in a gray landscape, full of unreal, cut-out clouds. Through the window, she could see colors and light and aliveness, and although she wanted to move out of the window – as we could see rainbow colors appearing on her clothes – she still can't control to do it. There were still too many "what if" activities in her mind. Tomorrow will never come, they say, but no matter how many times it is repeated, it seems most of us tend to forget the truth about it.
In fact, the only result of procrastinating everything is a dull and saddening feeling of incompletion and 'stuck-ness' today. The support and expansion you will notice once you put aside the stagnant thoughts that are preventing you from acting now will make you wonder why you ever waited so long.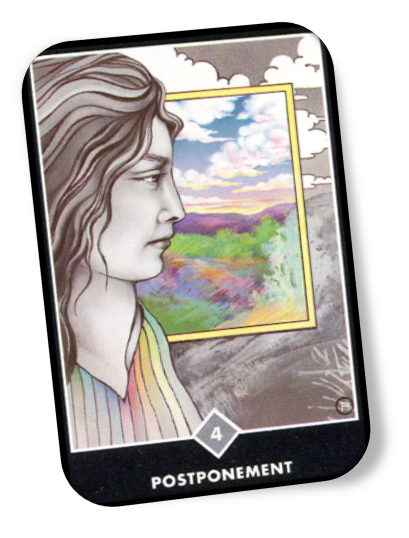 II. The Energy of Four of Clouds Osho Zen Tarot Based on Osho's Teachings
Postponement is simply stupid. Tomorrow you will also have to decide, so why not today? And do you think that tomorrow you will be wiser than today? Do you think that tomorrow you will be livelier than today? Do you think that tomorrow you will be younger than today, fresher than today?
Tomorrow you will be older, your courage will be less; tomorrow you will be more experienced, your cunningness will be more; tomorrow death will come closer–you will start wavering and being more afraid. Never postpone for tomorrow.
And who knows? Tomorrow may come or may not come. If you have to decide right now. Dr. Vogel, the dentist, finished his examination on a pretty young patient. "Miss Baseman," he said, "I'm afraid I'm going to have to pull out your wisdom teeth!" "Oh, my!" exclaimed the girl. "I'd rather have a baby!" "Well," said Dr. Vogel, "could you make up your mind so that I can adjust the chair?" Make up your mind. Don't go on postponing infinitely.              
Source: Osho Dang Dang Doko Dang Chapter 8