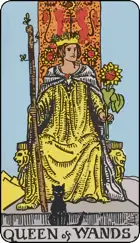 Queen Of Wands – Rider Waite Tarot Deck
I. Queen of Wands Rider Waite image description
The Queen sitting on the throne which is decorated with two lions facing each other, the lions are the symbol of fire and strength. In the left hand and behind her is the sunflower, symbolizing life, fertility, joy, and satisfaction. She holds a stick in her right hand.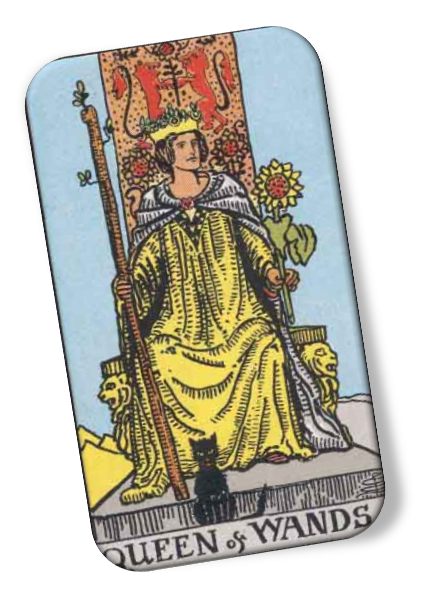 In the positive aspects, the Queen of Wands represents loyalty, warmth, and nurture. However, there is a black cat sitting under her feet which symbolizes the lesser known aspects of the Queen. The black cat is a mysterious symbol and is associated with magic and witchcraft. It represents the independence of the Queen and her concern in the occult powers and the energy of magic.
The personality of the Queen of Wands combines the positive energy of the element Fire of the Wands set with the Queen's inner focus. She was the most celebrated of her class. She is always attractive and has an eye-catching look in classic style. Her warm smile and gentle attitude always bring her lots of friends and admirers. She spreads out her energy and enthusiasm. No matter what the task is, she will perform with dedication and devotion. Nothing can discourage her.
She is always optimistic and cheerful, ready to look for positive things in every situation. Her life is always fulfilled and busy, and she likes it that way. She wants to go and work. She kept this style because she was always healthy and keep the full spirit. She also has a good motor spirit, naturally strong and knows how to work with others. Though she has never been complacent, Queen always has a deep belief in her own abilities. Her silent confidence that came from knowing she could accomplish anything she thought and believed she could do it so.
The Queen of Wands is a natural extrovert and likes to be the center of attention. She is a lovely person who always makes a strong impression, making her friends love her sweetness, warmth, and charm. She wants to be famous. She has great communication skill and attracts people to be on her side with the reputation and positive energy. She has dreams of becoming a celebrity, whether in any field.
The downside of this card is that she occasionally becomes stubborn, especially when she has pursued her ambition or aim for too long and burned herself in this process. Sometimes, she can also be a fraudulent, autocratic, irritable, righteous and even dictatorial, especially when you criticize her bad sides. She also has the fiery, indescribable passion with a bad-tempered personality. She may get mad, scream, and then hug you tightly, all happen within an hour.
<< Other Queen Cards >> Queen of Swords – Rider Waite Tarot
II. Queen of Wands Tarot Card Meaning
Fascinating, Wholehearted, Enthusiastic, Cheerful, Confident.
Fascinating
Attractive and famous;
Make a strong first impression;
Make friends easily;
Has a strong charm;
Warm and intimate.
Wholehearted
Full of enthusiasm;
Work with dedication;
Take action with devotion;
Be open and honest;
Do not impede anything.
Enthusiastic
Control a busy and dynamic life;
Vibrant and powerful;
Be healthy and full of vitality;
Born to be an athlete.
Cheerful
Words encourage everyone;
Shine anywhere;
Have a tendency to be happy and warm;
Sadness can be easily removed.
Confident
Express your confidence silently;
Resolve the situation with confidence;
Not easily confused and provoked;
Be free and comfortable when it comes to failure;
Have faith in your ability.
<< Read more >> Queen of Cups – Rider Waite Tarot
III. Queen of Wands Upright Card Keywords
excited mood, warm, lively, determined
Words and Keywords
The Queen of Health and Family, Joie de vivre, the majesty/magnificent, dominance, ambition, the center of attention, social status, to be admired, sexual preference, self-affirmation, emotional expression, capacity / ability, leadership, good sense of business, flexibility/resourcefulness, full of energy, warmth , lively and vivacious, courageous, daring, confident, visionary, an attractive woman, charismatic, mature, successful career, love the family, independence in thought, generosity, love nature, the power of positive thinking.
Introduce
The Queen of Wands is a feminine energy source that dominants Fire element. She is not afraid to prove her strength to others, nor does she hide away from any challenge. Therefore, she is a strong leader who always focused and determined to achieve her wishes. Likewise, she speaks of the power, independence and the ability to take care of yourself and maintain your creative vision, even facing the adversity. You know what you want and how to get it, and you are the master in collaborating with others to achieve your goals. Your talent is determination and ability to focus on your goals while being friendly and optimistic about the surrounding people.
This is one of the most "fertile" cards (both literally and figuratively) and carries the most female power in the Tarot deck. During a spread, like other Court cards, the Queen of Wands implies a real human being in our lives, especially women. The Queen carries good energy and is a positive sign.
Overview
This Queen card is a high energy source and leads a busy and dynamic life. She is full of enthusiasm, with plenty of energy and inspiration. The Queen was born to be an intelligent leader who constantly inspires others. She is a source of motivation for others through her vision, courage and determination. She penetrates the confidence inside of you and gives you the strength and faith that you can achieve whatever you want.
This card can also refer to a woman who carries a lot of energy which belongs to the Fire element, such as the Aries, Leo, and Sagittarius. If this card does not imply a real person, it can represent many achievements which are often related to the job or career of the querrent.
The Queen of Wands carries positive and high energy. When this card represents a woman in your life, she is likely to be a good friend who is close to you, even if she seems a little too self-interested. If you are trying to conceive and this card appears, it is one of the most positive signs that good new will happen.
Work
When this card appears in a spread, it may be a message that you are about to reach a remarkable deal in a short time. This is a very positive sign. If you are looking for a job, the Queen may imply that a woman will help you find a new job. After all, everything will advance professionally.
Love
The Queen of Wands is a very positive sign in the context of a love affair. If you are looking for a lover, the card tells you that you will find someone suitable for you through an acquaintance. If you do not feel confident about yourself, try to get rid of these messy and helpless feelings, believe more in yourself and then the Universe will bring you the right one as well as the necessary support that you want and need.
Finance
You may be in the mood for shopping when this Queen card appears. If so, try to moderate or you will regret your spending. This does not mean something bad, it just means that you are not thinking carefully before spending money. Let's start to slightly cut off with the expenses for items around your home. However, repairing and decorating your home does not have to be so costly, use money wisely.
Health
In general, this card is a very positive sign of health. Your energy and vitality are extremely good. If you can afford to be pregnant right now, whether you are ready or not, Queen predicts that you will soon get it. So if you are not ready to be a parent, now you know what to do! You seem to be too excited when this card appears, just take the time to relax, no matter what happens.
Mentality
You may become thirsty for spiritual experiences when the Queen of Wands appears. Although there is nothing wrong with this, remember to not let yourself be drawn into the thought that you suddenly find the "divine" answer for the whole things which you seek for your life and then give up everything you have to get into a mental/spiritual community in another country. You should take time to read, meditate and talk to many people before having major changes in life. Your discoveries are very precious. Remember that making large and sudden life-changing without considering carefully only bring disadvantages for you.
Situation and advice
A sensible and attractive woman can give good advice. The energy, independence in thought, kindness, and generosity of this Queen card promise the great success with any project that she initiated. She is a rational woman with a business instinct, who can also be the center of all activities of an event. The Queen who has this extroverted spirits favors fair competition and wisdom. Her assertiveness and excellence have convinced others to follow her purpose.
The Queen of Wands highly recommends you to be strong and courageous in your undertakings and actions. Your creative energy is quite high and you have a good sense of direction in your life. You are very optimistic, confident, full of ideas and ready to make them as well as share with others. You have the ability to express your passion with great authenticity and courage.
Human
A bold and daring woman, a woman who focuses on her career, a business partner, a single woman with a high social status, a female boss or a female supervisor; a sophisticated, mature and supportive woman; female hero; people who guard fiercely for the benefit of themselves and their friends; a woman who is full of vitality, energy, joy and assurance; businessman/woman.
A woman who involved in many projects; a dedicated wife and mother; a married woman who is energetic and enthusiastic, the almighty woman, a helpful friend who is popular, a generous and wise woman, but sometimes skeptical and aggressive, who overpowered her supporters; a kind, loyal, generous, confident and competitive woman; the woman who loves her career and the spotlights but also values her family, a rural woman.
V. Queen of Wands Reversed Keywords
cautious, gruff, strict requirements
Words and Keywords
Personalism, short-sighted mind, unbridled ambition, jealousy, rigorous demands, ruthless competition, betrayal, moody, temptation, a lie, strictness, dominance, lack of organization, faithless, untrustworthy, bitterness, paranoia, irritability, the hatred of the male authorities, neurological disorders, gender dysphoria.
Introduce
The Queen of Wands reversed may imply a woman who is very kind and helpful to others. This woman may be your friend, or a woman that older than you, a very sympathetic one and a giver. This card, whether in reverse or upright, also represents the fertility in every form.
Overview
In general, this reversed card may imply that sooner or later you will need to help those who are having problems. The card may also refer to the possibility that an older woman wants to help you with the difficult situation which you are facing, but for some reason, her intentions cannot be fulfilled. However, her mental support is still very useful. If you are coping with a difficult situation, call for help.
Work
When the Queen of Wands appears in a spread about work, it may be that in the short term you will encounter obstacles and delays which will cause you to feel frustrated. Do not handle these things personally, simply solve them one by one. There is a possibility that an older woman at your workplace (or someone in the hiring department if you are looking for a job) is creating obstacles for you. Do not be discouraged, just show her the obvious reasons why she should do it your way (or hire you). If you can handle it, you will achieve more successes than you think.
Love
Considering the context of love, an older woman may be indirectly related to your relationship. If that woman is your "mother-in-law", try your best to make her be more friendly with you, regardless of what you think of her. If you are looking for love, you may find an interesting person who is likely to be with you through an older woman. Let every woman in your life know about your intention to meet someone new, they will help you pretty much!
Finance
Just like the upright meaning, the Queen of Wands in reverse may imply a tendency to spend too much money. There is a reason why people say "money can't buy happiness". But at the same time, you do not need to tighten your belt way too much and refuse to spend any money, or become too stingy. Spending money moderately and appropriately is the key to balance your financial situation as well as to enrich your life and other people's lives.
Health
Generally, this reversed card implies a healthy body and positive state in a spread about health. If you do not feel good about your health, ask a healthcare professional for advice, as she (or he) may be the one who gives you very important and useful advice. The Queen of Wands is generally associated with the fertility. If you have been trying to have baby but failed, this card becomes a motivational encouragement that you should not give up and take the time to seek additional help from the outside, such as seeing an obstetrician and discussing your problems and efforts. In addition, you should try to relax to relieve stress.
Mentality
A woman who is older and tends to be dictatorial but persuasive may be trying to convince you that she has all or some of mental answers. You may need to communicate less with this person so that you will not be drawn into something that is good for her while you are not interested in. She may be angry or hurt by this, but remember that no one has the right to tell you how to live your spiritual life. It is important that you need to meditate and experience this aspect by yourself.
Situation and advice
A consistent woman who has neurological disorder can intervene in your plans by insisting on doing things her way. This aggressive woman will use every trick to get what she wants. You or someone who is close to you may use an emotional blackmail to prevent others from making independent efforts. Be careful not to stick your nose into other people's business. Do not try to show your worth to the surrounding people.
The Queen of Wands reversed describes a situation where a person behaves self-centered or selfish. You or people around you are in a bad mood, angry, resentful or jealous. You may be attacked or bullied, or are behaving this way. Misinformation and distorted truths become liars. Someone is making strict demands, taking control or behaving petty and narrow-minded.
This Queen card also points out that you recently have lost faith in yourself and became scared and afraid. You avoid the limelight and worry that others may think that you are no longer attractive. You have even been disgraced and slightly embarrassed about your reputation. What you need to do is restore confidence in yourself. You should release positive energy from within and remember that you can fight anything when you put your mind to it.
Human
An erratic woman who has no concessions and always demands to do things her way, who has superior experience; the woman who oppresses, harsh, strict and untrusted; someone who minds other people's business, the busy people, people who do not listen, people who think they are always right even when they are wrong; people who pretend to be respectable, dignified, and always trying to impress others.
In a Tarot spread, the Queen of Wands Tarot card asks you to think and feel like she does. For example: Do you consider yourself attractive? Do you believe in yourself? Do you have full of energy? Can you dispel sorrow? Are you energetic about life?
This card also represents a man or woman who resembles the Queen's character or implies a cheerful, energetic and confident atmosphere. This Queen card tells you that her special flow of energy is meaningful to you at this point. Let yourself be inspired by this card in whatever form of her appearance in your life.