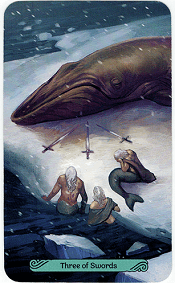 Three of Swords – Mermaid Tarot
Image description on Three of Swords Mermaid Tarot
The giant fish breathes its last weak breath, and with it, a light brings the whale's soul back to heaven. The mermaids and mermen weep, grieve, and fall to their knees in helplessness as their brother dies, knowing they are too late to change the circumstance. The best they can do right now is to witness the whale's death, express gratitude for what he brings to life, and make sure his energy is returned from the material world in harmony with the vibrations of the world.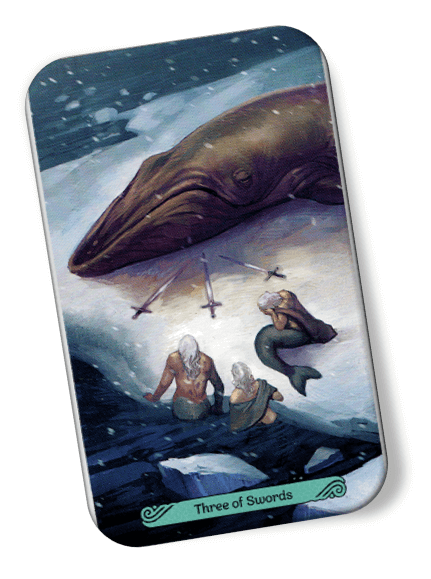 Sometimes, that is what we need to do – non-judgmental, respect the cycle, and honor the dead. Pain can be a way to send them off without judgment. It is a sacred act, an action that these mermaids and mermen understand very well.
The message of Three of Swords Mermaid Tarot in a reading
This time, if you recently broke up or quit the job you love or argued with friends, it is not difficult to understand when the Three of Swords Mermaid Tarot appears in your reading. Although the card is heavily associated with unhappiness, you should look at it from a more positive perspective, this hurt gives you the right feeling.
When you draw this card, consider the situation carefully and try talking to the people around you. You should not make assumptions yourself but listen to your heart to locate the core problem.
Besides, not only is it a warning that others are intending to hurt you, but the Three of Swords Mermaid Tarot also shows your intention to hurt someone. The most important thing about this card is that we, each of us have a dark part and we do make mistakes. The final value is still to believe in the good things in life and to strive to pursue that ideal. So when you slip and fall, you should forgive yourself as well as others and learn to deal with obstacles in life.
Meaning of Three of Swords Mermaid Tarot in the upright position
The Three of Swords Mermaid Tarot brings pain. Sometimes the pain is yours and sometimes it is not. Either way, you will feel it anyway. There is no such thing as mental anguish brought on by your current circumstances that linger in your head forever, so learn to memorate them. See it as a spiritual departure, something necessary for new things to appear. Within the pain is the seed of joy, and these two cannot live without each other, even though they are not exactly two sides of things. You will find a spiritual lesson in this, but maybe not this time.
Although the image on the Three of Swords Mermaid Tarot is not appealing, you should remember, this card does not have a bad meaning. It also has the other side of expressing understanding and joy, directing people to feel and experience sadness to be fully happy. The querent needs to address an important emotional issue before moving on, do not deny it because it will not go away. You need to pay attention to the same balance as the Two of Swords, allowing yourself to experience the pain but not wallow in it.
In the general context, the Three of Swords represents unhappiness, heartache, sorrow, and sadness. It is a Minor Arcana card that represents grief, loss, depression, and tears. When it appears in your Tarot reading, it usually indicates a difficult or arduous period, usually on an emotional level. This card represents serious distraction, conflict, disillusionment, and misunderstanding, so whatever situation it presents will bring confusion, discomfort, and upheaval.
The upright Three of Swords Mermaid Tarot also indicates depression, trauma, disorder, loneliness, absence, and betrayal. You have suffered or will suffer some loss or betrayal when this card appears. You will feel this loss on a deeply emotional level and you must give yourself time to process what has happened.
In terms of work and finance, this upright card shows that your feelings and ego are hurt because of work. Let's accept that you cannot understand or do something well. Sometimes, you need help to get better, do not hesitate to ask for help. In case you are in the job search stage, you may end up moving into a different field than the one you are pursuing. The only advice at this point is to persevere, and not to be discouraged with the road ahead.
This is a sad message for finances, do not be too scared because it will not help you much. Better yet, consider the situation and come up with a solution, take it one step at a time to be sure. If the situation is not too positive, you should not think too much about the distant prospect. 
In terms of romantic relationships, the upright Three of Swords Mermaid Tarot shows that you are struggling and both sides are suffering a lot. For this love to flourish, you need to act, talk and think about the future. Recently, maybe you feel that your partner does not care or love you, and that is the core problem. You should find a new right direction instead of holding on to sadness and heartache for too long about asking someone to give you love.
The Three of Swords in the upright position can indicate a breakup, divorce, separation, and legal issues related to such events. This Minor Arcana also implies the involvement of a third party. This could mean interference from another person trying to break you up. In some cases, it can represent deception or infidelity as it is a card of volatility and betrayal.
In terms of health and spirit, if you expect good health, the upright Three of Swords Mermaid Tarot means the opposite, it is not as good as expected. The cause is said to come from your depression or anxiety. The advice to you is to keep a positive attitude, that is the most important thing right now. At the same time, remember the doctor's advice, combine with manifesting a healthy mind.
Spiritually, the Three of Swords indicates that you are in need of healing. Recent events or losses have left you feeling down and melancholy. You may feel some consolation to have at this time. Yet our greatest sorrows often provide us with the greatest opportunities to grow, learn, and evolve as divine beings. Reach out to people you trust for support at this time and allow yourself time to grieve the loss you have experienced. Be open to the messages your spirit guides are sending you, they are there to direct you through this storm.
Meaning of Three of Swords Mermaid Tarot in the reversed position
The time to be sad is over. You have to resume your role in this unending process, and now you need to get back to your life. Mindfulness is only a temporary action, never let it last longer than necessary because your energy will be carried from one cycle to another. This is your signal to move forward. Let's pick up the Three swords and let this phase fall behind.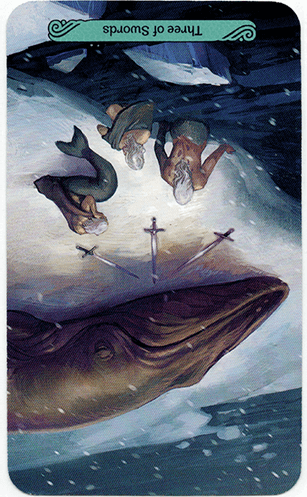 If the Three of Swords Mermaid Tarot appears reversed, the feeling is healing, indicating a brighter future. You can deal with the pain and sadness that you have encountered in the past. The card signals that you may receive a disappointment, which is not too big but enough to turn your life upside down. At that time, things do not go as expected, but you should still let yourself feel and experience it no matter what the outcome is.
In a general context, the reversed Three of Swords represents overcoming unhappiness, heartache, sorrow, and sadness. When reversed, it is a Minor Arcana card of optimism, overcoming grief or depression, and releasing pain. When it appears in your Tarot reading, it usually indicates that you are recovering from pain and getting through the worst of a bad situation or event. You can reach out to a friend and share your problem or reconcile with someone you have been hurt by in the past. You may have reached a compromise or come to a point where you can forgive and let go of past hurts.
Also, the reversed Three of Swords has a flip side. It could be a sign that you are suppressing pain, sadness, or traumatic memories. That you are refusing to let your negative emotions out and are trying to suppress your pain.
In terms of work and finance, when the reversed Three of Swords Mermaid Tarot appears, it can be very easy to misunderstand others at work. The advice is that if you have a problem, you should ask questions to get the answer instead of assuming and fantasizing. Everyone is hurt at times, and so do you, so there is no need to be too sensitive to this card. Faced with many situations, you should let them happen and not worry too much.
You are in a state of worrying about money too much, so take a deep breath to balance. This card also shows that this is not the right time for you to invest. It could indicate that you are starting to see the light at the end of the tunnel after a difficult time in terms of finance. You may be able to come to a compromise with the lender to repay the loan, or they may agree to some degree of forgiveness. Maybe you are reaching out to support or help with your financial problems and you will feel much more positive when that shows up in your Tarot reading.
In terms of romantic relationships, the reversed Three of Swords Mermaid Tarot is talking about misunderstanding, suffering, and sadness. Because just recently, the relationship or person you believed would last for the rest of your life officially broke up with you. You may be holding onto your sadness and not wanting to let it go. Your partner may have betrayed or hurt you in the past and you are continuing to focus on this and feel unable to forgive them.
You should not hide from your feelings, just allow yourself to be in pain but do not let the torment take over. Everyone has more than one soulmate, remember that when one door closes, another opens.
The lines of communication are open again, and your relationship has a good chance of getting better as you release the pain you are carrying. You need to find out if you can draw a line in the past and move forward together. If you cannot, it might be time to let them go so you can both move on to something healthier.
In terms of health and spirit, you should check your health and go to your doctor to get advice. You should not disregard the guidance of professionals, and at the same time, listen more to your body.
Spiritually, the Three of Swords Mermaid Tarot in reverse can indicate times of forgiveness and healing after a loss or heartbreak. Recent events or loss left you feeling down and grieving, but you have worked through that and are finally healing the grief. Alternatively, it may indicate that you are trying to suppress your sadness, unwilling or unable to let go of the despair you feel. When we are consumed by grief and pain, we often close ourselves off to the messages our spiritual guides are sending us. Try meditation to help heal the wound and allow the direction your spiritual guides are sending you into your heart.