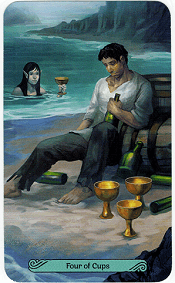 Four of Cups – Mermaid Tarot
I. Image description on Four of Cups Mermaid Tarot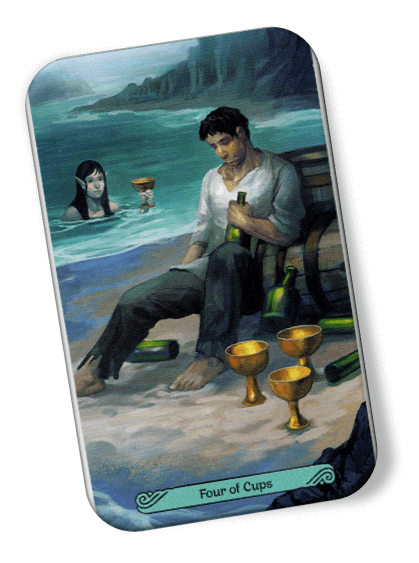 The guy seems to have spent the whole evening drowning in sadness, we cannot be sure what happened. The mermaid in the back suggests that there is another story. Maybe the scene in which we are immersed in the Four of Cups Mermaid Tarot is talking about the feeling of emptiness in excess. The young mermaid will give what she believes the man she is after needs to get his attention.
The problem is that if the other three cups have failed to give the feeling that his life is on the right track, then what is the point of getting this fourth cup? How could something like his previous failures pull him out of his thoughts? Perhaps the problem is not with the cups but with what is contained in them, if so, in this case, maybe the mermaid will give him something much different. But until the guy looks wider, he may never see her. Instead, the mermaid and what she brings to him will simply be a shadow lurking somewhere in the corner of his eye.
II. The message of Four of Cups Mermaid Tarot in a reading
The Four of Cups Mermaid Tarot represents a period of stalemate in your emotions. Sometimes, the card is a sign of apathy. It also indicates that you are stuck emotionally. Nothing can capture both your mind and your heart. We can see boredom and dissatisfaction with someone's life. But we also see the great opportunity and joy that Four of Cups has for them. Sometimes we can become so blind and stagnant that we forget the beauty of life around us. 
In a Tarot spread, Four of Cups says that if this situation persists, you will ruin your own happiness. The three cups in Four of Cups represent the past experiences of this man. He is bored and does not see the new opportunities from the cup the mermaid is offering him and is indifferent to them because of his past experiences.
Therefore, the Four of Cups Mermaid Tarot is a reminder not to lose one life. Numerically, the number four represents a solid foundation for oneself and a strong sense of stability and security. However, sometimes this can be a disadvantage. It warns you that there is a lot of love in your life but if you do not keep nurturing and cherishing it, you will lose it all. Most of the time, people do not realize they have got too much. They always care about what they want and do not have time to look at life to see how much they have.
A lot of disappointments in life stem from bottomless greed when you already have all you need. The key to overcoming this frustration is simply to appreciate the good things in life and be thankful for them every day.
Usually, the Four of Cups Mermaid Tarot implies that an offer has been presented to you but you are delaying making a decision or commenting on the opportunity until there is enough time to think and consider. Note that, although the man does not accept the offer presented to him, he does not completely reject it. The cup will remain there and await his decision at any time. Now is the time for reflection, research, and meditation, so you do not have to rush to make a decision.
III. Four of Cups Mermaid Tarot upright meanings
Sometimes getting everything you need does not feel like you have dreamed of. Sometimes it is too much, too overwhelming, and too beautiful for something to be true. The bigger problem, of course, is that once you show what you want, everyone wants to give you the same thing. Sometimes you should also be very careful with what you want because it does not do anything but just appear.
The Four of Cups Mermaid Tarot often appears when you are bored or dissatisfied with the status quo. You may feel disengaged, lethargic, or unmotivated. Life has become tasteless and nothing to stimulate your will. To remedy this, the card shows that you need to reassess the situation and look deep into your own soul to find the meaning of life. Focus your mind and stay away from distractions so you can focus on finding the truth you want.
Similarly, the card shows disappointment in someone's heart or in a particular situation. You may feel tired or bored with a difficulty that has lasted too long in the past. As a result, you slowly withdraw and leave within yourself in search of peace and quiet. If you are becoming depressed and desperate, the Four of Cups is a call to action. This is the time to wake up, stay awake, and be open to new experiences for a more positive outcome.
The worst meaning of the upright Four of Cups Mermaid Tarot is an ungrateful, stubborn person. Whether you are huddled in your own little world, depressed, selfish, or nursing wounds from a previous relationship breakdown, isolation is self-imposed. You only care about your own troubles and problems and ignore the needs of others. Be sober again. Remember, there is always an opportunity to connect with the world around you.
In terms of work and finance, the upright Four of Cups shows that you no longer have strong feelings for your previous goals and plans. You are feeling like you do not want to do anything. There have been unpleasant experiences at work. And you are trying to find true value in your life and work. The card indicates possible new opportunities. But you also remain indifferent because of the unpleasant emotions that have happened.
While looking for ways to improve and keep up the good work. The card advises you also need to find joy in life again. If you are doing a job where you cannot feel happy. Take a look around, are there any new opportunities for you? If you cannot find joy in the work you do, either you need to try to be positive and have fun with it or you need to find a new job. The card advises you to proactively investigate and verify the source of your anxiety and negative emotions. It also indicates that you need to be independent in making final decisions to deal with difficulties and avoid relying too much on others.
In terms of romantic relationships, the upright Four of Cups Mermaid Tarot shows that you are at an impasse. What you want is to walk away and let it all go. The card also implies that someone is genuinely interested in you. But instead of giving them a chance, you just ignore them. You think you can hardly love anyone at this time. Think again because maybe this will give you the opportunity to experience and enjoy life.
The card advises you to be aware that you are lucky to have someone who loves and cares for you. Find the initial feelings when two people just entered the relationship. The other person will be hurt if you let this situation last too long. They will doubt your love. Don't hurt them because of your indifference. Give them a clear answer about your feelings for them.
In terms of health and spirit, the upright Four of Cups Mermaid Tarot tells you to focus on the positive. If there is a physical problem, remember that things are not always as they are now, so keep a clear mind and a healthy body. Pay attention to your diet, exercise, and take time to rest/eat healthily. You may need to talk to a trusted counselor, doctor, or friend for help in improving your physical condition at this time.
Daydreams can be detrimental to the mental aspects of our lives, like when we get caught up in self-deprecating "I am weak" or "I wish things were different." It tends to make us blind to the beauty of the realities of our lives right now. Be confident and stick to reality. If you cannot keep a gratitude journal, at least make a list of twenty people/situations/things in your life that you feel are good things for which you are grateful at the moment. Meditating with these journal entries can greatly increase your mental awareness.
IV. Four of Cups Mermaid Tarot reversed meanings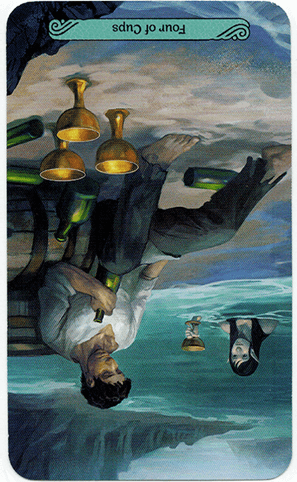 Do you know what the flip side of boredom is? Most people do not know how to answer this question because they never get there. Instead, they go to nurture their monkey mind to throw themselves into boredom. However, there is also something to be said about going deeper into our sadness, about not letting our emotions overwhelm our minds and allowing ourselves to fully explore why we feel sad, overwhelmed, or even pitiful. There is something more important than boredom. When the mind is finally calmed, that is the moment when a mermaid can appear and give you the most magical gift. If you want to get to that moment, you must first release your need to feed the emotions.
The Four of Cups Mermaid Tarot in reverse shows that an opportunity is present, but you must work hard to seize it. It is in front of your eyes, so do not miss it! You are so focused on your problems that you miss this opportunity or even do not know it exists. Be open to all opportunities, and focus on your ability to seize them.
The reversed Four of Cups also reflects a time when you do not want to open up to someone or express your true feelings, instead, you withdraw and isolate yourself from others. Be aware that this may affect those close to you. Therefore, be considerate of their needs as well as your own.
On a more positive note, if you have been through a period of stagnation, depression, or fear, you will start to feel insecure and want to get out of this rut. Get rid of any negative thoughts or disappointments. Seize the opportunities that have been offered to you. Get back in touch with others and let them know how much you appreciate them.
In terms of work and finance, you finally found the motivation and helped yourself out of the bad working situation, which is just good for you. You can take control of your life on your own, so believe in yourself.
If you look closely around you, you will see opportunities that you did not notice before. Take a moment to explore them. Your motivation must be higher than ever to get good things and to make money. You can do it. Let's pursue them.
In terms of romantic relationships, you may finally be ready to let go of the ghosts of the past and move towards a brighter and happier future with your love life. Spend a lot of time thinking about what and who you really need in your life. Look to the future ahead, not the past behind.
In terms of health and spirit, when you receive the reversed Four of Cups Mermaid Tarot and consider the aspect related to health and body state, this card says that this is a great time to make a positive change to your health care. Consider whether you need more exercise or a better diet, or both. You can also find yourself a doctor now if you have been required to have a physical examination.
This reversed card also tells you that you are getting out of the old track and that is a very good thing. Stay positive, discover new ways to study, nurture your spirit, pay attention to speakers and writers who deliver a spiritual message, then see whether what they write or say means something to you personally or not. You do not have to be as inclined to take on the spiritual life as everyone else.