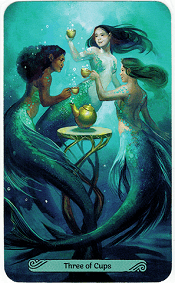 Three of Cups – Mermaid Tarot
I. Image description on Three of Cups Mermaid Tarot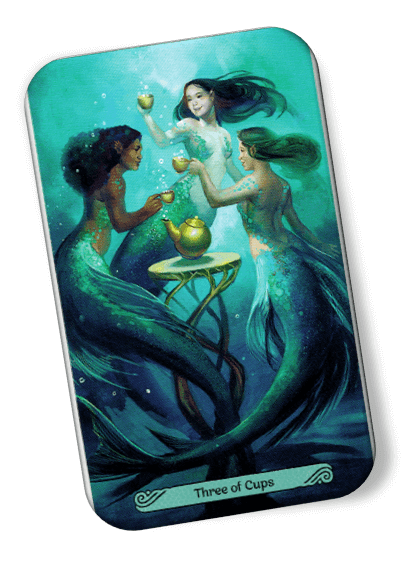 Imitation is a fun art to put yourself in someone else's shoes. In this Three of Cups Mermaid Tarot card, the little mermaids are doing what they believe is a human ritual – a tea party. They raise their glasses and pretend to be happy before bursting out laughing at this strange and amusing ritual. But that is what friends are – you can be silly and make jokes just to have a good laugh. Our little mermaids honestly do not know anything about the need for cups and teapots, but their role is to bring mermaids closer together and keep them happy.
II. The message of Three of Cups Mermaid Tarot in a reading
The Three of Cups Mermaid Tarot is one of the three cards indicating guilds and groups. The card mentions the emotional and creative aspects typical of the Cups suit. The Three of Cups represents friendship, camaraderie, and harmonious relationships. As well as the Three of Pentacles, the Three of Cups' theological number refers to something symbolic. This case does something emotional. Family reunions, parties with friends, anniversaries, weddings, etc., are the happy days that this card is often associated with.
When there is an advice position in a reading, the Three of Cups usually suggests the querent to be more sociable and less depressed. In the worst-case scenario, the Three of Cups Mermaid Tarot can refer to a third person in a relationship. You also need to link to other cards in the spread for clarity.
The Three of Cups Mermaid Tarot describes people who work together for the common good of the community. By shaking hands with people around you, you can contribute your energy and give your best to society. This is a sign that you should look for companions with whom to share your joy of victory.
The card is also a creative inspiration, suggesting that you can pursue creative business in a team environment, such as an art class or a dance class. This is a great way to connect with others and tap into your creativity.
III. Three of Cups Mermaid Tarot upright meanings
As a social entity, we need to make time for others. To balance the emotional, physical, and mental well-being of our bodies, we need to have social interactions with people who make us laugh and understand us. This interaction can be as simple as drinking a cup of tea or as complex as putting together a re-enactment of a scene you have watched together over a million times. This social connection will increase your abundance, boost your energy, and promote a sense of joy in every cell.
The Three of Cups Mermaid Tarot is representative of friendship, camaraderie, and harmonious relationships. This is the time when you are willing to help people around you and receive help in return from them. You may find that, at present, you are very much liked, supported, and empathized with female friends. Your best friend could be a woman, an old classmate, or a longtime friend. There is a similarity between you and them so you always sympathize and care for each other.
At this point, even though life's hardships continue, you can also take the time to forget it all and enjoy spending time with friends and loved ones. Such moments of relaxation are essential before and after periods of high stress, to prevent you from being physically and emotionally drained. When this card appears and you are facing a high level of stress, pause your work to rest and seek support and encouragement from friends and family before continuing unfinished business.
More broadly, the Three of Cups Mermaid Tarot in the upright position signifies the end of any difficulties you may have experienced, especially those related to your interactions with others. A compromise will be agreed upon, benefiting everyone involved and creating a more harmonious environment. You can speed this process up by changing yourself as well as your attitude and how you react or deal with what is happening. Try to handle everything with as much compassion and tolerance as possible.
In terms of work and finance, the upright Three Of Cups shows the next evolution of work. There will be a tendency to advance with the emotional, bonding, and protective side in order to develop. The card advises you to stick to the sincerity of your relationship at work. 
Besides, the upright Three of Cups Mermaid Tarot warns that things related to emotions are easy to be tempted. And things will go wrong for materialistic purposes. You need to show your good qualities to get support from others. The card advises you to avoid falling into delusions about relationships. The temporary pleasure will make you forget the main task at work. The achievement will make it easy to get loose and drained both emotionally and financially. To keep good feelings with colleagues or partners around, you should avoid bias in work as well as new relationships where you feel vague about the other person's approach.
In terms of romantic relationships, if you are single, the upright Three of Cups Mermaid Tarot recommends you participate in social activities and parties or simply meet friends who have not seen each other for a long time. You will have a good opportunity to meet many people and choose the one you like. The Three of Cups shows that your strength is in communicating easily with people and getting goodwill from them. However, if you want a real relationship, it includes not only sweet words but also your true feelings and actions to prove it.
If you are in a long-term relationship, the Three of Cups Mermaid Tarot is a card of joy and mutual support. Your partner is a solid backing and motivation to help you overcome difficulties. However, the card also has another meaning of a love triangle. Most likely your partner is having feelings for another person at the same time and they feel very guilty for not being fully committed to you. What you need to do is calmly review the problems. Clarify why your partner is like this. If the fault lies in a lack of mutual interest, figure out how to fix your relationship.
In terms of health and spirit, this is a great time to consider what you are doing – and perhaps need to do – to boost your health and vitality. Do you need more exercise and more rest? Think about that and come up with a diet and exercise plan accordingly. You can do better – even if only slightly better – than what you are doing right now.
It can be important to reach out to others during this time, especially if you often focus on your spiritual life in solitude. This approach can lead to a spiritual awakening. Think about whether or not you have a need for a spiritual teacher and if you do not, seek out one. This can be any trusted mentor, not necessarily a spiritual leader.
IV. Three of Cups Mermaid Tarot reversed meanings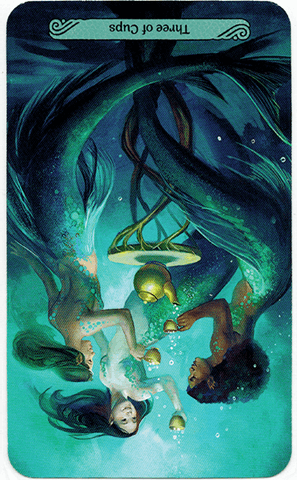 This is not the time to close yourself off. If there is one thing you need most right now, it is friends. Being alone can rarely be the answer to something. If you are not doing anything to boost your happiness and keep your mind sharp, you are probably not taking care of yourself properly. Sure, it is much easier to hide in a cave and continue to suffer, but socializing can really improve your mood and help you deal with problems.
Often the Three of Cups Mermaid Tarot in reverse says that the querent is the third person in a relationship and may have interrupted a deep connection, or is dating an unfaithful person. When this card appears in a spread, look at the other cards for more details about this relationship. If you also see the Seven of Swords, it is a betrayal or adultery. If you see the Five of Swords, you probably know about another relationship but pretended you do not. And if you see The Devil, think carefully about the nature of the relationship as it can be purely sexual and unhealthy.
More generally, the Three of Cups Mermaid Tarot can indicate that your creativity is being stifled and you are forced to adapt to group activities instead. You may be part of a very closed group that refuses to open up to new approaches. You should consider sacrificing your creativity to accomplish your team's goals.
The reversed Three of Cups can reflect isolation from others. If that is the case, it is time to take charge of the situation and reconnect with the community around you. Consider joining a group or organization and, if necessary, seek their support.
Similarly, the reversed Three of Cups Mermaid Tarot implies that you have lost connection with your best friend, perhaps because you are putting other aspects of your life like work and family first. Therefore, this card serves as a reminder to reconnect with your friends, let your hair down, and relax.
On the other hand, the reversed Three of Cups can signify passion and pleasure in the party scene. You can spend most of your time in bars and nightclubs, enjoying the pleasures of drugs and booze. Maybe, you are blind to the motto of work hard, play hard when looking for some time to rest and relax. Be concerned with the long-term consequences and ask yourself if this is really a sustainable lifestyle. Put aside social relationships and spend more time sleeping and relaxing alone.
In terms of work and finance, with the Three of Cups Mermaid Tarot in reverse, it is important to consider how your personal relationships will impact your work. Envy or jealousy can be a problem now. The mood in your work environment will generally be relatively pleasant. If you are looking for work, you have a pretty good chance of success (which is probably surprisingly high), and everything will work out well for you. Therefore, do not give up.
This is an important time to not be too dependent on money. What you are deeming worth has nothing to do with your earnings. The financial situation will probably be smooth, but it will probably go away quickly. Don't let yourself be jealous of other people's finances. Just mind your own business.
In terms of romantic relationships, you may find that financial pressure is affecting your relationship. If you are single, you might be lucky enough to find love through your friendships, so make sure you are noticed and included (in groups) if you are looking for someone.
In terms of health and spirit, the reversed Three of Cups Mermaid Tarot shows that you can learn a lot and make some important strides in improving your health by looking at what your friends and family members are doing to support and improve their health. Learn from the environment and the people around you. Don't be too proud.
The card in reverse also indicates that you can take advantage of clans to dig deeper into your spiritual world. Even if you are considering that your mental health problems are private and do not like talking to others about them, this is a great time to consider and learn from other people's experiences and attitudes. Express yourself in any way you can.