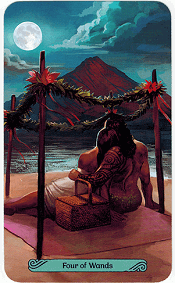 Four of Wands – Mermaid Tarot
I. Image description on Four of Wands Mermaid Tarot
It is good when all things come together. You can relax and pause to enjoy the little things and the finer moments in life. It could be a beautiful full moon on top of a volcano, a gentle breath of your loved one when he/she melts in passionate love. Peaceful moments of wholeness like these are reasons for us to dream and set life goals for ourselves. This card talks about the time before a big event happens, and is a reflection of the fire where you can take a moment to look at all the things you have been doing so far.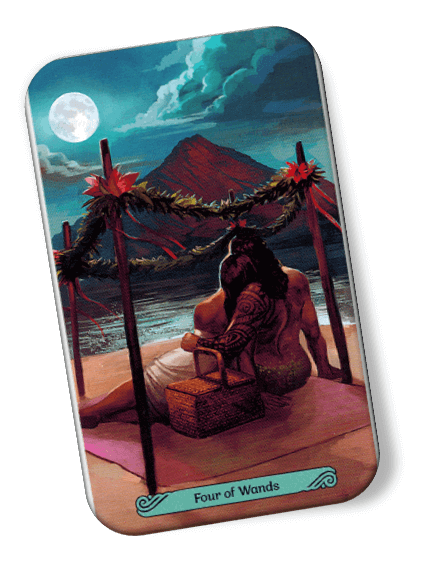 II. The message of Four of Wands Mermaid Tarot in a reading
For the Four of Wands, the thrill of anticipation and excitement is the core spirit. Excitement is an emotion that most people cannot control and will express in words or actions. In a Tarot spread, the Four of Wands Mermaid Tarot represents events and experiences that bring joy to the practitioner. Depending on the situation, each event will contain different components, but in general, the feeling of happiness and longing is the same.
However, not all good times come exactly as you expect, but can come unexpectedly. That is why the Four of Wands implies surprises that appear without being announced or anticipated by anyone.
According to Tarot readings, the Four of Wands Mermaid Tarot represents celebration, freedom, and excitement with joyful moments in life. When this card appears, you can safely move forward because things are gradually getting better. Big events worth celebrating such as buying a new house, getting a new job, etc., are all predictions that the Four of Wands wants to send to you.
Sometimes, the card talks about planned parties such as birthday parties, anniversaries, and weddings but also refers to events of a sudden nature. In addition, the card also means freedom, which can be when you have come out of your physical or mental bondage, feel happy, and begin to move on to a new page with strong confidence.
In particular, the structure of the four wooden sticks is called "chuppah", the type of canopy often seen in wedding ceremonies, so the Four of Wands also refers to the marriage aspect. Only when we really work hard will the results or good things come to us. Therefore, the Four of Wands also advises you to keep trying no matter how difficult life may be.
The Four of Wands is connected with the zodiac sign Aries. This sign is an enthusiastic, dynamic, and confident leader who can build community with his cheerful personality and unwavering determination. Aries is ruled by Mars, the planet of desire, action, and energy.
The Four of Wands symbolizes all the good things in life. You are feeling victorious and happy to be alive. Your vitality is probably the best it has ever been, and you are feeling better. Thus, in a Yes/No spread, this is clearly a yes. Whether you are planning an event, entering a new job, or starting a new business, the Four of Wands predicts success. This Minor Arcana card is an affirmation that things will work out exactly the way you want them to.
III. Four of Wands Mermaid Tarot upright meanings
The Four of Wands Mermaid Tarot in the upright position reveals that you may attend a special event in the upcoming time, which contains many positive things for you. When you draw this card in a Tarot spread, enjoy the moment. Everything is still under your control.
Four sticks form a square that gives you strength and stability. Your expression paid off and everything finally came together. This card carries the first signs of results and rewards in the material world you gradually create from within the inner world. By taking time to enjoy this short yet very important period, you are allowing yourself to create more value than you already have.
In terms of work and finance, your career is developing steadily and you are delighted with your work. You receive praise from your superiors and colleagues as well as certain achievements. However, you should not rush to proclaim and rest on victory because you still have a long way to go. Make wise decisions, improve yourself, and complete all your tasks.
Your work environment is a pleasant and supportive one and you should get along with your colleagues when this card appears. There is a delightful and productive group atmosphere indicated by this card. It can also denote a work gathering such as an office party.
In terms of romantic relationships, Four of Wands in the upright indicates that your relationship will enter a new phase with full commitment. It could be an engagement or a wedding party coming up. If you are looking for the ideal one, this card indicates that you will be meeting the right person at festive occasions such as weddings, ceremonies, and parties. Continue to believe in yourself and try to overcome all difficulties on the way to come. More great things will come to you.
This is also a card that denotes celebrations and as such, can represent parties, welcome ceremonies, baptisms, and family gatherings together. The Four of Wands Mermaid Tarot can also represent reunion so that past love can return to your life.
In terms of health and spirit, it seems that you are suffering from specific problems and your relatives and friends are not very sympathetic to this. Be open to listening to advice from others and keep a calm mind to make the right decisions. Spiritually, the Four of Wands can represent rituals and communities, so you may have rituals and events in your religious or spiritual community. If you are invited to events or seminars, it is a good omen that you will feel welcome and will find acceptance and support at those events.
IV. Four of Wands Mermaid Tarot reversed meanings
The Four of Wands Mermaid Tarot in the reverse reminds you to give yourself a break. You will probably destroy the solid foundation you have built very quickly if you rush like that. Pushing and tacitly disordering the burning energy of the wands cannot get your dreams and goals to the finish line faster. If you ignore it, it will even slow you down. Basically, the reversed card has almost the same meaning as the upright, it brings positivity and predicts a future full of joy for you.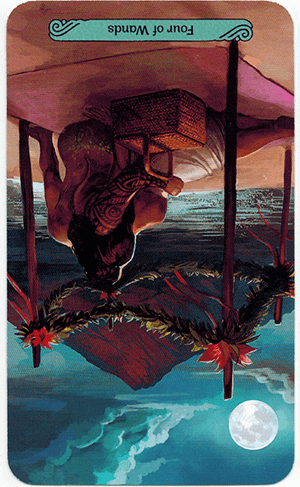 In terms of work and finance, the card indicates that your career is progressing well. However, you still need to endeavor because things cannot always go smoothly. You will be glad later that you take your choice seriously.
You may have a hard time forming a rapport with your co-workers when it seems like an unpleasant working environment. It can also signal a work gathering such as an office party is going badly. Be aware of being overly friendly or drinking too much during these gatherings. This may seem like an opportunity to let your hair down but you still have to behave professionally if you do not want to encounter awkwardness in the working environment.
In terms of romantic relationships, if you are in a relationship, the reversed Four of Wands Mermaid Tarot can represent an unhappy family life, failure, instability, insecurity, neglect, and relationship problems. Your relationship may be going through a difficult or unpredictable moment. The card also implies canceled or postponed celebrations. It can show that you and your partner have no intimacy or that you may be having some problems getting your family to accept your relationship.
If you are single, the reversed Four of Wands Mermaid Tarot is not a good omen as it can represent a lack of confidence and a feeling like you are a misfit. It also says celebrations are canceled, so you may not have a great social life. If you had hoped for a reunion with a past love, this card, unfortunately, forecasts postponement and cancellation.
In terms of health and spirit, you are working diligently to build stable finances for your personal needs. This is good news for you. You are in good condition by working hard and building a positive spiritual life. You can discover more about your inner nature, try new things and grow holistically toward a good direction.
However, if you are invited to events or seminars, it is not a good omen as it may indicate that you will not feel like you are a good fit for the job or not find the support and acceptance you need.