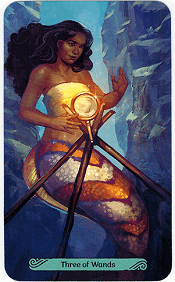 Three of Wands – Mermaid Tarot
I. Image description on Three of Wands Mermaid Tarot
The mermaid is doing something that seems pointless to most, but that magnifying glass allows her to do something special. With three supporting wands underneath, she can take a closer look at what she has created. This is the thing that is born blindly just by wishing it is created. It is quite different from being aware and understanding what stage of creating what you are creating is in. There is no better way than using three wands and a magnifying glass to do it.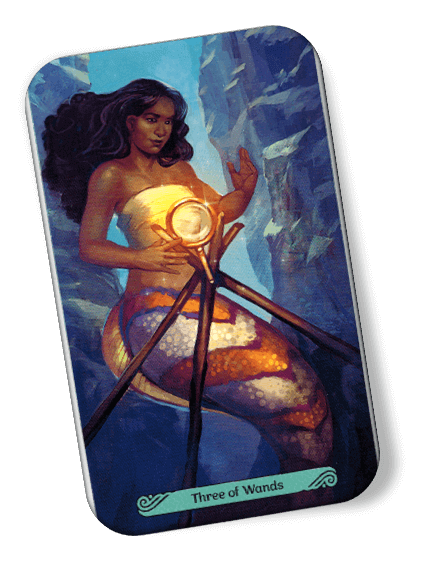 II. The message of Three of Wands Mermaid Tarot in a reading
In a Tarot spread, the Three of Wands Mermaid Tarot is a card that sends a message that calls for you to broaden your horizons. You need a lot of time to think carefully about an issue instead of being impatient and rushing to do it right away. you can grasp the idea that you need clear, logical predictions about the future. Besides, your potential will not be able to develop if you don't get anywhere, what you need to do now is to move forward. When you reach the finish line, you will become more talented and wiser, you are no longer limited to your comfort zone because you are the one to free yourself from the current difficult situation. The more challenges you conquer, the more you will understand yourself and know that you can do anything as long as you really put your heart into it. 
Three of Wands Mermaid Tarot reminds you to take the long view, the desire to pursue the goal. In addition, it also implies that what you have been hunched over for a long time is about to come true. The long-term vision you cherish shows that you have the qualities of a brilliant leader, this is also the meaning that the Three of Wands is conveying to you. When you anticipate the possibilities, you will have the knowledge to guide your teammates. This is the perfect time to realize your personal potential and unleash the confidence to lead others to pursue your vision with you. However, remember that a leader not only has a vision, but they must always be willing to "put the first step" on the new ground if necessary. You are not the naive type but a smart, courageous person. 
The Three of Wands advises you to explore, research, and walk with a clear awareness of the plan and your intention. Countless horizons are waiting for you and the only thing you need to do is allow yourself the courage to do what you want.
III. Three of Wands Mermaid Tarot upright meanings
Three of Wands Mermaid Tarot is like doing less but observing more. When there is so much going on, it is important that you take the time to rest and check things out. The three wands can refer to an examination of the three pillars of your life: love, health, and abundance. Are there any aspects that are completely working the way you want them to? Are you successful in showing what you want on each side? Or do you still have more work to do? You will understand that if you are willing to observe them more closely. The card indicates that your plan is already underway and you are beginning to consider opportunities to expand your plan and capitalize on your future potential. Everything is going smoothly as expected thanks to solid planning and constant motivation to survive.
Three of Wands Mermaid Tarot presents the opportunity to broaden your horizons, through analysis, travel, business enterprise, and study. You need to be more aware of the opportunities that exist around you right now because they may be better than you think. You can look at the best opportunities and know that they are waiting for you outside your current world, so it is time to set your ambitions. Consider what you can do to open doors for yourself and grow those opportunities. They can also be changes or challenges ahead and involve broadening your horizons and entering new territory. You are likely to be aware of upcoming changes and challenges and can prepare for anything.
Similarly, Three of Wands Mermaid Tarot also talks about embracing change and applying it to a long-term view. It shows that you are wielding power and in control of what happens around you. As such, this is a card of foresight and the ability to find greater opportunities. Set a strategic vision and aspire to surpass your current limits. Now is the time to accept your vision and be confident that you will achieve it. Have the courage to step into new lands. The card also describes travel as it encourages you to dream about where you want to travel and what you will discover along the way. It shows that you will go to a faraway country, and after that, have the opportunity to grow and learn many new things. It encourages you to be fearless and believe in yourself to be the best you can be.
In terms of work and finance, if you have many questions about your current job and draw the Three of Wands Mermaid Tarot, this is a great signal for you. You have the right to be proud of your achievements as well as praise from your superiors and colleagues. Even if you have not found the desired reward, you should not be too discouraged but accept the reality and appreciate the achievements that you have so far. In case you are bored with your job and need to find a new career, you will soon be satisfied. Expertise and experience will allow you to go further on the path to pursuing your dreams.
Financially, your spending is making remarkable progress. The hard work you have sacrificed for your job is paying off even if you have not seen it yet. Financial stability does not mean that you should spend extravagantly. Try to save money for yourself and share it with your loved ones when needed. In the coming time, you will manage your finances better and do not need to worry too much about paying for your needs.
In terms of romantic relationships, basically, your romantic connection is quite stable as long as your partner respects and treats you kindly. You are not the patient type, so when your lover cannot commit to respecting you, you will give up this love. If you recently met a new person, the Three of Wands Mermaid Tarot indicates that he/she finds you very interesting and he/she appreciates your good qualities. If you are still single and looking for love but have not seen any potential partners, you are probably spending too much time on your career. Rest and relax more mentally to enjoy your life.
In terms of health and spirit, when the Three of Wands Mermaid Tarot appears in your reading, this is a good harbinger of health. It is possible that you have taken good care of your health in the past and these efforts are gradually "bearing fruit". However, you should consider other treatments to fully address your personal health problem. Now that you are an adult and have a deep understanding of spiritual life, don't let yourself become a conservative when you are not open to change and new sources of information.
IV. Three of Wands Mermaid Tarot reversed meanings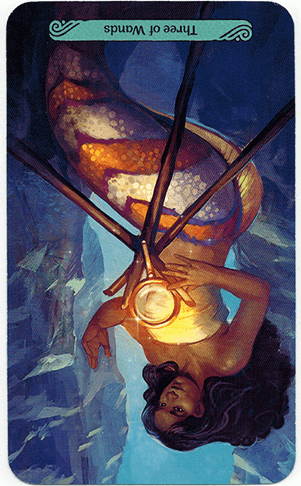 Pretending to be blind to what is going on cannot keep evil away from us. Instead, try to see what is really going on and ask for help if you feel like it is beyond your control. There is nothing wrong with seeking help. In fact, the energy of the number three in this card forces you to seek knowledge from others. The reversed Three of Wands Mermaid Tarot shows that you have been trying to engage in a journey of self-improvement, but have not been able to accomplish your goals. Maybe you have encountered a few crashes and delays on your way. You feel frustrated, and think you have wasted your time right from the start. You may not realize it, but failure is the mother of success and an important part of your life. They help you to grow up and perfect yourself.
You may also be having a hard time implementing your plans and feel anxious because everything seems to be getting too overwhelming for you. You either lack foresight and are unable to spot obstacles as soon as they arise or are unrealistic about the risks involved in your plans. Break your plans down into manageable chunks and make them more realistic. Assess every risk to anticipate the challenges you face, and then create plans to avoid or minimize those risks.
In terms of work and finance, surely you have been looking forward to your own success after days of hard work. The good news is that you will have a career leap when the Three of Wands Mermaid Tarot appears in reverse. You can even start your own business and earn the desired profit. This depends on your true dreams and abilities more than luck. You should consider cooperating with the right business partners for future development, letting your talents and vision shine. Similar to the meaning of the upright Three of Wands, the reversed card implies that your finances will be prosperous in the coming time. This growth comes from working with the right partner, so don't try to make all your plans alone.
In some cases, the reversed Three of Wands indicates a lack of cooperation, wasted effort, delays, or external obstacles in commercial ventures. You are dealing with a business partner who only cares about his/her material interests. You risk being betrayed for your business purposes. It is also possible that deliveries are delayed or production is stalled, especially if you are relying on overseas investment. You know you need to get help, but you should also be concerned about other people taking advantage of you.
In terms of romantic relationships, when the reversed Three of Wands Mermaid Tarot appears, the difficulties in your current relationship will quickly end. If you are looking for love, then rest assured that there is someone who wants to build a sweet relationship with you. Give your potential partner a chance to conquer the heart that yearns for love within your soul.
In some cases, the reversed Three of Wands indicates that the two are incapable of pursuing each other's long-term goals. Your lover may want to travel or to expand his/her world by moving between regions or between countries, but you don't want to. This becomes a big problem for your relationship. Both of you need to talk to each other and come to a compromise. Likewise, the reversed Three of Wands Mermaid Tarot says that you should not be in a long-distance connection. If you tried before, you will now realize that you wasted your time. You are wary of the limitations and negative consequences associated with such a relationship and feel you are more suited to one who can be by your side, metaphorically and literally. 
In terms of health and spirit, your health situation is better than you think as you are having the right health care methods. What you need to do now is to make an effort to maintain the current self-care process to receive a lot of "sweet fruit". Besides, you are building a positive spiritual life and its benefits will exceed your imagination. Stay calm and walk slowly and steadily and wait for the progress.