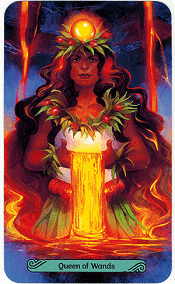 Queen of Wands – Mermaid Tarot
I. Image description on Queen of Wands Mermaid Tarot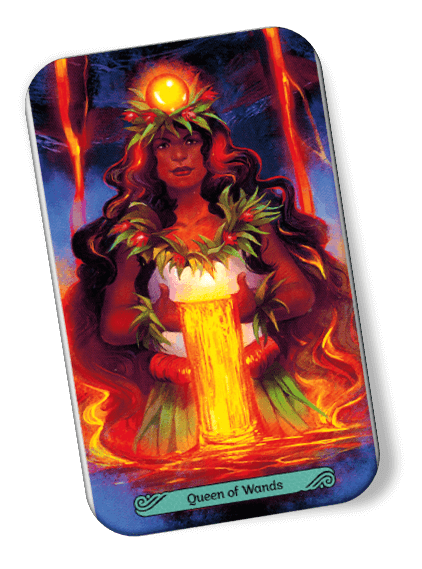 Pele, the goddess of creation and destruction, knows too much about her potential. The goddess knows when and where to use her power to create life and where to end the useless life of anything. She controls the tides and flows of lava, the blood of the mortal realm. The vein of this world is her domain. The goddess does not mind the little small things. Instead, her mind is focused only on the necessary expansion, growth, and destruction in order for new things to have a place in the world. Attachment is not something the goddess puts her time into. To be able to keep up with the changing earth, she must always be ready to act immediately.
II. The message of Queen of Wands Mermaid Tarot in a reading
Queen of Wands Mermaid Tarot is the water element of Fire. Unlike the King, the fire element of Fire, Queen represents Yin. This does not mean that the Queen of Wands represents weakness and passivity. Rather, that aspect of Yin is expressed by absorption, feeling, and understanding. She clearly shows Fire's perception of life: warm and passionate. She is sincere, honest, and not deceitful. But because of the Yin's nature, the Queen Of Wands is sensitive, understanding, and sympathetic towards life and people.
Similar to the other cards in the Wands suit, the Queen of Wands represents attractiveness, wholeheartedness, playfulness, and a confident attitude. In a Tarot spread, the reader needs to consider all the messages that the Queen of Wands may contain. This Queen refers to positive energy, abundant vitality, and fertility. When this card appears, you can be assured of your life.
The Queen of Wands Mermaid Tarot is often compared to the image of a powerful, intelligent queen, combined with the passionate energy of the Fire element. She is considered the most revered representative of the royal class. The appearance of the card in the spread shows that the querent is a wise, confident, and compassionate person. Your inner optimism allows you to see life with keen eyes and gain the admiration of those around you.
The Queen of Wands is a message that asks you to think and feel the way a queen or a powerful person does. The energy flow from this Queen will give you the inspiration to continue your meaningful journey.
III. Queen of Wands Mermaid Tarot upright meanings
The Queen of Wands Mermaid Tarot teaches us that life and death are two but one. Where there is life, there is death. There are places that expand, and there are places that shrink. Despite this paradox, the goddess wants you to take action, move forward and create something new, exciting, and unlike anything that you have done before. 
Someone who knows that something in your life needs to be broken, or destroyed, then something new can happen. Take the time to tune into Pele's fiery power and let the goddess' energy seep into your veins. Let Her show you where to use your creative power and how to generate something meaningful, passionate, and purposeful.
The Queen of Wands Mermaid Tarot is the feminine energy that governs the fire element. She is not afraid to prove her strength to others, nor does she shy away from any challenge. Therefore, she is a strong leader, always focused and determined to achieve her desires. So the Queen of Wands speaks to your strength, independence, and ability to take care of yourself and maintain your creative vision, even in the face of adversity. You know what you want and how to get it, and you are a master at partnering with others to achieve your goals. Your talents are determination and your ability to stay focused on your goals while remaining friendly and upbeat to everyone around you.
The Queen of Wands Mermaid Tarot represents an individual. Usually, the Queen of Wands refers to a person with a dominant feminine character. But sometimes it refers to an individual with such a trait regardless of gender. This is charismatic, beautiful, sexy, and full of charm. In parties or meetings, the Queen of Wands is someone who really stands out. However, they can be an insecure role model to timid people. But they are the ones who know how to pass on their passion to others. Being fresh and confident, their appearance will bring joy and life becomes more radiant.
In terms of work and finance, described as an adaptable, friendly, and successful person, you need to learn to have good control over your mind and will. It takes dexterity and flexibility in planning. The Queen of Wands is someone who can manage and control matters. It will be best if you are clear in your actions and thoughts in negotiations. While persuading others, it is also necessary to be flexible and patient and avoid imposing and domineering. 
Financially, you need to be careful when other people take advantage of your passion for profit. And if the spread is not for you, the card refers directly to a person of great ability related to your work problem. This person is very enthusiastic and has the ability to spread the fire. If they are in a position to support you, congratulations. And beware, if they are in a position that is detrimental to you, they can become a dangerous person.
In terms of romantic relationships, if you are single, you are a really attractive and shining person. You are independent, self-reliant, and know how to balance life. Although a lot of people notice, you feel like you love life. When the Queen of Wands is interested in someone, you are a person who knows how to make the other party actively pursue you. And when in a long-term relationship, the Queen Of Wands remains independent and individual. You know very well how to hold the other person's heart. The care and private time you spend with your partner are very reasonable and valuable. Your partner will always feel refreshed around you and will always be afraid of losing you.
In terms of health and spirit, the Queen of Wands Mermaid Tarot is generally a very positive sign of health. Your energy levels and vitality are both good. If you have a plan to be a parent in the upcoming time, whether you are ready or not, the Queen of Wands will still be your foreshadowing that you will soon be conceived. You seem to be a little overzealous when this Queen appears, take time to rest and relax, no matter what.
You may suddenly become hungry for spiritual experiences. While there is nothing wrong with that, remember not to let yourself get caught up in the idea that you will suddenly find the sacred answer to all you are looking for in your life and then give up everything so you have to join a spiritual/spiritual community in another country. Take your time, read, reflect, and talk to many people before making big changes in your life. Your discoveries are greatly appreciated. Remember that making big mid-term and sudden life-changing decisions without careful consideration can be to your own detriment.
IV. Queen of Wands Mermaid Tarot reversed meanings
Do you know what happens when you don't use your inner fire? There are two cases: there will be either fire or things getting out of control. Either of those scenarios could happen to you right now. You may be feeling reactionary or irritated by everything and everyone, or you may be finding it difficult to absorb inspiration. When you do not take advantage of the Queen's gift, the idea pops up and destroys itself. The trick for you in this card is to find a balance between creative potential and the ability to burn. Only you know what balance can do for you and your current situation.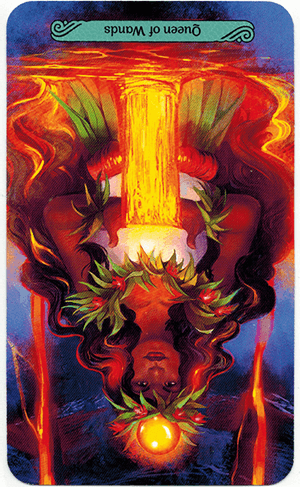 The reversed Queen of Wands Mermaid Tarot describes a situation in which a person behaves in an egotistical or selfish manner. Maybe you are in a chronically bad mood, be it angry, resentful, or jealous. You may be attacked or bullied, or behave this way. Perceptions are distorted and facts are distorted, becoming lies. Someone who is making strict demands, taking control, or acting petty and narrow-minded.
The Queen of Wands also indicates that you have recently lost faith in yourself and have become fearful. You shy away from the limelight and worry others might think you are no longer attractive. You have even been disgraced and a little embarrassed about your reputation. What you need to do is restore faith in yourself. Release positive energy from within and remember that you can fight anything when you put your mind to it.
In terms of work and finance, it is possible that in the short term, you will encounter obstacles and delays that can make you feel frustrated. Just simply deal with these troubles one by one. The likelihood that there will be an older woman in your workplace is creating obstacles aimed at you. Don't get discouraged, just demonstrate to her clear reasons why she should do it your way. Do this and you may achieve more than you think.
The reversed Queen of Wands Mermaid Tarot can imply a tendency to overspend. There is a reason why people say money cannot buy happiness. But at the same time, you also do not need to tighten your wallet and refuse to spend any money. Moderate spending is the key to helping balance your financial situation, as well as for it to enrich your life and the lives of others.
In terms of romantic relationships, an older woman may have an indirect connection to your relationship. If that woman is your mother-in-law, do your best to impress her, regardless of what you think of her. If you are looking for love, you may meet an interesting person who is likely to want to have a serious relationship with you through an older woman. Let every woman in your life know your intention to meet someone new, they will help you a lot.
In terms of health and spirit, the reversed Queen of Wands generally implies a healthy body and positive state. If you are not feeling well, consult a female healthcare professional as she can be the one to give you very important and useful advice. The Queen of Wands is generally connected with fertility. However, if you draw this card in a situation where you are trying to have a baby without success, then the card encourages you not to give up, but to take your time to seek more help outside, like seeing an obstetrician and discussing your problems and efforts. Try to relax mentally to relieve stress.
An older and authoritarian but persuasive woman may be trying to convince you that she has all the answers to your spiritual questions. You may need to limit your interactions with this person so you do not get drawn into something that benefits her, not you. She may be angry or hurt by this, but remember that no one has the right to tell you how to live your spiritual life. It is important that you reflect on and experience this aspect for yourself.