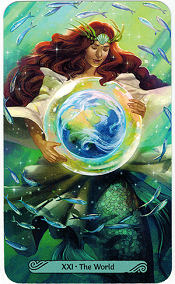 The World – Mermaid Tarot
I. Image description on The World Mermaid Tarot
We are all from the water. On the water or under the ocean, none of us can live on this earth without water. Water is one of the basics of life. We are born out of the water, born in water, and can also die in water. Water represents the final cycle of life, having both a beginning and an end. Even the ashes eventually merge into a stream with the water. Water is us and we are also water. If we live in purity and purity, so will the water. Your Mother, your protector, your inner creator, it is all the same, all things can be.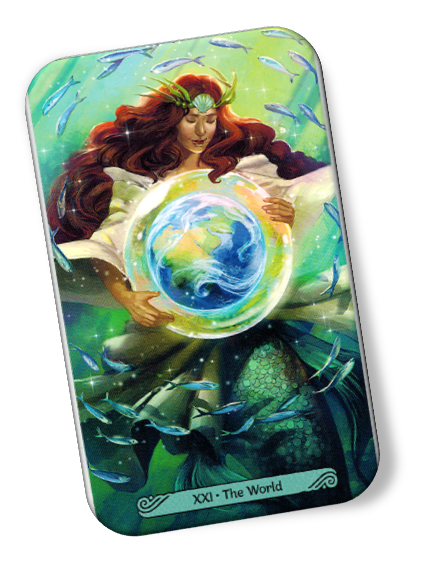 II. The message of The World Mermaid Tarot in a reading
The World Mermaid Tarot means opening a positive future, a new world after the journey. This is a card of wholeness when a path closes well to move to a new stage. The World represents life's ambitions and dreams come true. The appearance of this card brings a message of reward and success. Your efforts are bearing fruit and you can enjoy them. Besides, The World also shows movement, maybe you migrate or travel to a new place in the coming period.
The World Mermaid Tarot is often associated with positive connotations of integrity and success. In case it has a negative connotation, the card is consoling that persistent efforts will help you to soon rise to the podium, soon reach the fullness of The World. Sometimes, in some cases, this card predicts a new beginning in life, but this change is not what you want.
III. The World Mermaid Tarot upright meanings
The World Mermaid Tarot reminds us of the natural cyclical nature of life. Where something ends and something begins again. We all start and end in the same place. In the end, we are not going anywhere. Something in your life is naturally coming to an end, but that is not the end you should focus on. The end is just something that is created when something has completed its own rotation. The World represents fulfillment, achievement, and satisfaction. Your personal efforts have finally paid off, and now you have reached the end of your journey or completed an important life cycle. You have faced many trials and tribulations along the way, but all of that only makes you stronger and wiser, armed with more experience than when you started your journey.
A long-term project, a learning process, a relationship, or your career has come a long way, and now your mind is on the end of the journey as well as future attainments will be achieved. It could be a graduation ceremony, a wedding, the birth of a baby (the last stage of pregnancy), or the fulfillment of a long-standing wish or aspiration. You have finally accomplished your goal or purpose. Everything comes at the same time, and you are at the most reasonable stage, doing the most reasonable jobs, achieving what you have ever envisioned, and enjoying a sense of fulfillment and fulfillment. In this respect, the card also heralds new beginnings that will arise without regard to the complete cycle.
The World Mermaid Tarot also symbolizes acclaim, recognition, praise, and success that you will receive a lot for your achievements. If not, then you have arranged something better after working so hard to get where you are now. The tireless efforts, dedicated dedication, and well-thought-out plans have paid off, and of course, it is something to celebrate. If you have not really reached the completion stage yet, you are actually pretty close to it. You will need to gain a higher level of understanding to be able to succeed in a higher field and enjoy real results. You need to identify and respect this rare climax. Take a look back a month, six months, or a year ago and think about how far you have come and what you have accomplished. You may be surprised at how far you have come and how much work you have done to achieve the success cycle. You may also find that the projects or work you are working on have turned out to be better than expected.
The World Mermaid Tarot also represents a time when you see the whole process or system and understand your place in that system. This card speaks of a deep understanding of your own role and influence in a particular environment or where you really fit. The World can also symbolize a significant sense of oneness and wholeness with the whole world or in a particular situation. Things are starting to get into the "framework" of which you will probably be a part. You will pay more attention to your surroundings or personal interests. You have a strong desire to contribute, give, or use a special gift or talent to help make the world a better place. You are coming from a beautiful world of the present, which is full of love, knowledge, and experience, and you are ready to share it with everyone.
From a more understandable point of view, The World Mermaid Tarot symbolizes a world journey, especially on a large scale. You may be lucky enough to participate in a trip abroad for 6 months, are about to go on a business trip, study abroad, or settle down abroad for a longer period of time than expected. Likewise, this card improves understanding and universal perceptions. Wherever you go, you will absorb new experiences, welcomed by the hospitality of your destination, where people will gladly embrace you and invite you into their world.
In terms of work and finance, it seems that you are spending a lot of effort to contribute but receiving too little recognition. If necessary, you should actively speak up to avoid people "accidentally" forgetting your achievements. You also need to observe the world around you to learn the skills others apply to do the same job as you, which not only helps you ask questions and improve your skills but also brings interesting experiences. If necessary, you can take a professional course to upgrade yourself with important knowledge and skills for your career. It is never too late to learn more. 
If your financial situation is always in a difficult and tight period, The World Mermaid Tarot in a reading is a signal that that barrier is about to disappear, and your source of income will become more abundant. However, that is not an excuse for you to splurge, but to save it in case of need. You might consider putting some of your money into safe, long-term profitable investment markets like stocks or bonds to generate passive returns for yourself.
In terms of romantic relationships, if you are single and looking for love, your ideal type may appear during your travels. Exposure to the environment and new people will be giving you more chances to meet your other half. On the contrary, if you are in a serious relationship, it is entering a new stage of development. The love story takes place in many interesting things that make your connection stronger and you two understand each other more and more.
In terms of health and spirit, your health is improving, maybe you will have access to a new treatment method such as acupuncture or yoga. While this cannot replace drug therapy when needed, it is a good way to improve physical fitness and complements traditional methods.
IV. The World Mermaid Tarot reversed meanings
Distractions, procrastination, and paths few people choose to take have brought you so close but also so far away from where you need to be. You may think you have what you need to finish the things you started or finish the things that no longer work for you, but the universe wants you to think hard. What you need to let go of the experiences, situations, problems, or relationships that are stuck in your head are not prepared for you. There is still work to be done and you need to move on. The good news for you, of course, is that all of that will end soon.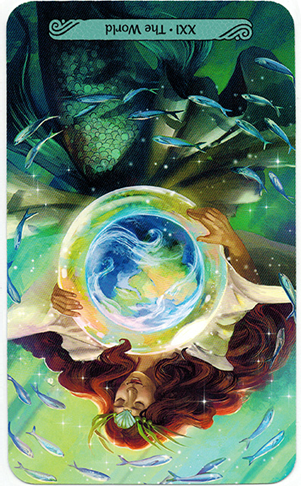 In the upright sense, The World Mermaid Tarot symbolizes completion. But when reversed, it will signify that the querent is trying to achieve something in life but is not taking all the necessary steps to achieve the goal. You may want to choose the easiest or fastest way to reach your goal, but often this will keep you from getting the results you originally intended. Instead, by facing challenges along the way, you will learn a lot and thrive and be impressed with the results you get after you have managed to achieve it. So don't be afraid to extend your goals, even if it means endless challenges along the way for that will only make your final victory sweeter.
The World Mermaid Tarot in reverse can indicate that you are now very close to a moment of success, but for some reason, you have lost focus and gone astray at that moment. There is only one short way to go, so why lose focus right now? Renew your energy and remind yourself that life will be very beautiful once you reach the goals you have set out for yourself. Maybe you will also experience a situation where the end-stage is lacking in your life. That prevents you from reaching for a new journey or next challenge. 
Sometimes The World Mermaid Tarot in reverse can mean that a change is expected to be delayed and that you will need to invest more time and effort in projects or life transitions before experiencing the promising successes of completing the journey. This can be tiring, but perseverance and patience will eventually pay off. There will be times when you feel suffocated or trapped, with no way out, but never give up on the trip. Now, just keep going on your journey steady and steadfast.
In terms of work and finance, when you draw The World Mermaid Tarot in reverse, consider whether your true achievements are commensurate with your potential. Do you believe in yourself enough? Have you noticed how far you can reach? If you feel that what you get is not worth the effort, it is time to "speak up" to make sure they don't ignore your contributions. If you are unsure of your skills, then you need to seek help. You can take personality tests or seek advice from trusted people. Look and search around, notice what people do, why they do it, and how they do it. If you often have trouble with money, the card says that it is time for your finances to flourish, your life to become fuller and more prosperous. However, don't spend too much money on impulsive buying.
In terms of romantic relationships, The World Mermaid Tarot in reverse tells you it is possible that one or both of you are going through a standoff. Let's be frank with each other, talk, and share your inner doubts and problems. If you overcome this difficult period, your relationship will move to a new stronger stage. Your bond is getting more and more passionate and progressing well. If you are single and want to find love, do not hesitate to go to unfamiliar places and meet new people. The openness and enjoyment will bring you to meet interesting people, maybe one of whom is the one you have been looking for.
The World Mermaid Tarot often appears in reverse when a relationship suddenly ends for no apparent reason. In that relationship, the parties involved have no sense of what has happened and grapple with the prospect of reaching the finish line by ending it. Everything is not explained clearly and the two will have to fall into a difficult situation when they do not know what they need or where they are. If you see The World in reverse in a reading, consider the rest of the reading to determine what needs to stop and how you can finally get to that moment of completing all your journeys.
In terms of health and spirit, with The World Mermaid Tarot in reverse, it seems that something is "stuck" affecting your health, be it either physical or mental problems. You can find new solutions such as meditation, yoga, or acupuncture, which not only improve your health but also help you stabilize your mind. Similar to when dealing with The World in the upright position, you are likely to receive a lot of spiritual enlightenment in the coming time. Take notes of your experiences and share them with others, maybe they can help other people's spiritual journey.