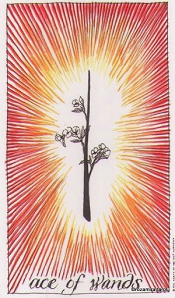 Ace of Wands – Wild Unknown Tarot
I. Image description on Ace of Wands Wild Unknown Tarot
Deck Creator's Keywords: inspiration, new beginnings, energy, motivation.
The Ace is an intro to the Wands suits. An Ace card always contains the potential for the entire spectrum of each suit, and this Ace card includes the essence of Wands energy: fire, purpose, and enthusiasm. Ace of Wands Wild Unknown Tarot piques your curiosity and puts you on a course to discover the rest of the Wand cards. What you have here is burning energy, a flash of momentum that can propel you forward.
Patches of fresh flowers and leaves are growing from the wand in the center of the card. This budding foliage gives the effect of bursting life and untapped potential. The image goes back to The Fool, where we see a chick perched on a tree branch. Maybe this is the same branch?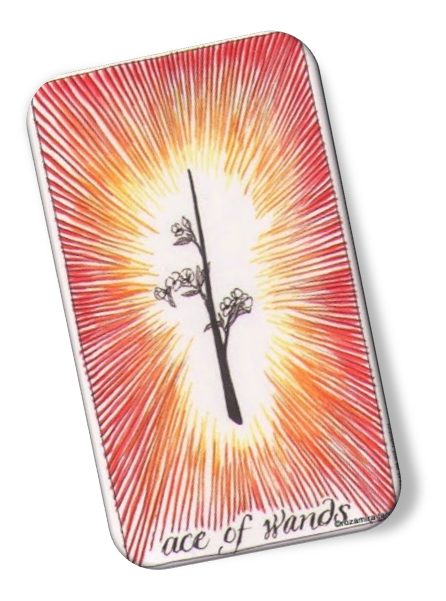 Around the wand is a field of white-hot energy, which coalesces into yellow and orange rays. These are primordial colors, related to energies directly connected to the source. This is a reminder of the suit's association with fire. There is radiant energy at work in this card as indicated by the lines radiating from the central wand. The use of lines here reveals an energy that is not stagnant, but a radiating movement. 
Fire is an active element that is moving outward. Ace of Wands Wild Unknown Tarot is a brilliant source of inspiration that can lead you anywhere. You are in a position to forge your own path. The only way to find out where this initial drive will lead you is to keep pursuing that passion!
This is a card that converges with great energy, showing growth and reproduction around you. Your ideas and visions will be expanded while your creativity seems limitless. This fertile period is also taken literally as the possibility of conception or birth is coming. Although you feel nervous as you embark on a new journey, your wise judgment is needed more than ever. Therefore, do not rush.
II. The message of Ace of Wands Wild Unknown Tarot in a reading
In the Waite-Smith Tarot, this card shows a hand reaching out from a cloud and grabbing a wand. It is worth noting that the hand is actively holding the wand. This card does not show passive energy, but an active one. Sometimes in life, you have to be bold. You are a work of originality, and you are asked to build on that originality here. Sometimes it is best to follow the "tried and true" route, but Ace of Wands Wild Unknown Tarot reminds you that sometimes you need to embrace your own expression in this world.
Traditionally, this Ace card is associated with the "ray of inspiration" or "the spark of genius". Since the Ace card is only the starting point of the match, it is sometimes fleeting energy that is difficult to grasp. The key phrase for this card is "burn the energy". It is the spark that gets you started, but sometimes it can be just a flash in the pain, disappearing as quickly as it comes. However, if you can spread the flames, this card will definitely open interesting portals for you to explore!
In a reading, Ace of Wands Wild Unknown Tarot asks you to embrace what appeals to you. This is not a time to focus on what you should do, but rather a time to embrace what you want to do. There is a special momentum that can only be released when you move in your desired direction.
Martha Beck says that life is like a game: "you're getting warmer, you're getting colder." Therefore, Ace of Wands Wild Unknown Tarot asks you to adjust to feeling warmer towards you right now. It can be either something big or something subtle. However, if you keep moving in the direction of the heat, your life will always be an adventure.
Ace of Wands Wild Unknown Tarot also carries the message of creativity. When this card appears in your reading, you can rest assured that what you are doing will be impactful and disruptive. Ace of Wands is more about work as it implies breakthroughs in work, and that your ideas will bring value.
III. Meaning of Ace of Wands Wild Unknown Tarot in the upright position
Ace of Wands Wild Unknown Tarot is the most daring card of the Minor Arcana. Creativity here does not necessarily mean creativity learned from books but from your voice, your way of working, and your will which is full of enthusiasm. Those things will create a land where you develop your full self. Take advantage of all the energies you have. When coming up with a new idea, do not hesitate to try. The card calls you to follow your instincts. If you really believe it and you find it interesting, go for it. Sometimes, Ace of Wands is also a sign that you are waiting for an opportunity to come to you. The advice is that if it comes, do not ponder for too long and miss it. The adventure will sometimes create the most memorable moments.
Ace of Wands Wild Unknown Tarot is a card of creativity, and at the same time, contains the passion and the arising of a new hobby. On the other hand, this card announces an exciting new beginning. You are thrilled to experience the things you are passionate about, the fun and newness fill you with excitement to learn them. But sometimes this enjoyment wears off, and you find it difficult to continue with these pleasures. You may have to do it over and over again, but with almost no results.
Ace of Wands Wild Unknown Tarot is an action-oriented card. It leaves you inspired and enthusiastic to pursue a new idea or a new project that you already have in mind. You are like sitting in a racing car, then throttle continuously and ready to go at any time. Use your creative thinking and passion to take the first steps and get off to a good start. Even if you want everything, plan ahead. Ace of Wands encourages you to listen to your instincts and follow your path. If it feels like a good idea, it is fine. So start with a few basics to get things going, and continue to develop your ideas through more complex plans later on. The important thing is to act now, don't spend too much time planning or researching.
Ace of Wands Wild Unknown Tarot also speaks of a time when you have a breakthrough and are very excited about a particular idea or passion. Your eyes have opened wide to a whole new world and you are excited about the possibilities and opportunities available to you. Your potential at this time is tremendous and the source of creativity is also very abundant. If you have a hidden talent, this is your time to show off and unleash it. This is also the perfect time to paint your imagination and make your dreams come true.
But remember, Ace of Wands Wild Unknown Tarot and the other Aces are just seeds that have not yet grown. You have an opportunity with a lot of promise that merely happens when you use all your abilities to develop it. The Ace of Wands also manifests a state of confusion and uncertainty as to how to proceed. You may have energy and passion but still not have a definite direction. All the great ideas are starting to form in your head and are ready to explode at any moment, but you need to find the best way to utilize that enormous energy.
In terms of love, Ace of Wands Wild Unknown Tarot in the upright position is a positive card with a special note to new relationships. If you are falling in love, this stage is really sweet and emotional, and you two are very interested in getting to know each other. You will find that the two of you have a lot in common, even your or your partner's new interests are formed by this relationship. But from a negative perspective, you and your partner may be separated for a while. This phase will soon pass, the two of you will reconnect again but with a deeper level of understanding and sympathy.
In terms of work, your creativity and bravery help you quickly create things that make others admire you. Knowing how to use knowledge and skills in a smart way will be a springboard to help you develop sustainably in the future. Ace of Wands Wild Unknown Tarot in the upright position predicts that you will soon receive a large amount of money due to your interesting ideas. In addition, campaigns to launch new products or expand business markets during this period are quite reasonable.
In terms of money, Ace of Wands Wild Unknown Tarot in the upright position announces that you may receive a large sum of money in the coming time. It can be a bonus for your clever creative ideas, you are almost satisfied and enjoy your achievements. On the other hand, the card suggests that the money you receive may come from an inheritance or a large allowance from the family. In general, your financial condition in the coming time is relatively abundant. Remember to spend your money properly and show gratitude to the people who gave it to you.
In terms of health, Ace of Wands Wild Unknown Tarot in the upright position refers to diseases inherited from generations in the family. You can get a genetic disease from your grandparents or parents. Be extremely careful when your body shows strange signs. The card says that flu outbreaks or fever from loved ones can also spread if you do not prevent it properly. Fortunately, although the disease is inherited, Ace of Wands predicts that this is not a serious one. As with your hard work in exercising and moderation in the diet, you will get well soon.
IV. Meaning of Ace of Wands Wild Unknown Tarot in the reversed position
The reversed Ace of Wands Wild Unknown Tarot shows that the difficulties you are facing make you gradually tired and lose motivation. Sometimes, you are confused, do not know what you want to do, and how to get rid of those bad feelings. Even when you have a clear goal, you still procrastinate and no longer have the interest in achieving it. The reversed card advises you to take time to rest and rebalance yourself to regain inspiration. You should try to get off the pressure by the responsibility you have been shouldering and accept everything with the most optimistic attitude. On the other hand, the  Ace of Wands in reverse reminds you not to rush. At this point, there will be a few obstacles that prevent you from completing the set goal, so be patient.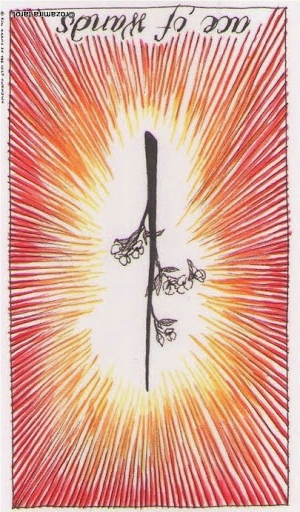 Ace of Wands Wild Unknown Tarot in the reversed position shows that you are having trouble defining what you want. You lack direction and gradually, your energy becomes depleted, leaving you feeling extremely dull and unmotivated. As a result, you often wonder if this is what you really want and if there is something better that you have not discovered yet. When you think about other opportunities, your faith begins to shake. To overcome this period, you first need to focus on your true passion. Without motivation and passion, you will not be able to succeed. So take a moment to reflect on what you really want.
The reversed Ace of Wands Wild Unknown Tarot can also indicate that you are burned out with responsibilities and commitments and are unable to pursue the new ideas you have. If you also draw the Ten of Wands in the spread, try to free yourself from those heavy burdens to seek a new passion. Alternatively, you can give up your usual routines so new ideas can develop.
Ace of Wands Wild Unknown Tarot in the reversed position can indicate delays or frustration when the progress of projects and ideas is not as you expected. You will feel very impatient at this point, especially if you value the plan you already have. You may also have a great idea, but you still haven't found a solid direction. Again, you are becoming intolerant when you can only present the idea but not execute it. Time is essential, so be forbearing and wait for the best opportunity.
During difficult times and in the midst of turmoil, you may want to give up and question what you have built up for so long. In particular, you are disorganized and struggling between weighty responsibilities without knowing where things will go. Ace of Wands Wild Unknown Tarot in reversed position tells that you may be given a handful of seeds, but you must know how to choose and observe which is the potential one in order to germinate and grow. it. This is of course not easy and you can also choose the wrong one. But whichever route you choose, with the promising prospect and burning enthusiasm of Ace of Wands, develop this starting point in your own way and focus on the journey ahead, you will gradually navigate your steps.