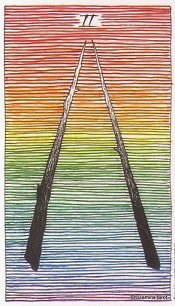 Two Of Wands – Wild Unknown Tarot
I. Image description on Two of Wands Wild Unknown Tarot
Deck Creator's Keywords: determination, willpower, personal strength, originality.
Two of Wands Wild Unknown Tarot is one of the shadiest cards in the Wild Unknown Tarot deck. The horizontal lines brush the card with all the colors of the rainbow. The use of color is strategic in this deck – the full spectrum of colors gives this card a sense of multifaceted energy.
Two of Wands points towards the horizon. The angled position shows that you can immediately reach out and grab them! Wands beckon you forward. What can you find if you embrace their power (which is really your power)? What awaits you off the beaten path? Are you ready to continue on your unique path, even if it is difficult and dangerous?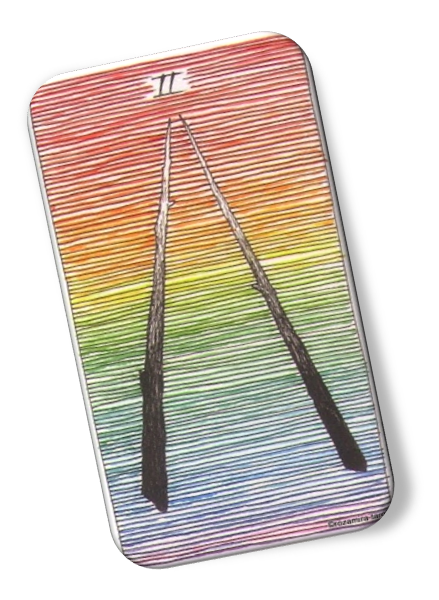 Horizontal lines in this card and other cards in Wild Unknown Tarot (such as Temperance and The Fool) suggest that energy is currently stable and untapped. This energy is very powerful, but it is not possible to reach its full potential until we come and direct it. This imbues Two of Wands Wild Unknown Tarot with a potential source of energy. It is invigorating to be in this place where you feel like you can make things happen, but now it is up to you to actually take action. It is not enough just to go in the right direction, you have to actually start in that direction.
This card represents moments when you realize your own ability to direct your personal power to shape your life. You are the creator and therefore, this card reminds you of your ability to tap into your energy and take our bold moves. Now is not the time to be a passive bystander but the time to engage with the multitude of energetic forces in the universe! You are not separate from those forces, you have the ability to influence how those forces form from here. Harness that power and learn how to use it effectively.
Two of Wands Wild Unknown Tarot's experiences can be exciting, but it can also be frustrating. As Marianne Williamson says, our greatest fear is not that we are powerless but that we have immeasurable power. The Two of Wands asks you to acknowledge your power and fully engage with it, even if it is outside of your comfort zone.
As this card clearly shows you are on your way to success, you focus on your goal and boldly show all the effort along the way. Because the Wands suit is closely linked to reason, it takes time to become aware of your thinking patterns, especially with yourself. What are the true values ​​and nuances of your thinking? Mostly positive or negative? How do you treat yourself on your way to your biggest dream?
II. The message of Two of Wands Wild Unknown Tarot in a reading
In her book Learning the Tarot, Joan Bunning describes how Two of Wands Wild Unknown Tarot relates to some of the themes explored in The Magician Wild Unknown. The Magician, Bunning writes, is associated with the archetype of power in all its forms. Two of Wands brings that theme down to earth, showing how you as an individual can harness the microscopic model of global power.
As is the case with most Wands cards, sometimes this card requires you to take risks. You may be forced to lean forward a little more than your bowels are going. Being authentic requires you to embrace your creativity. This is not about exercising sensitivity or logic, but about communicating your approach to your own unique taste.
With Two of Wands Wild Unknown Tarot, the Aces' initial enthusiasm has begun to take shape, but for the most part, remains directional. As such, this card reminds us of a saying sometimes attributed to Goethe: "what you can do, or dream you can do, begin it. Boldness has genius, power and magic in it. Only engage and the mind grows heated, begin it and the work can be completed."
In a reading, Two of Wands Wild Unknown Tarot is an invitation to step onto the plate. Especially if you are hiding from your own power and your own desires. Now is the time to get to grips with who you are, what you believe in, and where you want it to start. This does not mean that you need to become egotistical and overpowering others! But it does suggest that now is the time to assert – or reclaim – your ability to direct cosmic energy in a unique way.
Two of Wands Wild Unknown Tarot is a special card conveying two different connotations. In the first case, the card predicts that you are not satisfied with the results you have achieved. In the second case, the card represents success and wealth.
III. Meaning of Two of Wands Wild Unknown Tarot in the upright position
Two of Wands Wild Unknown Tarot in the upright position takes the spark of inspiration from Ace of Wands and applies it to the right path. Thus, the Two of Wands is a card about making plans and making progress. You turn your idea into a workable plan that can lead to your success. It is no longer an idea, but now you have a strategy to ensure that your ideas are implemented as desired. Two of Wands is also about exploration, especially when you step out of your comfort zone and discover new worlds and new experiences. You have to be very courageous to take the first step, but this card instills confidence in you to try your best until the final result is achieved.
Two of Wands Wild Unknown Tarot indicates that you will begin to consider long-term goals and plan ahead for what you need to do to achieve success. You have worked hard until now, but you feel like everything is ready for a change in order to create a long-term future. You may consider traveling abroad, studying, or changing your main job at this time to broaden your learning and development and gain a better perspective of the external environment. With careful planning and a calculated approach, you will achieve much in the future.
The cards numbered two in the Tarot usually represent decisions. In the case of Two of Wands Wild Unknown Tarot, you are torn between sticking with what you are familiar with or broadening your horizons and taking risks. You know that the world is full of bigger and more meaningful things waiting for you, and you also realize that in order to take advantage of this opportunity, you must leave your comfort zone. Even if you have invested heavily in your current situation to grow and maximize your potential, you are forced to step out into a new world and explore your options.
Two of Wands Wild Unknown Tarot also shows patience and focus on your intentions. You have got off to a good start and are exploring your journey, so it is time to wait patiently for your rewards, and arguably, your ideas are starting to become reality. Besides, Two of Wands often symbolizes cooperation and good achievements, so the meaning of it is mostly positive. This card implies that you will receive a lot of support and help from those around you. In some other cases, Two of Wands appears as a negative. Even though you have achieved your goal, you are not satisfied. All your wishes will be of little value when you achieve them.
Most of the time, Two of Wands Wild Unknown Tarot represents the satisfaction of success. You have achieved your goal and you have turned an idea into reality. You are slowly stepping out of your cocoon and experiencing a new world. Two of Wands says that even though the beginning is difficult, just keep moving forward with all your courage. In another aspect, Two of Wands also revolves around making decisions. You are pleased with your current situation or you want to achieve even higher satisfaction. In this case, you are forced to leave the safe land and explore new territory.
In terms of love, when Two of Wands Wild Unknown Tarot in the upright position appears, it often brings positive meanings. You and your partner get along quite well. However, this card can indicate that you are gradually losing interest in this relationship. You might do all you can to pursue your partner, but when you conquer him/her, your excitement disappears. This does not mean that the relationship will end, instead, the card means that the two of you should warm up with romantic actions. It also warns of loneliness in sharing your problems with your partner.
In terms of work, favorable cooperation with potential customers brings you great success. Your work is entering a steady state and you are almost at the peak of your career. This stability and sublimation will last and flourish. However, Two of Wands Wild Unknown Tarot in the upright position warns that the unique and autocratic style of a leader will make everything fall into a harsh and authoritarian state. The peaker your career is, the greater responsibilities you have to shoulder, so stress is inevitable. However, don't let yourself turn into an autocrat who overshadows and imposes on colleagues and subordinates.
In terms of money, along with the success of your career, your financial condition in this period is quite abundant. You will have a generative and comfortable life, so your plan to invest in a business or borrow becomes easier. The advice of Two of Wands Wild Unknown Tarot in the upright position is that you should finance personal hobbies and enjoy leisure time before things get occupied again. Fortunately, there are not any money issues arising according to the card.
In terms of health, Two of Wands Wild Unknown Tarot in the upright heralds that this is the period when you have to take care of your health. All anxiety and depression may take place during this period, leading your physical condition to progress in a bad direction. The most important thing is to maintain a healthy lifestyle and have regular health check-ups. In case you are receiving treatment, the best remedy is your uprise spirit. Besides, the comfort and encouragement from the family and loved ones will help you get much better.
IV. Meaning of Two of Wands Wild Unknown Tarot in the reversed position
The reversed Two of Wands Wild Unknown Tarot reminds you to re-establish long-term goals. Identify what is most important and make a plan to do it. Sometimes you miss important points that play a role in planning for the future. This can lead to failure. Besides, the card warns of excessive complacency and impatience that will make the path you are going be turned upside down.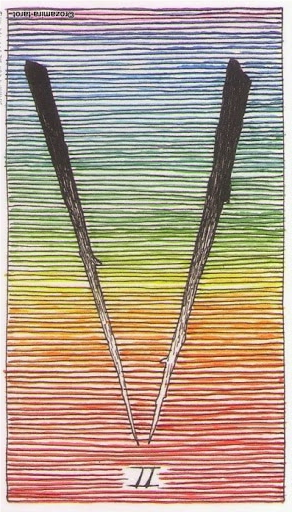 Two of Wands Wild Unknown Tarot in the reversed position shows that you need to start organizing your long-term goals and prioritizing what is important to you and what you really want to achieve. At this point, you may be wanting too much, but you know for sure that you cannot have it all. So again, think about what is necessary to you and what motivates and guides you along the way. Focus on your passions and start making plans towards those goals.
You may be afraid to go to a completely unfamiliar place, even though the potential is huge. The problem is that your growth is being held back in your current environment and the world has become too small for you. The potential of Two of Wands is quite large and needs guidance, but it seems you are letting it be constrained by outside influences. This is the time to pay attention to your original goals and understand the pros and cons of taking risks and entering the bigger world. You have a right to fear and worry, but let that fear be the premise for motivation to push you forward toward the vast horizon ahead.
The reversed Two of Wands Wild Unknown Tarot can also indicate that you have left out some significant details regarding your plan. Maybe everything is going well, then there are some unexpected problems. Either you are so overconfident about your success that you forget the most essential things or you may lose your passion and become easily bored and uninterested. The key is to rekindle that passion or start over with something more inspiring.
You may consider participating in workshops or lectures by experts in your field, networking with many people and thereby rediscovering the fire of your passion. The more people you purposefully communicate and argue with, the more you will assert yourself and shape who you are and what you want. It is also a good idea to spend a short period of 1 to 2 weeks immersed in nature and disconnect from social media devices. When your mind is calm and fully charged, you will rekindle the long-smoldering fire within you.