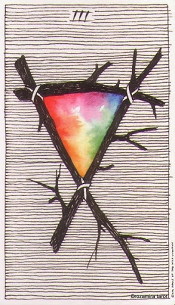 Three Of Wands – Wild Unknown Tarot
I. Image description on Three of Wands Wild Unknown Tarot
Deck Creator's Keywords: self-help, future vision, exploration, survey.
The three wands are tied together, forming an inverted triangle. When you look at the center, you see a rainbow vortex. Is this a whirlwind? Another space? Future? Or something completely different? That is for you to find out.
The branches protrude from the wands, standing in contrast to the perfectly manicured wands we saw in the previous card. There is a coincidence in this card of structure and release: the wands come together to form a cohesive shape, however, the wands themselves are rough and untrimmed. These wands are a free spirit, but also collectible.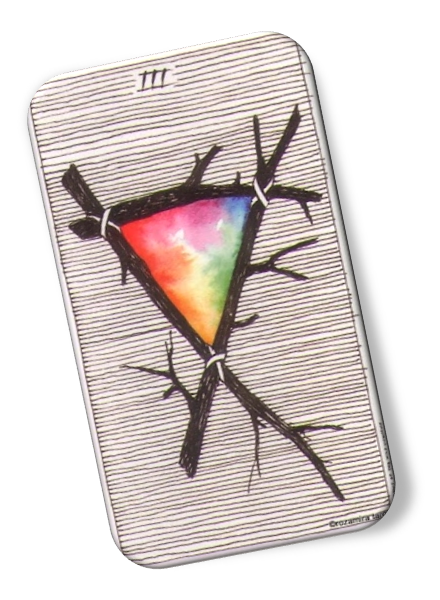 The background is filled with black horizontal lines, indicating steady energy. This lack of glamor draws your full attention to the wands, and above all, to the colorful sight in the center. The swirling rainbow beckons you to leave behind the dull, colorless surroundings and discover all the wonders life has to offer!
You are a visionary if you let yourself be collected. You can see beyond the obstacles. You can look beyond the mundane world. Endless terrain is out there for you to explore, just choose to say yes. Three of Wands Wild Unknown Tarot gives you the opportunity to survey the landscape around you. You don't have to rely on other people's maps – you are exploring the wilderness on your own, charting your own experience and your interpretation.
Your future is a blank canvas – and all the colors of the rainbow are available for you to create your experiences in the future. There is no guarantee of exactly what you will find as you continue to explore. There is a lot of magic and wonder, but illusion and failure are also part of the journey.
Some structures are useful, so give yourself some time to survey your interior and exterior landscape. Three of Wands Wild Unknown Tarot is about trusting your gut, but it is also about surveying the energies around you. It is about action, but it is about the kind of action born of intention, not impulse. The paradox here is that you can only do so much planning and planning. In the end, you just have to take the risk and see where this portal takes you.
Three of Wands Wild Unknown Tarot also shows that you need help from others (maybe from your parents or from good friends). With their help, you can shape your true feelings, values, and ethics. But now is the time to trust yourself to lead. Clarify your goals and ignore the needs of others and the opinions of others. The future is firmly established and it is yours. No one else can see through the layers of light and darkness.
II. The message of Three of Wands Wild Unknown Tarot in a reading
In the Waite-Smith Tarot, Three of Wands Rider Waite Tarot shows a figure looking out over a large terrain. You are eager to explore, but allow yourself to pause for a moment and assess the situation. The image on this card is not a rogue adventurer looking for thrills. He is an extremely curious person about the world. He is a leader whose discoveries and observations can be of greater benefit.
Therefore, Three of Wands Wild Unknown Tarot may ask you to become deeply involved in your life experience. Be curious about yourself and curious about the world around you. Don't assume you understand anything. Let yourself look at mundane realities with fresh eyes, for there are treasures everywhere that only those with open minds can perceive.
In a reading, Three of Wands Wild Unknown Tarot is sometimes a reminder that if you want to live a deep, meaningful, and wonderful life, there is no truly "safe" way. The card does not ask you to act recklessly but know that risk is inherent in any endeavor. You have to be willing to explore all that life has to offer and accept it all as a package deal. You are asked to adopt a higher perspective, open to more of the surface layers of your life. Be a living example of what you would like to see more of in the world. Take your visions and turn them into reality.
III. Meaning of Three of Wands Wild Unknown Tarot in the upright position
Three of Wands Wild Unknown Tarot in the upright position indicates that your plan is already underway and you are beginning to consider opportunities to expand your plan and capitalize on your future potential. Everything is going smoothly as expected due to solid planning and constant motivation to survive. Three of Wands presents the opportunity to broaden your horizons, through research, travel, business enterprise, and study.
You need to be more aware of the opportunities that exist around you right now because they may be better than you think. You can look at the best opportunities and know that they are waiting for you outside your current world, so it is time to set your ambitions. Consider what you can do to open doors for yourself and grow those opportunities. They can also be changes or challenges ahead and involve broadening your horizons and entering new territory. You are likely to be aware of upcoming changes and challenges and can prepare for anything.
Similarly, Three of Wands Wild Unknown Tarot also talks about embracing change and applying it to a long-term view. It shows that you are wielding power and in control of what happens around you. As such, this is a card of foresight and the ability to find greater opportunities. Set a strategic vision and aspire to surpass your current limits. Now is the time to accept your vision and be confident that you will achieve it. Have the courage to step into new lands.
Three of Wands Wild Unknown Tarot also describes travel. This card encourages you to dream about where you want to transit and what you will discover along the way. This card shows that you may go to a faraway country, and after that, have the opportunity to grow and learn many new things. This is a great card when it comes to opportunities as it encourages you to be fearless and believe in yourself to draw out your best inner side.
Three of Wands Wild Unknown Tarot is a card of chance, which can be a promising prospect in the relationship between you and the person you have your eyes on. Sometimes, Three of Wands means opportunities in business and work. No matter what opportunity the card presents, if you want to succeed you must seize this possibility. The card also suggests a new place or new environment that will bring unimaginable options.
Furthermore, Three of Wands Wild Unknown Tarot says that this time opportunities will come one after another, a new place or new idea will create more effectively than the old path you took. The card also states that cooperation in the process of turning opportunities into actions is essential, but this partnership should only stop at a combination of two to three people like three wands on a card, more individuals will make everything chaotic. Teamwork is what shows up on Three of Wands, you are forced to complete the task whether the partners of cooperation feel pleasant or not.
The upright position of Three of Wands Wild Unknown Tarot indicates the plans you are building to strengthen and perfect the future, as a result, positive things will happen because your plan is quite thorough and effective. You are trying to give yourself a solid foothold. The card also represents your chances through the far-sighted vision. Good opportunities will come, so keep your mind at ease to accept. Sometimes you have to change yourself to seize opportunities and get out of your comfort zone. On the other hand, Three of Wands signals a cherished journey. You should have a few trips away to open your mind, vision, and opportunities that may appear during that trip.
In terms of love, if you are in a relationship, this is the stage where you should be honest about everything with each other. All concealments and lies whether good or bad will only push your relationship to the brink of breakdown. Three of Wands Wild Unknown Tarot in the upright position announces that a good opportunity for singles has come, if you are still single, this period is likely favorable for you to meet your other half. You should calmly review your current feelings, relaxation is necessary for both of you to be more comfortable with each other.
In terms of work, Three of Wands Wild Unknown Tarot in the upright position is a good sign for the current job. The card heralds that opportunities in work that are coming very close, you should trust your decision. This is a very favorable period for those who are struggling to find a job or start a business. You may have to work in a team with some people you don't like. However, instead of showing your attitude and trying to avoid communicating with them, just mind your own business and behave appropriately. 
In case you already have a stable job, the card advises you to plan for the long term. The upcoming preparation of the plan helps you to be more proactive in all situations. Setting up a retirement plan or a long-term savings account is not a bad idea, especially in the current economy and market when the elimination and change happen so quickly. You should also learn and equip yourself with soft skills or knowledge in other areas that interest you. There are careers that will be gradually eradicated as society develops, so you should be well prepared.
In terms of money, relaxation trips and vacations are necessary to relax, but you should not squander too much of your budget to serve your personal interests. Three of Wands Wild Unknown Tarot in the upright position warns you to save money in order to cope with rainy days in the future. In the coming time, there will be career opportunities coming, financial preparation in advance will help you facilitate investment and call for capital.
In terms of health, Three of Wands Wild Unknown Tarot in the upright position says that working too hard will burn you out. Health balance is important to perform, you should not let your body work continuously nor be sluggish. Light exercises, regular walking, and meditation are very good habits to practice. You should follow a healthy lifestyle, eat a lot of vegetables or cooling foods, and get enough sleep to avoid diseases caused by stress. In addition, Three of Wands warns that some sexual problems can have an adverse effect on your health.
IV. Meaning of Three of Wands Wild Unknown Tarot in the reversed position
Three of Wands Wild Unknown Tarot in the reverse position informs that you are on personal journeys and things have not received the desired results. Sometimes the reason can be personal stagnation, so teamwork can help you overcome this problem. However, it can cause pressure that makes you want to give up. The reversed card advises that you take time to plan your work, this will help you not to be overwhelmed with unexpected situations.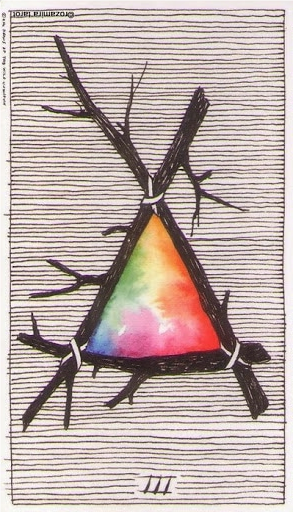 The reversed Three of Wands Wild Unknown Tarot shows that you have been trying to engage in a journey of self-improvement, but have not been able to accomplish your goals. Maybe you have encountered a few crashes and delays on your way. You feel frustrated, and think you wasted your time right from the start. You may not realize it, failure does not necessarily mean that you don't have abilities, but simply that you have not had success. Those mistakes will help you to grow up and perfect yourself.
Besides, you may also be having a hard time implementing your plan and feel anxious because everything seems to be getting too overwhelming for you. You either lack foresight and are unable to spot obstacles as soon as they arise or are unrealistic about the risks involved in your plans. Split your plans into manageable tasks and make them more realistic. Assess every risk to anticipate the challenges you face, and then create plans to avoid or minimize those risks.
In a business reading, the reversed Three of Wands Wild Unknown Tarot indicates a lack of cooperation, wasted effort, delays, or external obstacles in commercial ventures. You are dealing with a business partner who only cares about his/her material interests. You risk being betrayed for your business purposes. It is also possible that deliveries are postponed or production is delayed, especially if you are relying on overseas investment. You know you need to get help, but you should also be concerned about other people taking advantage of you.
In a relationship reading, the reversed Three of Wands Wild Unknown Tarot reveals that the two of you are incapable of pursuing each other's long-term goals. Your lover may want to travel or to expand his/her world by moving between regions or countries while you want the opposite. This becomes a big problem for your relationship. Both of you need to talk to each other and come to a compromise.
Likewise, the reversed Three of Wands Wild Unknown Tarot expresses that you should not be in a long-distance relationship. If you tried before, you will now realize that you wasted your time. You are wary of the limitations and negative consequences associated with such a relationship and feel you are more suited to someone who can be by your side to share tangible and intangible values with you. You don't want to be in a relationship that sees each other through social media or worse, you have to celebrate the holidays alone. This is not good for your mental health especially when you need a lot of attention and are in the midst of troubles about new opportunities that are besieging you right now. It is important to be clear from the outset what you want and your limits when starting a relationship.