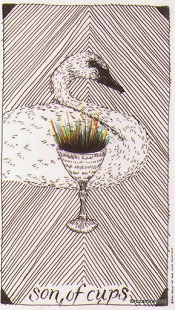 Son Of Cups – Wild Unknown Tarot
I. Image description on Son of Cups Wild Unknown Tarot
Deck Creator's Keywords: peaceful, introspective, hyper-sensitive, romantic.
Son of Cups Wild Unknown Tarot (often referred to as the Knight of Cups in other Tarot decks) still has some of the childish innocence like Daughter of Cups but offers new levels of complexity. While the Daughter of Cups appears to be in stable water, the lines on this card's base are tilted. He lives in a more diverse and multidimensional emotional sphere.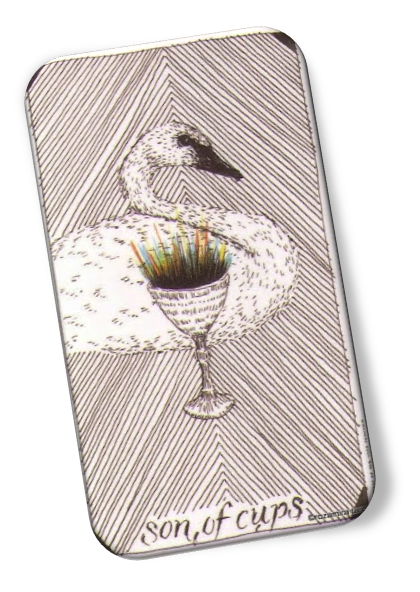 While the Daughter is facing us, the Son of Cups is looking to the right. Instead of a rainbow of colors in the water, the Son has a rainbow of colors emanating from his cup. He is a bit more reserved with his feelings than the Daughter. He holds them closer so he can examine and understand them. He still sees poetry in his life. He is still drawn to self-reflection and beauty. But he can also be prone to mood swings and hurt feelings.
The Knights/Sons are embodying the paradox or the flips of the coin. In this view, Son of Cups Wild Unknown Tarot is introverted, but that can turn him into narcissism. He is poetic, but that can turn him into dull. He is sensitive to the point of being super sensitive. He is intuitive, but that can turn him into ignoring logic. Essentially, the Son of Cups is still learning how to process the spectrum of his inner world.
Like all Court members in the Cups family, the Son really excels in the arts. He is usually a musician or a visionary in art, and he finds success in his field. His natural inclination to introversion adds charm and mystery to him. To the outside world, he seems mysterious and even serene while deep inside he carries the dark seeds of power.
II. The message of Son of Cups Wild Unknown Tarot in a reading
The Knight of Cups/Son of Cups Wild Unknown Tarot is often described as a sensitive soul. He definitely has a romantic way of looking at the world and gears for drama and overflowing with emotion. This can be a great thing as he teaches you to immerse yourself in direct experiences of your emotions. However, it can also be a challenge as he is not the best at maintaining perspective and thinking clearly. The Knight of Cups Tarot by Waite-Smith rides a white horse, another symbol of his romantic nature. This card reminds you what it means to be deeply connected to life, but make sure you don't lose yourself in the current.
In a reading, Son of Cups Wild Unknown Tarot may ask you to approach a situation with sensitivity, imagination, and compassion. He can also call you to examine your deeper emotions and motivations. Is your emotional energy at work healthy? Or is it bubbling violently? The Son of Cups gives you the opportunity to hone your skills in navigating your emotions.
III. Meaning of Son of Cups Wild Unknown Tarot in the upright position
Son of Cups Wild Unknown Tarot is the most feminine of the Knights/Sons in the deck, but that does not mean he is not a knight. It simply implies that he is connecting with his intuition and emotions, and using them in his own way to create romance and seduction. He is very charming and attractive to other people, regardless of their gender, while still showing off and amidst the romantic poeticness of life in his unique way. He lives in the overflow of love. The Son of Cups also relies on emotions to guide his life. He is the one who is ruled by his heart. When faced with a decision, he will always do what his heart thinks is right, whether it is rational or not. The decision will be made without much thought as he is based mainly on his experience of warmth, friendliness, love, and a desire to share with everyone.
Like other Courts, Son of Cups Wild Unknown Tarot can manifest as an event, a person in your life, or as a part of yourself. This card often appears as a messenger, an invitation or the arrival of someone or something that brings good feelings. He makes an interesting invitation, the result is an emotional experience that will energize and put you in a state of euphoria. In addition to being an informer, the Son of Cups can also represent the wisdom that comes from your dreams and helps you overcome life's obstacles.
Son of Cups Wild Unknown Tarot in the upright position symbolizes the commitment of creative adventures alluded to in the Daughter of Cups. By the time Daughter has just found creative inspiration, Son has already had it and is preparing to explore the world of imagination and creativity. If you are starting a new creative project, bring your imagination into the real world. Actions are the lifeblood of your imagination, so if you don't do anything about your dreams, they will forever be vague and unrelated to your life. The Son of Cups offers a warning about getting caught up in the fantasy and romance of life. Imagination brings excitement but it will forever be vanity if you cannot connect it with reality.
Discover your passions and big ideas right now. You will realize that you have been drawn to a particular passion or hobby and now it is time to do something about it. You don't need to burn stages, more importantly, balance ideas with actions and make sure you are actively working to achieve your goals and ambitions.
 In terms of love, Son of Cups Wild Unknown Tarot in the upright position represents a person full of romance. You believe in true love and think to put your whole heart into it. When appearing, the card signals that something interesting is coming, and your dreamy lover is about to appear. This relationship is full of emotions and you have high hopes, even if they are unrealistic. Son Of Cups has the ability to make people immerse in the gentle and peaceful emotions on the side. They are quite delicate people and know how to make the other person comfortable. But they are the one who crave boredom and find it difficult to maintain stability in the relationship. The Son of Cups is a believer in true love and will do his best to make the relationship passionate. As a dreamer, that is why they will quickly get bored if their love comes to a standstill, even if it is insignificant. They are the type to love and only to love. In a long-term relationship, they are the type of people who find it hard to live without love. The first time will always be good, you will receive the romantic interest of your partner. But the Son of Cups is also the type that feared the bondage of marriage.
In terms of work, in a reading, if Son of Cups Wild Unknown Tarot in the upright position refers mostly to the querent. Described as someone who has a lot of fresh and creative ideas but is easily influenced by emotions, you need to practice your bravery. Emotion is a motivation and a good purpose if you put it in the right place at the right time in your plans. You should proactively respond and solve problems as soon as they arise. The Son of Cups makes a prediction of laziness but is enthusiastic if properly provoked. You can work on your feelings and not engage in inappropriate negotiations. But you also need to invest in your passion and should not depend on emotions and feelings. Besides, you should avoid getting bogged down in unreal and ambiguous feelings. You should not be impatient at this stage, which will cause additional financial losses. Son of Cups also encourages you to actively carry out your work. Just feel the love and the possibility that you should take the opportunity to do it. And if the card does not refer to the querent, it indicates the person who is related to your work. This person is very intelligent, creative, and inspirational. However, they are not very persistent and are easy to change their minds.
In terms of money, the Son of Cups Wild Unknown Tarot in the upright position implies that what you are after is a new feeling. So, before deciding to spend on something, don't be for the sake of feeling excited because you will get bored if it has no practical benefit, instead, think about its application and performance and imagine what you will gain by owning it. On the other hand, in the coming time, you will have many troubles related to work and family that will force you to spend a great deal of money. So you should be mentally prepared from this point on. This card can indicate that you will soon receive good news about your financial situation. It often implies joyful and positive messages. When you draw this card at the same time as there are no other cards in the same spread, your financial situation is not as bad as you think.
In terms of health, if you are waiting for your health test results and draw this card, relax and rest assured that the upcoming news will be very positive. Overall in terms of your health, Son of Cups Wild Unknown Tarot in the upright position means that you will soon feel better, even healthier. Don't worry too much about possible problems with your body, but focus on practicing, improving, and changing it. You should maintain good habits such as drinking warm water at the beginning of the day, doing 15 minutes of stretching exercises every day, sleeping before 11 pm, and going for a picnic once a week. This will help you feel healthier and less anxious.
IV. Meaning of Son of Cups Wild Unknown Tarot in the reversed position
The reversed Son of Cups Wild Unknown Tarot indicates that you are allowing your emotions to completely control your life. While the upright card indicates a person who is full of emotions like water and uses his emotions to connect relationships with others, the reversed card shows that you can become moody, jealous, or frustrated, letting your emotions surge to uncontrollable levels. You jump to conclusions before clarifying things. Take a look at yourself and what you are doing or realize that the person referred to in the reading is acting on his/her feelings, not his/her reason.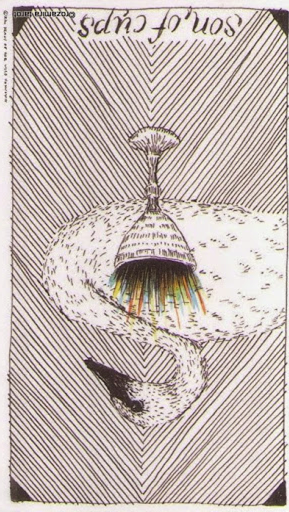 Son of Cups Wild Unknown Tarot in the reversed position demonstrates a situation that at first is extremely attractive, romantic, and interesting but later turns into something very different and disappointing. It is as if you were fantasizing about a current situation and then discovered the harsh truths of reality. This makes it easy to get frustrated and fall into a state of cynicism. Come back to the feminine energy, full of poetry but with the moderation of the upright card. You need to realize that emotions are a double-edged sword that can stream you closer to your goals and connections in life while also dragging you to the bottom like fury and raging waters.
The reversed Son of Cups Wild Unknown Tarot signals what happens when he is at his worst: volatility, emotional and mood manipulation. When the Son of Cups falters, his usual ability to handle situations with compassion and wisdom is turned upside down. He cannot balance the needs of all who seek his guidance, and while being kind to some, he can be cold to others. His talent for navigating the emotions of others can be put to questionable use, manipulating circumstances to suit his needs.
The reversed Son of Cups Wild Unknown Tarot also shows that there is a character in your life depicted by this card, whether part of you or someone else. While he is usually very touchy and in control of his emotions, lately he has become emotionally manipulative and bossy. His actions will be used for vengeance and vindication, impulses he normally controls, and ultimately aim to become some form of punishment.
When the reversed Son of Cups Wild Unknown Tarot appears in a reading, a creative project is emerging, but you are not yet ready to take it on. You probably spend most of your time dreaming of what could be or how great it will be when it comes to fruition. While it can be enriching when you are in the dream and ideation stage for a while, the plan will not come true until you take action. You may need to turn your ideas into reality. Find out how much it will cost, how long it will take, what resources you will need, and more. This will give your project more significance so you can continue working on your idea.
The reversed Son of Cups Wild Unknown Tarot can describe a person whose approach to life is too ideological and far from reality. You may feel frustrated when an offer is not quite what you expected because you find yourself caught up in the excitement or emotion of a situation. For example, you might quit your office job to be able to work from home, only to realize you are missing out on socializing with your co-workers. Or you could sell your house to travel around the country, only to find that your camper van needs a brand new engine on the second day of the journey.