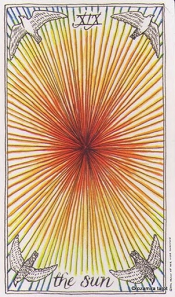 The Sun – Wild Unknown Tarot
I. Image description on The Sun Wild Unknown Tarot
Deck Creator's Keywords: new life, assurance, enlightenment, joy, enlightenment, radiance.
The Sun Wild Unknown Tarot is practically bursting with light! Rays of glory dominate the card, emitting near the rim with orange and yellow beams. We are naturally drawn to the strong, bold, and welcoming energy inherent here. The Sun asks you not to hold back, but to bring out your full potential. The splendor of the sun is a life-affirming sight, especially after The Moon's shadow. The sun always rises, even after the darkest night. What once seems bewildering becomes clear and understandable when viewed in this direct light. The sun shows your ability to approach the enlightened moment, for complete clarity and clearness. So this card is associated with the concept of enlightenment.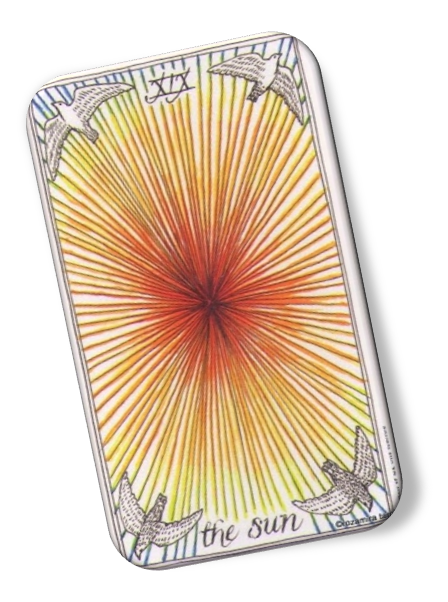 The Sun Wild Unknown Tarot reminds you that every day is a new offering filled with possibilities and potential. The sun imparts life and greatness to everything bathed in its rays. Here we glimpse the fact that there is an eternal life force that dwells in mortal beings. There is an energy that radiates to the Universe that will never be extinguished. In the four corners of the card, the rays of light begin to blend into green and blue, showing hints of the ordinary world filled with light. There are birds in each corner, flying towards the edges. The birds are the champions of the sun, expanding and heralding its positive energy. This also shows how expansive The Sun's energy is – it is not locked in, but freely escaping.
There is an unstoppable feeling of life in The Sun Wild Unknown Tarot. The sun itself is a necessary life force, it transfers energy into the food we eat and into our own cells. This is a card of strength, celebration, understanding, and living to the fullest. Once again, the faultless prominence of the sun deserves credit. There is no evasion here. This is a card that allows itself to take up space.
Above all, The Sun Wild Unknown Tarot asks you to bask in the joy of being alive. Joy is a stronger word than happiness because joy can actually contain happiness and sadness. True joy is about being fully present in every aspect of your life, about letting yourself fully feel the radiant energy flowing into you, and knowing that this is the energy that flows through the entire universe.
Imagine the moment when you are bathed in the warm rays of the sun. It feels like being nourished and healed as all your aches and pains have faded away. The sun card brings this wonderful energy to your life. Filled with vigor and an abundance of health, you feel secure and clear in everything you do. Take a moment to get outside today, being grateful for the energy radiating from the sun and the life it gives to every living thing in the world.
II. The message of The Sun Wild Unknown Tarot in a reading
Traditional depictions of this card show a human-like figure (possibly a child or a condor), naked and outstretched, riding a white horse. Their bodies are naked because they have nothing to hide. They are completely free to express all aspects of their existence. The Sun speaks of boldness and openness. The literal sun is often associated with a joyful reverence of life. 
The Sun Wild Unknown Tarot is about living a full and glorious life. It is a continuation of the energy that began with The Magician Wild Unknown Tarot: step into your true power, possess your radiance, and embrace all that life has to offer. But on the other end of the spectrum, The Sun is a powerful force that can burn us if we look directly at it, and sometimes there is some discomfort associated with this Tarot card as well. The directness of The Sun can be welcoming and warm, but it can sometimes be blinding and blinding.
During a reading, when you see The Sun Wild Unknown Tarot, it can be helpful to ask yourself if you are saying yes to life. Are you fully interested in the radiant energies of your inner work or are you unconsciously silencing those energies? The Sun asks you to take whatever bold action makes you feel most comfortable at this time. If you are facing some difficulties, this card can be a sign that life is still on your side. New clearer and more informed perspectives are ready for you, let's choose to bask in that warmth.
The Sun Wild Unknown Tarot is a card of happiness, this card brings light, a joy to life and future plans. The card predicts a good outcome for work and relationships, so you can rest assured with what you are doing because they will soon achieve the expected success.
III. Meaning of The Sun Wild Unknown Tarot in the upright position
The Sun Wild Unknown Tarot in the upright position represents the sun, you always try to do everything with all your energy. You crave success even though the final reward is not so great. Like the sun that always appears from the early morning dawn, you are a hard worker. All your efforts will be recognized, so be ready to wait for the worthy results. The Sun usually appears with a positive connotation but sometimes it also appears as a negative. You are not satisfied with what you have. You may end up seeing only the good in relationships and not the bad ones that lurk behind.
The Sun Wild Unknown Tarot in the upright position represents the light after a dark night. The Sun is a source of life and positive energy. Good luck and happiness are coming to you and your positive energy spreads to those around you. You gradually get closer to the goals you have set. In general, The Sun card moves carries the message of satisfaction and happiness.
The Sun Wild Unknown Tarot in the upright position also represents success, radiance, and wealth. It gives you more strength, sharing with you that no matter where you go or what you do. That strong and bright energy will still follow you, bringing you to the shore of endless happiness and joy. You attract everyone because you can always see the positive side and bring a warm feeling into their lives. This beautiful and warm energy will help you overcome the most difficult moments in life to reach success. You will also be in a position to share your standards and achievements with others. Let's express yourself and reveal your life values. Show love to those you care about. You have a quality of confidence right now. Life is beautiful, the sun is shining, and you are well on your way to achieving your goals.
The Sun Wild Unknown Tarot in the upright position represents the feeling when you wake up on a Saturday morning, knowing that a great weekend is ahead of you. You open the curtains to let the morning sunshine glow on your face. After struggling in the dark, you now understand yourself and know where you should go. The Sun will illuminate the path you choose as this card is about an acceptance of life. It brings you luck, abundant health, positive thinking, enthusiasm, knowledge, and success. In the upright, The Sun covers your destiny, giving you everything. If you are having a difficult time, the card will bring a message that you are actually waiting for something much better, and then everything will be okay again.
You know that the dark clouds will eventually disappear, making way for the rays of the sun to shine. You will feel your soul warm again. The Sun Wild Unknown Tarot in the upright position is also a passionate card, symbolizing the time when you are waiting to experience the overflowing physical energy, intense vitality, and other positive aspects of yourself. Enthusiasm is overflowing within you and you feel mentally strong and enjoy the great feeling of being in good health. 
The Sun evokes the value of simplicity, though it does not advise you to ignore elaborate and complex thoughts or plans. Experience the freedom of living a simple life and doing what you love most. Find simple pleasures such as spending time with loved ones, exploring nature, or simply reading a book in the garden. Wait for a push in the right direction and trust that everything can and will be done perfectly without too much effort. This is when you feel enlightened.
Perhaps you already see the road ahead. Through the challenges you face, you have gained a whole new level of insight and understanding. You may even find a personal or intellectual breakthrough when you find the key to your inner source. In a literal sense, The Sun Wild Unknown Tarot can be a sign of a trip to a warm or tropical climate, where you can relax and bask in the sun's warm rays. 
In terms of love, The Sun Wild Unknown Tarot in the upright position predicts a happy outcome. If the two of you are in a relationship, the card predicts that you can go further or even get married. Your partner is very interested in sharing with you and respecting you. Try to open your heart to that enthusiasm as the card means that you are indifferent to the sincerity of the other person. If you are single, don't worry too much, you will soon meet your significant other. The meaning of The Sun card predicting love is quite simple, this is the sublimation stage of love if both understand and accept each other with all their hearts.
In terms of work, this is the stage when you have career advancement. The difficulties in your career are gradually being removed, you will enjoy the results you create. Every decision at work can be favorable because you have prepared quite carefully. Even if you are starting your own business or starting a new project at this point, you will find things go pretty smoothly from the very beginning. Although you will have a lot of luck at work when The Sun Wild Unknown Tarot in the upright position appears, that does not mean that you do not need to try or become careless. Getting a good job or a potential project means you have to work harder to develop them and prove your capabilities.
In terms of money, your financial conditions during this time are quite abundant, you will earn a lot of money from many different sources. The Sun Wild Unknown Tarot in the upright position gives positive statements about your financial situation. However, you need to be very careful in your spending because more income comes with more payments. To balance your spending, it is better to invest in legitimate and reliable business ventures for profit. In addition, limit your wasteful spending on items that you think you need but actually want them to satisfy your sense of accomplishment. The card says that you can consider liquidating excess or unnecessary items in the house. It is also a good idea to donate them, but it makes sense to be able to monetize them during this time.
In terms of health, The Sun Wild Unknown Tarot in an upright position portends good fortune and positive news for your physical condition. During this period, you are always full of energy and enthusiasm, so consider spending more time on extracurricular activities or short trips to build an optimistic spirit. It is best to design yourself a moderate exercise regimen and maintain them for a long time. You don't have to go to the gym every day, but swimming twice a week or walking 15 minutes a day are also good ideas if you cannot exercise at high intensity. If you are in the process of healing, The Sun predicts that the situation will soon change for the better. Maintain your current physical and mental health to have enough energy to fulfill all your desires.
IV. Meaning of The Sun Wild Unknown Tarot in the reversed position
On the more negative side, The Sun Wild Unknown Tarot in reverse refers to your struggle in finding the good things in life. Sometimes, the reversed card predicts that you are too optimistic about situations. Your unrealistic perception of the situation can cause mistakes. The advice is to look at things with the most objective views so as not to indulge in pleasing things and forget about real life.
The Sun Wild Unknown Tarot in reverse will mean that it can be difficult to find positive aspects for a particular case. Clouds can hide the warm rays of the sun, making you think as if things are not going in the right direction. You may have experienced a few setbacks, which will make you lose some of your enthusiasm and optimism, and will make you question whether you will be able to achieve the goals that you are aiming for. 
You may be down, sad, or feeling abandoned. Moving forward becomes reluctant to you, and you no longer enjoy what you are doing. The road ahead of you is now covered with dark clouds or is becoming distorted and rough. Even so, The Sun Wild Unknown Tarot in reverse is not a card with a negative meaning, so all these problems are temporary. The barriers you find can easily be removed if you focus on solving them, although it may take a bit more work than usual. 
On the other hand, maybe you are being a little unrealistic or overly optimistic about something. You don't have a good feeling about yourself and don't know what you are good at or what you are not. Maybe you have become ego-entric and have forgotten who you are. You are not being honest with yourself and with those around you, instead, you just try to promote yourself even though you know well that in reality, you will not be what you say you are. If you are in this situation, ask the people around you what they think of you, as well as help you examine yourself holistically. Are you too fanciful? Are the goals you set really achievable? Are you as good or as good as you think you are? Be true to yourself, and shine in your own way, being your own sun, not someone else's shadow.
In such dark times, The Sun Wild Unknown Tarot wants you to be true to yourself and shine in your own way, being your own sun, not someone else's shadow. When in the reversed position, the card can refer to a situation where you are disoriented and out of the track, forgetting your own pure nature or at least you used to be. Let The Sun's bright light illuminate the way and broaden your worldview. Leave the gloomy and lost days behind, you will see a large, beautiful, and bright world illuminated by The Sun.