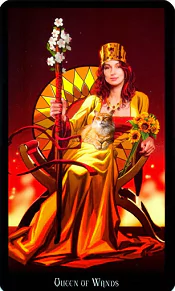 Queen Of Wands – Witches Tarot Deck
I. Keywords and corresponding associations to the Queen of Wands  Witches Tarot
Upright keywords: A woman of the fire zodiac sign, a chivalrous woman who is rich in affection and successful with her family, home, and career; a talented Witch and a born leader of the magical group, a versatile person, modesty, open-mindedness, cheerfulness, charm, playfulness, excellence.
Related elements: Fire and Water, Fire is the natural element associated with the Wands, while all four Queens are related to the element of water.
Astrology: Aries.
Reversed keywords: Perseverance, anger, an attractive woman, unfulfilled promise, a problematic person in love.
II. Meaning of the Queen of Wands Witches Tarot
The Queen of Wands Witches Tarot is leaning on a stylized sunflower throne. She has light blue eyes and long curly red hair. The queen wears a golden crown decorated with rubies. This charming and cheerful queen holds a long hawthorn wand in her right hand. Red ribbons droop down on the wand. She is surrounded by the suggestive fire associated with the visual element of fire from which she draws her powers.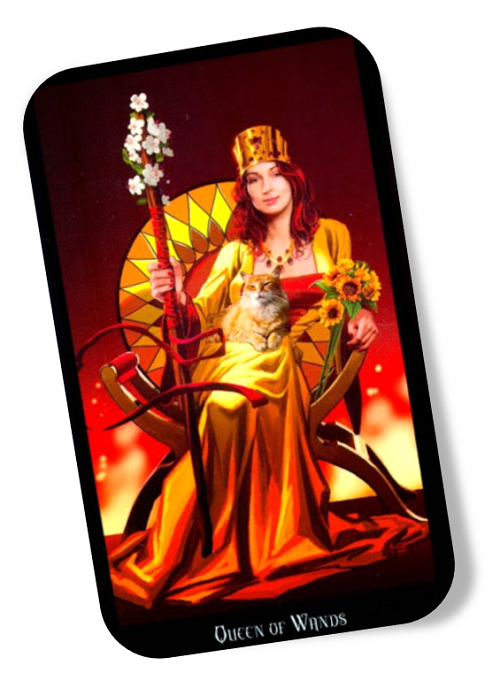 This queen attracts you with the strength of her personality. She is a laid-back mother, a chivalrous friend, a passionate lover, and a leader that combines competence, sophistication, and ingenuity. The Queen of Wands Witches Tarot wears a bright yellow square-neck dress with red trim around the softly flared sleeves. Around her neck are a gold chain and oval rubies. The rubies in her tiara and necklace represent energy and passion which are two qualities that the fascinating Queen of Wands owns. In her left elbow is a small bouquet of orange and yellow sunflowers with warm brown stigmas. Green flowers and heart-shaped leaves can be seen. In the language of flowers, sunflowers represent faith and brilliance. In occult herbal medicine, sunflower is used in spells of success and fame. In her bodice, there is her dear friend, who is a sleepy fluffy orange tabby cat giving a public audience with the queen.
III. Message of the Queen of Wands Witches Tarot
When the Queen of Wands Witches Tarot appears in your spread, prepare to welcome the cheerful upcoming events. This is where the fun begins. The Queen of Wands is all about energy, enthusiasm, and passion. This card usually depicts a blonde woman with pale eyes who loves her home, family, and pets. She is bold, cheerful, warm, affectionate, and mischievous. She is versatile and often joins several groups or committees. She is fierce and excitable but with a sense of humor. It takes a long time for this woman to calm down, but once she does, it is a wonderful natural force. This card refers to the woman of the fire zodiac sign, a talented witch, and a born-to-be leader. The Queen of Wands is an adept priestess or a powerful leader in the magical community.
The Queen of Wands Witches Tarot message is appreciating your home, family, miracles, and career because you can have it all. Just allow your passion for life and your creative and spiritual energies to fill and guide you. The personality of the Queen of Wands combines the positive energy of the Fire element of the Wands and the inward focus of a Queen. She is revered as the most famous person in her class. She is always attractive and has an eye-catching look in a classic style. Her warm smile and gentle demeanor have always won her many friends and fans. Her energy and enthusiasm spread over.
Whatever the task, the Queen of Wands Witches Tarot performs it with her passion and dedication. Nothing can discourage her. She is always optimistic and cheerful and ready to look for the positive in any situation. Her life is always abundant and busy with work. And she likes it that way. She maintains this form because she is healthy and mentally fit. She is also a person with a good motor spirit, naturally strong will, and is able to coordinate with others. Although she never shows complacency, the Queen of Wands always has a deep belief in her own abilities. Her quiet confidence comes from the realization that she can accomplish anything she thinks and believes she can.
The Queen of Wands Witches Tarot asks you to think and feel the way she does. For instance, do you find yourself attractive? Do you believe in yourself? Are you full of energy? Can you dispel your troubles? Are you enthusiastic about life? This Queen also represents a man or woman with a personality similar to hers or implies a joyful atmosphere full of enthusiasm and confidence. In a Tarot spread, the Queen of Wands tells you that her particular flow of energy means a lot to you at this time. Let yourself be inspired by this Queen in whatever form she appears in your life.
IV. The Queen of Wands Witches in a Tarot spread
In traditional Tarot, the Queen of Wands Witches Tarot depicts a beautiful queen sitting on a throne. She holds her head high while looking at the sunflower in her left hand. In many Tarot decks, a black cat appears at her feet. The Queen of Wands card represents positive energy, vitality, and fertility. Overall, this is a positive card to appear in a spread, especially when you are considering growing your family. When the Queen of Wands appears, you can expect your relationships, whether private or not, to become stronger and develop in a positive way.
The Queen of Wands Witches Tarot is one of the most fulfilling (both literally and figuratively) and has the most feminine energy in the Tarot deck. Like every other Court card, the Queen of Wands usually refers to a real person in our lives, especially a woman. The Queen carries good energy and is a pleasant sign.
The Queen of Wands can also refer to a woman with a lot of energy from the Fire signs such as Aries, Leo, and Sagittarius. If not implying a real person, this card symbolizes the achievement of many actions that are related to the job or career of the querent. Queen of Wands carries positive and great energy. When this card represents a woman in your life, she can be a good friend who will always be there for you, even if she seems a little too self-centered. If you are trying to conceive, this is one of the most positive signs that it may be imminent.
When the Queen of Wands Witches Tarot is combined with any other Court card, it represents a specific person. When the Queen of Wands appears with another Queen, it is most likely indicating help from a woman in your life or meeting a new woman who is likely to benefit you. When appearing with the Page cards, it increases the certainty of the Queen of Wands' fertility. When the Knight cards appear with the Queen of Wands, it indicates a romantic relationship. With the King cards in the spread, it indicates a harbinger of marriage or a man who has an influence on your life.
In terms of work, it can be a message that you are about to strike a remarkable deal in a short time. This is a very positive sign. If you are looking for work, the Queen can mean that there will be a woman who will help you find a new job position. On top of that, everything will advance professionally.
In terms of love, the Queen of Wands Witches Tarot brings a good omen. If you are looking for your other half, the card indicates that you will meet someone suitable through an acquaintance. If you don't feel confident in who you are right now, find a way out of this mess and unproductive emotions. Believe more in yourself and then the universe will bring you the right things and the necessary support you want and need.
In terms of finances, you may be feeling the urge to indulge in purchasing many items when this Queen card appears. If so, practice moderation and balance or you will regret your spending. This does not mean anything serious, it just implies that you have not thought carefully before spending. Start saving money on home decor items and accessories. Cut off your budget on unnecessary things. Ask yourself questions like do you really need it in your home or does it have any other use than just decoration?
In terms of health, the Queen of Wands is a very great sign. Your energy levels and vitality are both at their peaks. And if you are now able to get pregnant, whether you are ready or not, the Queen of Wands foreshadows that you will soon be conceived. If you are not ready to be a parent, you should conduct safe contraceptive methods! You seem to be a little overzealous when this Queen appears, take time to rest and relax no matter what.
In terms of spirituality, you may suddenly become hungry for spiritual experiences when the Queen of Wands Witches Tarot appears. While there is nothing wrong with it, remember not to let yourself get caught up in the idea that you will suddenly find the "sacred" answer to all you are looking for in life and leave everything else aside. Take your time, read, reflect, and talk to many people before making big changes in your life. Your discoveries are greatly appreciated. Remember that making big mid-way and sudden life-changing decisions without careful consideration can be detrimental to yourself.
The Queen of Wands Witches Tarot in reverse can refer to a woman who is very kind and helpful to others. That woman can be you or a woman older than you – a very sympathetic and giving person. The Queen of Wands, whether in the reverse or upright position, represents fertility in all its forms. The reversed Queen of Wands can imply that sooner or later you will need to help people who are in trouble. The card can also refer to the possibility that an older woman wants to help you deal with the difficult situation you are facing, but for some reason, her intentions cannot be fulfilled. However, her mental support is still very helpful. If you are facing a difficult situation, call for help.