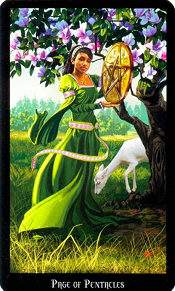 Page Of Pentacles – Witches Tarot Deck
I. Keywords and corresponding associations to the Page of Pentacles Witches Tarot
Upright keywords: Time of research, love of Nature, perseverance, kindness, generosity, drawn to the world of Fairies, enthusiastic, successful, spend time focusing on spirituality.
Related elements: Earth; Earth is the natural element associated with the Pentacles suit, while all four Page cards are related to the element of earth.
Reversed keywords: Lost contact with your magic, feelings of being taken for granted or trapped in the mundane world, boredom, lack of concentration.
II. Meaning of the Page of Pentacles Witches Tarot
On the Page of Pentacles Witches Tarot card, we can see a girl with dark skin, black hair, and brown eyes holding a large gold coin. She is in the garden and stands under a blooming magnolia tree. In the background, there is a light blue sky and lush scenery. The Page holds a gold coin and looks as if she is studying it most meticulously. She wears a romantic spring green dress with pink floral trim. Around her neck is a pendant in the shape of a five-pointed flower and a simple star. Her dress, its color, and the pendant are a subtle connection to the earth element that governs the Pentacles suit.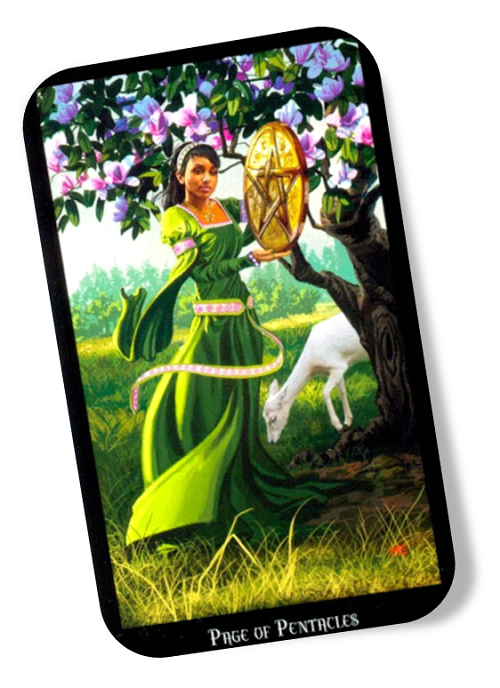 A white hind hides behind a tree trunk following the Page of Pentacles. The young hind happily grazes and is the girl's companion. Traditionally, the hind invites you to explore the world of fairies. This otherworldly hind symbolizes magic and miracles. The beautiful blooming magnolia tree in the Page of Pentacles Witches Tarot is also equivalent to the earth element. In short, in the language of flowers, magnolia symbolizes sweetness, beauty, perseverance, and love of nature.
III. Message of the Page of Pentacles Witches Tarot
  The Page of Pentacles Witches Tarot represents a hard-working and quiet person. They are generous, kind, and are "repairers". This Page shows not only a loyal friend but also someone who works hard to achieve his or her success. With focus and hard work, they will be very successful. This card can also represent a magical learner who is enthusiastic, engaging, and fully immersed in their studies or a student who feels a call to discover Fairy magic. Now is the time to focus on your spirituality. Look at the impact your mantra has on the physical plane. If you want your magic practice to blossom, then you must give it time to blossom and develop.
The message of the Page of Pentacles Witches Tarot is: keep your eyes wide open, seek out nature, and patiently study its ways to understand the lessons of earth magic that await you there. The Page of Pentacles is the one that brings you the message of material opportunities. He/she translates practical opportunities into material wealth, prosperity, security, and solid results, which are great qualities of the Pentacles. In a Tarot spread, the Page of Pentacles means a new beginning that promises wealth, affluence, prosperity, full of faith, or the opportunity to make dreams come true. When you see such an opportunity, seize it.
The Page of Pentacles Witches Tarot can also represent a child or youthful adult who has relationships with you regarding stability, trust, commitment, security and material needs. Sometimes the Page of Pentacles implies that your current situation is filled with material enjoyment. At times like these, feel free to indulge in the pleasures associated with your physical health, skills, and possessions. Now live like you never lived before.
IV. The Page of Pentacles Witches in a Tarot spread
Every Page card has a young man/woman holding an item related to each suit. The Page of Pentacles Witches Tarot depicts a young woman holding a golden giant coin high. The card represents wealth and fulfillment, both in terms of money and in personal relationships. This will mean different things to each person. So you need to figure out what you need to feel fulfilled in this life.
The Page of Pentacles Witches Tarot, in a way, can be a card about boredom. Maybe you have the urge to say or do something to stir people up and find some fun. However, think again about that intention, it is better to spend your energy on more conventional use. Excitement and joy are entirely possible.
In general, the Page of Pentacles Witches Tarot represents a great source of energy that will support you when you feel tired of not being able to complete your work. This Page can give you the focus, energy, and financial resources needed to pursue a boring or uninteresting task. Remember not to just try reluctantly, otherwise, you will taste the bitterness of failure.
Since the Page of Pentacles Witches Tarot is a Court card, its combination with another Court card will emphasize other aspects of the Page. The Page of Pentacles when paired with the Knight of Pentacles means that you will have a positive outcome, no matter what decision you make in the current situation. The Queen of Pentacles emphasizes the creativity of the Page of Pentacles and encourages you to add some art material to your life. When combined with the King of Pentacles, the message here is an inheritance or a proposal that will soon appear to you.
In terms of work, the Page of Pentacles Witches Tarot can mean that you have more tasks to do than you actually have to complete. Don't be discouraged yet, roll up your sleeves and get to work right away. The news about work is generally fine, although you may feel overwhelmed and uninterested. Just do everything slowly but surely. If you need help getting the job done, don't hesitate to ask people around. Support from multiple sources is always available to you.
In terms of love, the Page of Pentacles Witches Tarot can be a sign that your current relationship is a bit lacking in romance. Although it does not imply a wake-up call, the card is still a call for you and your partner to quickly act and discuss together. To make this change and improve the relationship, you need to be very honest about how you feel. If you are not in a relationship right now and feel like you don't have a chance to meet the right person, then consider carefully what you are holding on to. You may still be clinging to your ex and may need to let go of old memories before you can expect things to get better.
In terms of finances, the Page of Pentacles Witches Tarot refers to the rewards and achievements that you will receive through good work and diligence. However, this is not the time to invest risk or do something impractical. Additionally, this is the time to give an honest assessment of the value of your skills and efforts. If you are not getting paid or getting what you deserve, it might be time to make a change. Know how to invest, not wasteful spending. You can consider investing in safe and traditional private sectors.
In terms of health, any problems at the present time are the result of emotional disturbances. Do you need attention? Remember you don't have to be a patient to deserve care. Let's speak up about what you need. However, make sure that any symptoms related to your health will be properly and appropriately evaluated by a qualified healthcare professional. If they say there is nothing wrong with you, then consider adding mental and emotional therapy and healing. If you are under the weather, the card says you will recover soon. At this point, the Page of Pentacles is a guarantee that soon you will find yourself full of youthful vitality. If so, you should take good advantage of it. Most of the time you still hold the key to abundant health and vitality. 
In terms of spirituality, if you are feeling mentally unstable, then this is a good time to consider what might inspire you. What are you enjoying and experiencing? What are you interested in? What do you want to discover? Make sure you leave the old path and try new directions. Let's create your own energy and enthusiasm. Find the most mentally positive and optimistic people you know and say things that encourage them. You will learn a lot of useful things.
The reversed Page of Pentacles Witches Tarot can be a card that brings a message that requires focus. You may be easily distracted at the moment. Do your best to do one thing at a time and keep your mind focused where it needs to be. When the Page of Pentacles appears in reverse, it indicates that you are not giving credit to your intuition as it is weakening. It is important to remember that your feelings are important. Also, in order to fix the parts of your life you find problematic, you must first acknowledge your desires. Let's be straightforward and don't make others uncomfortable by concealing your concerns, but don't back down either.
In general, the reversed Page of Pentacles Witches Tarot can mean that you either have to work harder to prevent your energy and mind from being diverted into unproductive things or that you need to allow yourself a couple of breaks and get away from the daily chores. If possible, take a long weekend off to restore the energy needed to help you return to your daily life in a new and more productive way. Think about how exciting discovery can be for you? Is there any spiritual connection between people in history or modern people like you? What can you learn from them? Try out new ways and read books you would not normally read.
The Page of Pentacles Witches Tarot in reverse also indicates that you are focusing on immediate pleasures and temporary desires, not on sustainable and long-term goals. You will need to overcome the temptation of materialism and work towards the things that will bring you true happiness. Similarly, you find it difficult when trying to implement your plan or your idea. Every time you try, it seems like everything just stands still. You will feel frustrated because you think you will never succeed and unintentionally lose confidence in your talents and abilities. If that is the case, relax and ease your mind to get your energy back.