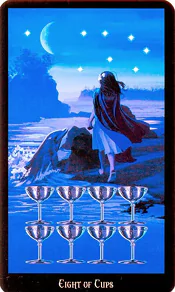 Eight Of Cups – Witches Tarot Deck
I. Keywords and corresponding associations to the Eight of Cups Witches Tarot
Upright keywords: Moving forward in your life, leaving the past behind, setting healthy boundaries.
Reversed keywords: Giving up on success, the risk of making the wrong decision.
II. Meaning of the Eight of Cups Witches Tarot
In the foreground of the Eight of Cups Witches Tarot are eight silver cups neatly stacked and balanced by the seashore. Behind the eight cups, we see a girl in a blue hiking coat with a branch of sweet pea in her hair. The girl is walking away from the cups to the ocean's edge. It is important that she walks in a middle ground here. She is at the boundary of one territory and another, namely the land and the sea. The invisible wind flips her coat slightly behind her.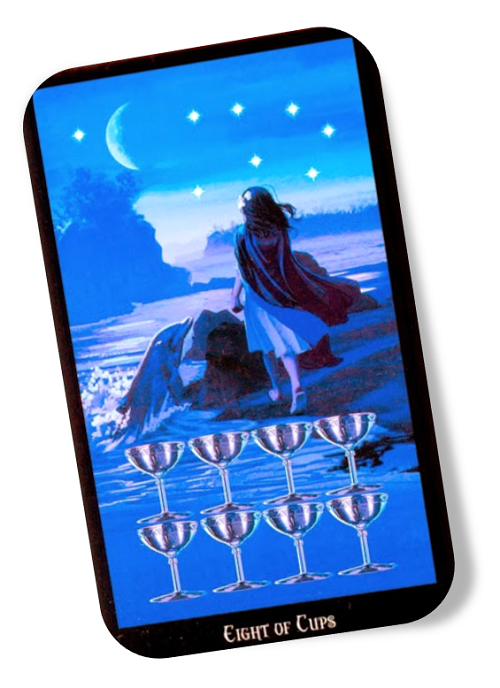 The crescent moon shines down from the night sky with eight twinkling stars. In the distance are high mountains, but our traveler is looking towards the horizon. She chooses to give up things that are no longer needed or detrimental. As she steps down to the shore, a dolphin stretches out to look at her. Dolphins are seen by the ancient Greeks as messengers. It appears in this card as if checking the girl's progress. The girl is moving and progressing forward. The flower in her hair is iconic. In the language of flowers, sweet pea symbolizes departure.
III. Message of the Eight of Cups Witches Tarot
The Eight of Cups Witches Tarot represents the need to move in your life. It can be a physical move, such as a job change, a move to a new home, or it can be an emotional transition. Either way, the message of the Eight of Cups needs to be respected. If your move is emotional, set healthy boundaries. Leave the past behind and move forward with determination to a better, happier, and healthier place. If you are about to move physically, then go ahead and enjoy the positive changes in your life.
According to psychology, when a group of people prepares for a breakup, the members show clear signs of the impact of the breakup. They show a certain restlessness. Members will tend to be late to meetings, communicate less, and appear distracted. To some extent, the participants in the group knew it was time to leave, but they still needed a little more time to get to that final step.
This process is quite relevant in many situations when an end is approaching. Nothing is permanent in life. Sooner or later, everything is gone or we lose it. The Eight of Cups Witches Tarot represent those moments when we realize – once and for all – that the past is over. What was once true will no longer be true. Signs of change have appeared in front of our eyes and we must accept it. It is time to leave.
Some changes can cause feelings of exhaustion or fatigue. The ending is not always easy. One of the signs of a willingness to leave is a lack of energy. When you feel tired and depressed, you know something is wrong and it is time for a new direction. Take a look at your life and your priorities. You will find out what areas of your life you need to get involved in. The Eight of Cups Witches Tarot also indicates that you are so frustrated that you can give up everything you have built so far. Be it in love or materialism. It also indicates that you have exceeded your limits and become emotionally exhausted.
IV. The Eight of Cups Witches in a Tarot spread
When Eight of Cups Witches Tarot is first flipped, it often brings a negative feeling because of the image of a young woman showing her back to the cups. However, it should be seen as a signal of change. There are indeed signs of grief. Disappointment occurs when what you have achieved up to this point has not been what you expected. From the bottom of your heart, know that this is the time to change, even if it makes you feel small. That is the essence of this card: to find true joy that comes from deep within, even if you have to let go of what you have achieved. Usually, this card will appear when you are ready to walk on a new, more suitable path for you. On this new journey, letting go of the things that make you unhappy or giving your life more meaning even if you don't give up anything completely.
The Eight of Cups Witches Tarot usually means that you will choose to let go of a situation or circumstance that no longer works for you. It could be a relationship, a job, or a neighborhood. This can be a little frustrating. But in general, this separation is in your best interest.
Know that the time of good changes awaits you ahead. Instead of this separation appearing as a sad event or someone or something leaving you, usually, this card always implies that you are the one who made this choice to leave. It is common for you to accept to close the door behind you before the next door right in front of you can open wide to welcome you.
Since the primary meaning of the Eight of Cups Witches Tarot is happiness and a sense of personal achievement, this meaning will always be prominent even when it is combined with other cards. When appearing with the suits of Swords, the Eight of Cups means things that can speed up your heart like facing your fears, being willing to wait a long time for the final result. When appearing with the Wands, it means following your dreams and using your talents to make the world a better place or learning another major. The Pentacles cards when pairing with the Eight of Cups indicate things that are close to the image of a home, such as building a family or taking care of trees and animals. When appearing with other cards of the Cups, it directly emphasizes making yourself richer like writing a book, earning glory, or auditioning for a role.
In terms of work, your current job may no longer be suitable for you. You may feel bored or find your efforts are not being appreciated. Think very carefully about what is best and most suitable for you. Try to deal with your current situation. And if it does not work, just leave. Either option will work for you. One thing is for sure that things will not change for the better on their own. So if you are really unhappy, think in detail about the specific changes that will need to happen to make you more comfortable at work. And if you really feel that you cannot change those things, look for a new position or a new job. You can absolutely do that.
In terms of love, you may find that your long-term relationship has come to an end. If you are sure of this, just speak frankly to your partner. Don't jump right into a new relationship. First, give yourself some time and space to reevaluate things.
In terms of finances, if you are really tired of your current job and life, then don't let the feeling of security of a monthly salary tie you down. However, think carefully before you quit a job. Health insurance is definitely something to consider (if you work in a public organization, your employer will of course cover this for you). With a clear vision, plan, and attention to detail, you can take on any job you want. Just make sure your plan is well laid out and comprehensively prepared. Money is not everything.
In terms of health, stress can happen and cause you many health problems. Make sure you are paying enough attention to your diet, exercise, and sleep. Keep a positive and optimistic attitude.
In terms of spirituality, you may need some alone time. You will see inside and find wisdom in that quiet space and listen to the still voice from your heart.
The reversed Eight of Cups Witches Tarot often implies that you may be thinking about leaving a situation or event that you no longer feel is beneficial to continue. However, this reversed card also serves as a call for you to stop and think about the upcoming decision more carefully. You may not have given the situation or circumstances enough time. When the Eight of Cups appears in reverse, it is important to remind yourself that your good times are still ahead. If your inner self tells you that you really need to step out of a relationship, job, or preparation, then trust yourself. But first, think deeply and carefully enough. Consider and analyze the situation before you make a decision and evaluate all the possible benefits and losses you may receive from making that decision, if possible.