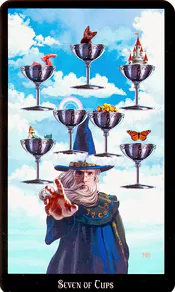 Seven Of Cups – Witches Tarot Deck
I. Keywords and corresponding associations to the Seven of Cups Witches Tarot
Upright keywords: Selection, many great options lie ahead of you, choose one of these cups and their lessons for yourself.
Reversed keywords: Don't be drawn into making choices for others, they will take their anger out on you for it; hesitancy, freedom, illusion.
II. Meaning of the Seven of Cups Witches Tarot
On the Seven of Cups Witches Tarot card, sitting on the clouds are the seven silver cups. Inside each cup is something wonderful, mysterious, and different. A white-bearded witch with semicircular glasses is standing in the foreground. He wears a soft robe of the color of water with many occult symbols embroidered on the outside. The wizard wears a tall and pointed hat. He places his open hand toward you as if encouraging you to reach out and choose one of the seven silver cups.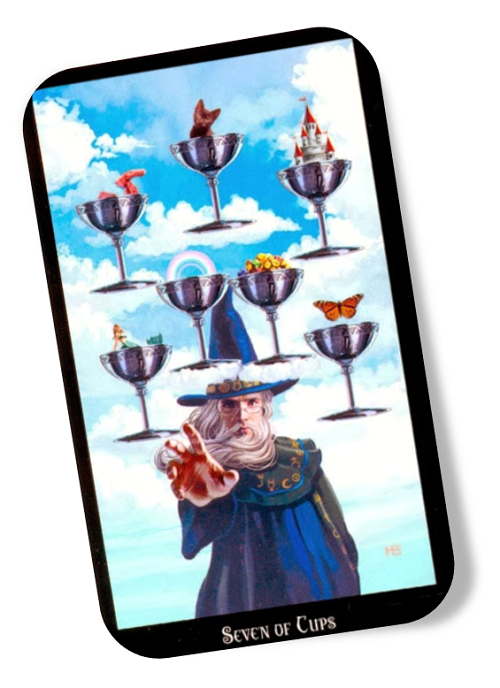 The witch is inviting you to choose. All of these options are equally great. They all represent something different. One contained a tiny winged red dragon. The tallest cup has a black cat sitting inside. The third cup has a tiny fairy tale castle. The fourth cup has a beautiful rainbow shining. The fifth cup has gems and gold coins while the sixth cup has a pretty little mermaid. The seventh and final cup features a flying monarch butterfly.
III. Message of the Seven of Cups Witches Tarot
Many great options are lying in front of you. The Seven of Cups Witches Tarot is the card of dreams, symbols, and foreshadowing signs. Take a moment and then choose one of the seven cups. Now read on and see what it tells you about yourself. The red dragon represents transformational power and the element of Fire. What kind of passion and power can you exercise in your world? Black cats give you the opportunity to work closer to the animal world and find your own magical guardian deity. Fairytale castles give you the chance to settle down, comfort, and the magic of home and family. The fourth cup gives you a rainbow which means a time when you need to focus on your communication skills and see what message awaits you on the mystical rainbow of Iris from the Temperance card. The fifth cup contains gems and gold coins, inviting you to dig deep and perform miracles with the element of Earth. Let's focus on crystals, gems, minerals, and metals. The sixth cup has a little mermaid inviting you to dive deeper into the world of water. Embrace your psychic powers and emotions to see where they will lead you. The last cup has butterflies calling you to the element of Air. Sharpen your mind, hone your instincts, and focus on intuition. What kind of new knowledge will the Air element breathe into your world?
If you look around the room and notice that the furniture is still in the usual disarray, then you will know what the Seven of Cups Witches Tarot is trying to tell you, though not quite sure. The card wants to convey the message that order and hard work are great. However, wouldn't it be more interesting if we let it all go? Giving it all is what the Seven of Cups is all about.
It is easy to worship efficiency and orderliness. We all love seeing beautifully manicured lawns, ABC filing systems, or learning about time management. In other words, we love the Emperor's disciplined world. We value order in all its forms and want everything in life to be in order. The Seven of Cups card is a representation of balance, symbolizing all elements of carelessness, impracticality, and lack of seriousness.
When the Seven of Cups Witches Tarot appears in a Tarot spread, it is important to consider your current situation carefully and see how chaotic and disorganized you are. Are things getting too controlled? Maybe you need to let go a little. The moment a rigid system collapses is likely to be the moment when extraordinary creativity emerges. 
Conversely, if you are in some sort of turbulent situation, corrective measures may be required. No one can be happy and productive in an environment that drives people crazy. Rules help create a structure for life. If looked at carefully, the wobbly state of the cups in the Seven of Cups symbolizes the danger of the consequences of decadence, addiction, or fall.
Sometimes laziness appears in your thoughts or dreams. It is easy to wish for something, but it is not easy to make that wish come true. When you see the Seven of Cups Witches Tarot, make sure that you always work hard to realize the plans you set. Get your life back on track and commit to yourself that you will do what it takes to achieve your goals, even if it is just cleaning your house.
IV. The Seven of Cups Witches in a Tarot spread
The Seven of Cups Witches Tarot is easy to appear when some temptation has rekindled in your life. This card depicts seven cups, each containing a different object. The image of the card is quite confusing, representing a lot of different opinions that have appeared or will soon appear in your life. It is also common for the Seven of Cups to appear to those who have not put in enough effort to make their goals a reality. In that case, the object in each cup represents a feeling of being overwhelmed or not knowing where to start. Having too many opinions can lead to you feeling like a failure, but that is rarely the case. This card indicates this to encourage you to set priorities.
The Seven of Cups Witches Tarot is a card of choice. This card often implies confusion and even indicates disorganization or too much going on. In general, it means that you need to narrow down your aims. When this card appears, it is likely that you are working too much, but much of what you do is not very effective. Choose only what is most important and do each thing radically and carefully. Maybe you are feeling bewildered. Remember that you can always control at least some aspects as well as the level of work you choose.
The Court cards that appear with the Seven of Cups Witches Tarot help define the specific audience your decisions will involve. Pay attention to which suit the Court cards belong to decide how the person being directed affects your life, so you can plan the best. When the Seven of Cups appears with the Ace of Swords, it means that no matter what decision you make, it will have a positive outcome. This duo looks different but brings good news of victory.
In terms of work, if you have a business opportunity or deal that you feel is too good to be true, chances are it is unrealistic. See where you are investing your money and trust. If you are working or want to work in a creative environment, the appearance of this card refers to good progress. However, if the job or field of work you are in inclines towards accuracy, calculation, or business, the Seven of Cups Witches Tarot is a warning that you are investing too much time on unnecessary things. You will need to stay awake and focused.
In terms of love, you may have many emotional options in your hands. But be clear and specific about what you want in a relationship, evaluate those options thoroughly, be honest with everyone involved (including yourself), and then move forward. Remember that falling in love deeply and passionately happens only in the early stages of a relationship. No relationship can remain at that stage forever. Good relationships, including spiritual ones, will reach a quieter and less impulsive stage at some point. However, this does not mean that you will feel bored with your love.
In terms of finance, this is not a good time to invest. But if you must do it, you need to consult a professional and practice gradually first. Your business may be too fragmented (this is especially true if you are self-employed). For maximum profit, be more focused.
In terms of health, any health-related symptoms you are experiencing can be partly caused by a lack of sensitivity and consciousness about yourself. Of course, consulting a doctor is also essential. Make a note of the symptoms you experience along with your thoughts about them. Exercise will help you increase your sense of sensitivity.
In terms of spirituality, visualize in your mind your important goals and desires that have been fulfilled. Use positive statements, such as "I am confident" and "I can do it" to help you make your dreams come true. Keep a positive attitude. If you need help, just ask those around. There are many positive influences all around you, just know where to find them.
The Seven of Cups Witches Tarot is a card of decision. The reversed card carries the message that you will have to make the necessary decisions and make the important moves involved afterward firmly. Believe in your own courage. You probably already know where you should start. Just keep doing it and you will succeed.