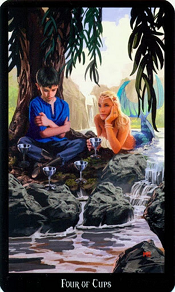 Four Of Cups – Witches Tarot Deck
I. Keywords and corresponding associations to the Four of Cups Witches Tarot
Upright keywords: Get out of your fear! Change, adventure, and opportunity await you; stop being sad and do something positive, help will come from an unexpected place.
Reversed keywords: Self-pity, fall, sorrow.
II. Meaning of the Four of Cups Witches Tarot
On the Four of Cups Witches Tarot, there is a young boy sitting on the bank of the lagoon and feeling melancholy under a willow tree. In the background is the waterfall. While the view depicts a fine day with the blue sky and light fluffy clouds, the boy's arms are crossed over his chest and his head is bowed. In front of him are three silver cups, and he seems to be worrying about them. Beside the boy, the blue-eyed mermaid with platinum-gold hair is holding the fourth cup and is lying on the foam. The pearls in her hair and around her wrists are connected with lunar and feminine energies that represent dreams of the impossible.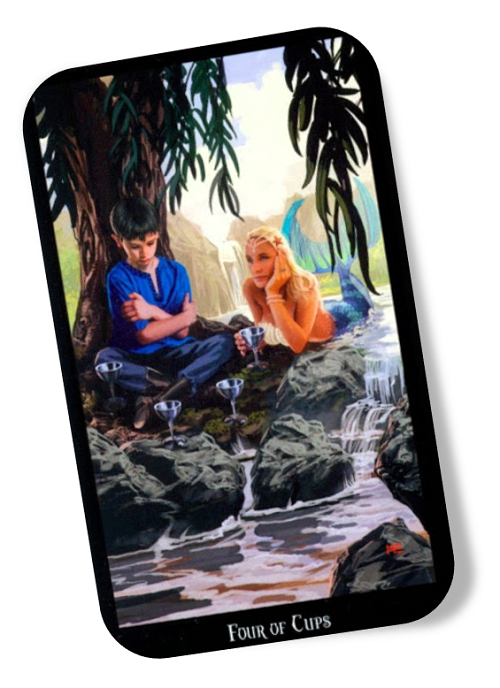 The scene around the mermaid is bright while the scene around the boy is dark. However, they have similar expressions. Can it be that she is mimicking the boy's expression in hopes of teasing him to make him smile? She waves her gorgeous blue-green striped tail behind her, patiently waiting for him to look up and see the opportunities at hand to accept the help she is trying to give him. The willow tree in this card is associated with the moon and the water element. In the language of flowers, willow represents perseverance.
III. Message of the Four of Cups Witches Tarot
  The Four of Cups Witches Tarot describes boredom and the feeling of going into a rut or being dissatisfied with your life. However, adventure, change, and help are laid out before your eyes. You just have to open your eyes to discover and feel those new and exciting opportunities. Help will come from an unexpected place. Be happy! Show gratitude for the blessings in your life and reassess where you are now.
If you withdraw, you tend to bring everything back to yourself, including your own interests, concerns, and desires. On this card, we see a boy who does not care that a cup is being offered to him. He misses this gift because he only directs his thoughts inward. During the spread, the Four of Cups Witches Tarot can indicate that you are surrounded by your own world.
In some cases, you have to focus on yourself. When life is so stressful, you need to give yourself time and energy. If not, you will feel bogged down. The Four of Cups Witches Tarot can represent an active phase of self-reflection and self-renewal. By taking the time to think about your dream, reflect, and associate, you will gradually restore your emotional balance.
The Four of Cups Witches Tarot is sometimes a sign of indifference. You do not really care too much about anything. Your life seems bland and boring because you have lost interest in activities that once brought you joy. You have no incentive to find effort in any direction. At such times, the Four of Cups can mean that you are stuck in your own emotions. You need something to focus on that will help your mind and heart find the way back to life again. Be open to your surroundings. Sooner or later, you will be back on the road to being yourself again.
IV. The Four of Cups Witches in a Tarot spread
The Four of Cups Witches Tarot says that we are standing on this mountain looking at that mountain, not focusing on what we have, but only thinking about what we can have. When the Four of Cups appears in a Tarot spread, it challenges you to stop daydreaming about what you might have. Instead, be content with what you have right now. The Four of Cups is a sign that we need to appreciate what we have and feel more grateful for its presence in our lives. When we are too concerned with having more and take what we currently have for granted, we are missing out on other opportunities in life. The Four of Cups calls you to notice that while you are thinking about other things. You are missing the opportunity to improve what you have right now.
The Four of Cups Witches Tarot is a card about wishful thinking. It warns us to remember to pay attention to the reality and the favors we are currently receiving, instead of worrying too much about things that are unlikely to happen. Make sure you are grateful for what you have. Don't spend too much time regretting or wishing your life was different. Life will change a lot if we put our focus and attention on it. Pay attention to the things and people in your life for which you have to be grateful. Consider writing a "gratitude diary."
When appearing at the same time with the High Priestess, the Four of Cups Witches Tarot warns against gossip in the workplace. It is possible that something you say in private will be heard by someone unkind. So there are some ideas you should keep to yourself. The Four of Cups paired with the Ace of Cups means that your emotional reaction to the current situation stems from something deeper than what appears in the spread. Then it is important to look back to the past to understand the events that led to your attitude and to react appropriately. You should also seek the help of professionals to heal old wounds.
In terms of work, you may not like your job very much, but at least it can cover your living expenses. None of us are really completely stuck unless we let ourselves fall into such a dead-end situation.
In terms of love, think seriously about whether you are being realistic with emotional matters. Is your heart excluding everyone else coming to you? Who does not really give you a lot of love or is almost always absent when you need it?
In terms of finances, the Four of Cups Witches Tarot tells you to focus on your strengths and on what you have and can do. If you don't know where your financial situation is going, establish specific goals and plans and map out the steps that will help you achieve those goals and plans. Take a realistic look at your economics because only you can take control of it.
In terms of health, the message that the Four of Cups Witches Tarot wants to convey is to focus on the positive only. If you are having a physical problem, remember that things are not always the same as they are now. So stay healthy with a clear mind. Pay attention to your diet, exercise, and take time to rest/eat moderately. You may need to talk to a trusted counselor or doctor for help in improving your physical condition at this time.
In terms of spirituality, daydreams can be detrimental to the mental aspects of life like when we get caught up in a self-deprecating lifestyle or inconsistent mindset. It can have negative consequences and a tendency to blind us to the beauty of the reality in our lives. Be confident and stick to reality. If you cannot keep a gratitude diary and write down the things you are grateful for every day, at least make a list of twenty people/situations/things in your life that make you feel thankful at the moment. Meditating with these journal entries can greatly increase your "mental awareness" very quickly.
The Four of Cups Witches Tarot in reverse is a card that implies breaking the self-imposed routine. You want to see yourself transformed and moving forward again which is a good thing. When the reversed Four of Cups appears, it is time to start getting up. This is not the time to feel sorry for yourself or regret the things that have or have not happened. Let's start from the present. Always remember that if something goes wrong, you can make a difference. Acknowledge and be grateful for the blessings and favors you have.