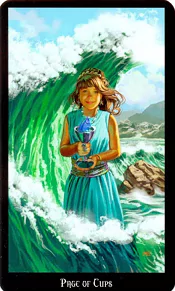 Page Of Cups – Witches Tarot Deck
I. Keywords and corresponding associations to the Page of Cups Witches Tarot
Upright keywords: Imagination, a senior who begins to study magic or spirituality, discover new psychic or magical powers, pursue hope, and rediscover the joys of your profession.
Related elements: Water and Earth, Water is the natural element associated with the Cups suit, while all four Page cards are associated with the element of Earth.
Reversed: Don't care about your intuitive and psychic powers, refuse to commit to your magical studies.
II. Meaning of the Page of Cups Witches Tarot
The Page of Cups Witches Tarot is a little girl about to grow up. The Page is full of optimism and curiosity. The excitement is lighting up her hazel eyes. Her blonde-brown hair is partially tied back with a seashell headband while her pale navy dress and silver starfish earrings show her connection to the water element. Around her neck is a simple necklace of sea glass beads. Page of Cups holds a silver cup with two hands. Inside the cup, a blue fish emerges and is whispering secrets to the little girl. The fish is inviting her to look within to embrace the element of water and discover her intuition, miracles, and psychic talents.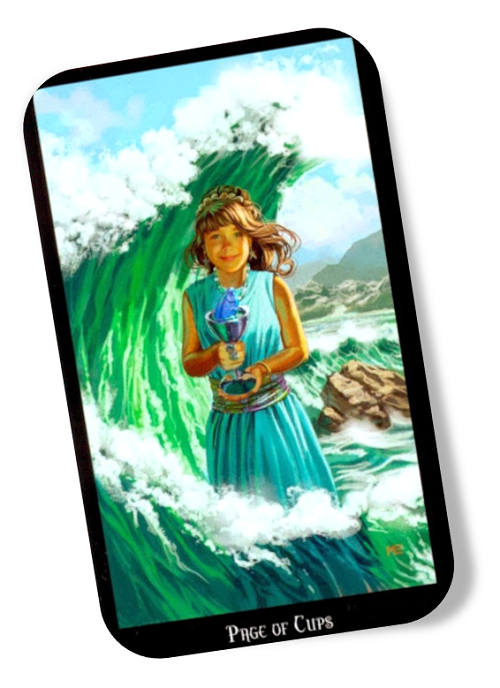 Behind the Page of Cups Witches Tarot, we can see the blue sky and ocean. Surrounding her are the mischievous, sparkling ocean waves that bend into the shape of a crescent moon. This is another consensus on the feminine power of the moon and its gravity on the tides and its power over us all. The girl is not worried about the wave, instead, she welcomes its mischievous slap. After all, it is part of the learning process. She is ready to immerse herself and begin her studies. The adventures and journey of the Page of Cups on the mystical path have only just begun.
III. Message of the Page of Cups Witches Tarot
  When the Page of Cups Witches Tarot appears in a Tarot spread, you are being told that new intuitive gifts are about to arise. Take the opportunity to discover your potential. Immerse yourself in the exploration of your intuition, empathy, insight, and other psychic powers. This Court card can also represent a senior who is just starting to study the occult arts. Embrace the joy of discovery and inject excitement into your profession. Like the other Court cards, the Page can represent a real individual. Typically, this is a young guy/girl with blond or brown hair and blue, light brown, or green eyes.
The message of the Page of Cups Witches Tarot is to discover your mystical and spiritual talents. Don't forget that miracles are a fun thing! The Page of Cups is Cupid that brings you opportunities for love. She conveys real opportunities to experience the romance, deep feelings, and inner life that are the hallmarks of the Cups set. In a Tarot spread, this Page of Cups shows an opening that can come to stir your emotions, draw you into your deepest emotions, and bring you great joy. When you see such an opportunity, grab it!
The Page of Cups Witches Tarot can also refer to a child or childish adult that correlates with you in emotional need, status, love, intimacy, or spirituality. Sometimes this Page indicates that your heart is completely filled with love and emotion. At these times, feel free to express and enjoy how you feel without regard for anything else.
IV. The Page of Cups Witches in a Tarot spread
The Page of Cups Witches Tarot has a Water and Earth element which explains its power that makes your dreams come true. The appearance of this card is a good omen. In the best sense, it indicates that love is coming very close. At worst, you have a lot to learn to develop your emotions. Imagination is what the Page of Cups represents. Therefore, the card points to your inner turning point. When the Page of Cups Witches Tarot appears, the thing to do is to follow your instincts when it comes to making decisions. Rely on your childhood memories as well because this card shows the creativity and industriousness of each individual. The Page of Cups also indicates humility, the need to help others, loving, caring, and caring in a subtle way. It is a message that time is necessary for a relationship to develop. Confirmation related to children, engagement, weddings, new ideas, and paths may be coming your way.
The Page of Cups Witches Tarot is a sign to allow the childish side of you to manifest. Like most of the cards in the Cups suit, the Page is a positive and encouraging sign of affection and emotions. The card can also show that someone who seems smaller than you is carrying a message to you.
Overall, this card represents a need to play, dream and have a little joy. It sometimes means that you are taking your life too seriously. Margot Fonteyn says, "The one important thing I have learned over the years is the difference between taking one's work seriously and taking one's self seriously. The first is imperative and the second is disastrous." Remember that difference.
When the Page of Cups Witches Tarot appears with the King of Cups, it means that there are two people chasing after you, one of which may be a professor or a manager. When the Page of Cups appears with the Queen of Cups, it directs you to become a more responsible person in your next romantic relationship. When the Page of Cups appears with the Shadow Side, it indicates that your lover is prone to addiction and that will make your life difficult. When the Page of Cups is combined with the Hermit, it indicates an ongoing relationship with a man who is looking for a mutual attachment. When the pairs above appear with any Queen card, get ready to be deeply in love with your significant other and immerse in a great relationship!
In terms of work, even if things always go bad with the job you have been in for the past ten years, the Page of Cups Witches Tarot shows that you still have reason to hope and look forward to a bright future. Whoever you are, you have many career options. Life can change quickly, and oftentimes those changes are positive. If you are unhappy with your current job, know that you still hold the key to changing it.
In terms of love, someone who is younger than you can be part of your love life. Remember that there is no age difference in love, so don't just mess around with that person! If someone is trying to impress you, give them a chance. The Page of Cups advises you to let yourself be filled with emotion and romance. Let your heart lead the way.
In terms of finances, if your economy is being tightened because of decisions made by someone else, the Page of Cups Witches Tarot indicates that the time is coming to an end. You may hear unexpected market news, business expansions, and new business options. This Page tells that you should also be ready to take action. Your financial matters may turn for the better. If you are thinking of buying one or more expensive things, consider carefully!
In terms of health, listen to your body with keen care. What is it telling you? For example, if you are suffering from back pain, are you carrying (literally or figuratively) too heavy? You should look inward and listen to what it is saying. Also, hearken to your physical condition and find out what these physical signs mean.
In terms of spirituality, you may need to rethink your spiritual practices if your beliefs are waning. This can be helpful to allow yourself time and space to consider where you can pursue spiritual information that appeals to you. Let's explore and research more. Study on spiritual knowledge from other belief systems/cultures instead of your own.
When the Page of Cups Witches Tarot is in reverse, you must remain realistic while playing around. Everything has consequences that we have to pay for in some way. Be aware of the consequences of what we do. The reversed card refers to someone who is having problems with emotions or someone who is immature, insecure, and unsure of themselves. While the upright Page of Cups speaks of creativity, the reversed Page of Cups shows that your creativity is blocked and your work is delayed and requires more effort. Let's reassess the situation to find the optimal solution.