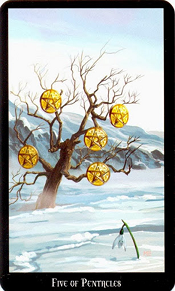 Five Of Pentacles – Witches Tarot Deck
I. Keywords and corresponding associations to the Five of Pentacles Witches Tarot
Upright keywords: Financial worries; anxiety, stress, and action through tough times; feeling locked out or isolated, innovation and hope in adversity.
Reversed keywords: Loss, sadness, bitterness, regret.
II. Meaning of the Five of Pentacles Witches Tarot
On the Five of Pentacles Witches Tarot, we can see five coins hanging from an old tree. This is winter and the snow is full of tree stumps and hillsides. The branches of the trees are tragically bare in front of the winter landscape. The sky is cloudy, cold, and frosty in the background. This Minor Arcana card can show that you feel locked out in the cold, away from loved ones, friends, or other Witches. However, this card is about awareness. For example, a snow cover can symbolize isolation or, alternatively, it can give a fresh and clean look at a soothing landscape. Snow can be a sign that it is time to make a fresh start. In the foreground is a snowflake flower representing renewal and consolation in adversity, which are the true messages of this card.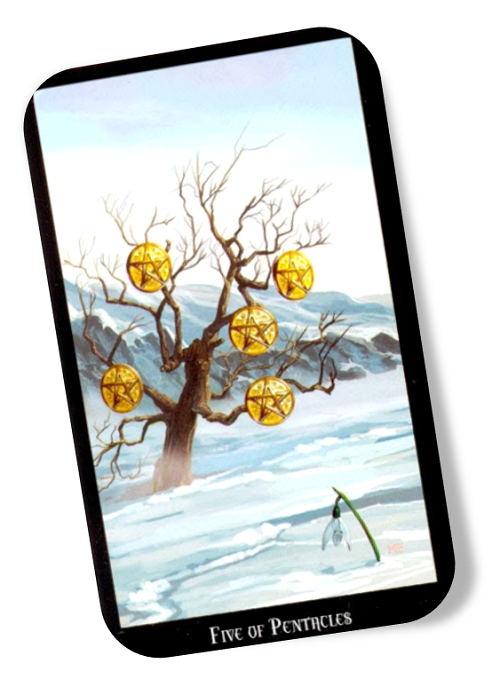 III. Message of the Five of Pentacles Witches Tarot
  When the Five of Pentacles Witches Tarot appears in a Tarot spread, it indicates the time of the desert. The querent may be experiencing financial worries or feeling isolated from people who share a similar belief system. It can be a feeling of being out of touch and isolated or they may be losing faith in themselves. There is anxiety and stress. Also, the focus needs to be turned on taking action to get through the tough times instead of yielding to fears and feelings of regret for yourself. That snowdrop is very important. It shows that life goes on and rebirth is possible. Help is always available if you ask. No matter how dark and cold the winter may be, spring, growth, and new opportunities are all around.
The Five of Pentacles Witches Tarot can represent some kind of deficiency. The first is poor health. It is important to know that without enough vitality and physical strength, we cannot overcome the challenges of life. This card can be a sign that you are somewhat distracted from meeting your basic needs. You are getting further and further away from the task of achieving good physical health for yourself, so find out and try to fix this problem as soon as possible.
This card can also refer to setbacks in terms of material and economic aspects. One thing is for sure, your life will become very hard if you lack money or don't have a good job. When we struggle to meet our own basic needs, all the other problems become even more serious. Even when we are leading a comfortable life, there is obviously always some insecurity and fear that one day, bad luck will wipe out what we have worked so hard for.
The Five of Pentacles Witches Tarot can also carry a message of rejection, denial, or disapproval. Humans are social animals who understand the pain of being rejected by the community. We want to join other individuals not only to satisfy our own intrinsic feelings but also to find mutual support. Rejection can also become a physically difficult experience.
The Five of Pentacles Witches Tarot, besides relating to a physical deficiency, also implies a defect in the spiritual aspect. Humans are born to enjoy the fullness of all areas of life, but sometimes we forget that it is an obvious human right. Whenever you are in a difficult situation, always remember that what you are suffering is only temporary. Find places that calm you down, that will welcome you and at least give you a place to stay.
IV. The Five of Pentacles Witches in a Tarot spread
The Five of Pentacles Witches Tarot does not include too many good hopes. It represents the loss of faith and hope in one's life. Those who are experiencing financial difficulties or feel that their love is about to end are likely to draw this card in their Tarot spreads. This card tells us that we must find simple solutions to deal with what is bothering us if we have the strength to ask for help. Even so, the Five of Pentacles is not necessarily a bad card. Known as a medicine that makes you clear your eyes, the Five of Pentacles tells you that you need to examine the emotions you are having inside, and then find out why you are putting off the positive things and holding on to upset things. You need to find out why you let yourself feel stuck and find a way to make a positive change in your life.
The Five of Pentacles Witches Tarot can indicate a time when life becomes unsafe. It is important to remember that you can always find help whenever you need it from both visible and invisible sources. You may feel lonely but you can still change that. Go ahead. Overall, the Five of Pentacles represents feeling abandoned in the cold as if everyone else in the world has it all and you are the only one suffering. Be alert and realize that things are not what you think they are. Try to be as good as you can with what you are holding. Also, remember that a wise man knows how to ask for outside help. 
When appearing with the other Pentacles cards, the Five of Pentacles Witches Tarot directly deals with financial matters. If the Five of Pentacles appears with many of the Swords cards, it means that your problem lies in conflict with others. The Five of Pentacles when appearing with many of the Cups cards indicates emotional outbursts or emotional immaturity that is the foundation of problems in your life.
In terms of work, there are two possibilities: either your current job is a burden or you cannot find a job. Besides, your mind is stuck. You should know that you don't have to confine yourself to a situation that is unhealthy or unproductive for you. Have faith in yourself and the universe (destiny) that any change and improvement is possible. You don't have to do everything yourself. If you want a new position, talk to the people involved. Things will gradually improve. Be confident!
In terms of love, the Five of Pentacles Witches Tarot is not a sign of happiness. Maybe you are giving your heart to someone who you feel is not treating you appropriately. Chances are you need to stop fantasizing about that person. This card evokes the feeling of being abandoned in the cold very clearly. You need to remember that in this world there is not only one person who can be with you, share with you all the bitterness and sweetness, and maintain a good emotional relationship with you. When love comes at the right time with the right person, it works out well on its own. Expand your thinking in a positive direction. You are worth being loved!
In terms of finances, you will probably experience the feeling of losing all your money. Let's take a deep breath and think again. You are not alone and without help, even if you don't know anyone around you well. You should consider carefully if there are any things, skills, or circumstances that you might have overlooked. If you need financial help, then put your ego aside and ask for surrounding support. There is always a way to solve any problem. The present moment is only temporary. Make sure you are getting good and effective advice.
In terms of health, many other stressors may be making your minor health problems serious. Make sure you can assess everything (even if you don't have a lot of money and no health insurance, there are always appropriate treatments as long as you are consistent) and do your best to control each problem one by one. Meditation and relaxation are the keys to improved health. You should give the best effort to focus, even if you can only do it for 30 seconds at a time.
In terms of spirituality, remind yourself of the fact that nothing lasts forever, especially if you are going through a difficult period as this card suggests. Also, stay rational about the fact that we are all connected. Therefore, letting others help you is also giving them (and you) a chance to receive joy and blessings. Don't insist on doing everything. Have faith that things will get better eventually.
The reversed Five of Pentacles Witches Tarot can be a sign of a time when you are about to move from feeling insecure to a more determined mindset. Whether it is because you have realized the time is coming or because you are starting to see new, certain perspectives, this is still a good move. The reversed Five of Pentacles is generally a message that not long ago you might have felt abandoned in the cold night as if there was no one other than you who was having bad luck. However, this feeling is gradually passing. Your confidence is now slowly being restored. Believe in every reason that makes you feel better.