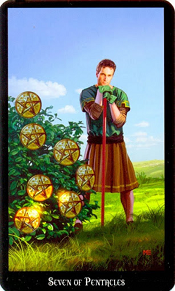 Seven Of Pentacles – Witches Tarot Deck
I. Keywords and corresponding associations to the Seven of Pentacles Witches Tarot
Upright keywords: Harvest, reap the fruits of your labor, the satisfaction of a job well done, evaluation, hard work equals abundant rewards.
Reversed keywords: Missed opportunities, time to start over, disappointment.
II. Meaning of the Seven of Pentacles Witches Tarot
On the Seven of Pentacles Witches Tarot, we can see a young man with dark hair standing next to a tall, lush tree with lots of green leaves. On the tree are seven gold coins. The young man rests his chin on his gloved hand. He looks tired but satisfied as he rests in his garden and leans against a long-handled gardening tool. The young man wears a sturdy and practical medieval outfit in green, yellow, and brown colors for gardening. The sky behind him is light clear blue and the surroundings are green.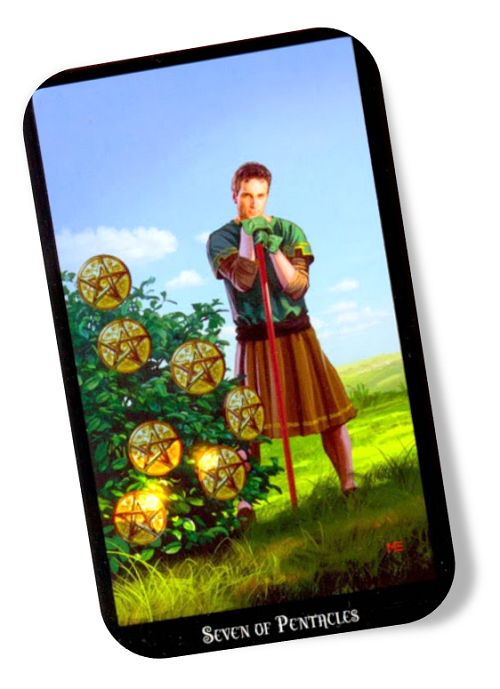 All the effort, time, and work this guy puts into this tree is paying off. The gardening tool he relies on can be a shovel stuck in the ground or a pickaxe hidden in the green grass. Either way, the Seven of Pentacles Witches Tarot reminds you that you have many tools at your disposal when looking for success and prosperity. It is time to choose the best tools for the job, take them out, and use them. Invest in yourself. All your efforts and efforts will bear fruit as this young gardener is.
III. Message of the Seven of Pentacles Witches Tarot
  When the Seven of Pentacles Witches Tarot appears in a Tarot spread, it speaks of rewards after hard work. This is a card about the harvest. The rewards are worth every effort you put into your goals and projects. The Pentacles suit is related to material wealth. It is also the set of manifestations. Now is the time to sit back, take stock of what you have won, and enjoy the fruits of your labor. Enjoy the satisfaction of a job well done.
The image on the Seven of Pentacles Witches Tarot depicts a man who has worked hard for a long time standing in his garden. The trees are gathered in a tall heap. It looks like he got the reward for what he did. He is resting a bit and is proud of what he has accomplished. Witnessing the results made by my own hands is an extremely comforting feeling. The fruitful success is always sweet!
The Seven of Pentacles Witches Tarot is also a card of rest. This card represents peaceful moments to regain strength and evaluate the quality of results after a lot of work we have to do. The man in the card image is resting and admiring the fruits on the bushes that he has worked so hard to cultivate. In Tarot spreads, the Seven of Pentacles can indicate a reward for your efforts that will soon come to you. Let's take it and enjoy it.
This card is also a call for an evaluation. When we are busy, we don't always have enough time to take a close look at what we are doing and why we are doing it. Are we on the right track? Are we getting the results we want to see? There will be serious problems if you do not have the right consideration and judgment at critical moments. The Seven of Pentacles Witches Tarot is a suggestion that you need to spend time making sure that you are on the right track to be able to achieve the goals you have set.
This card additionally represents confusion. In life, people always tend to maintain what is familiar. Changing direction is not easy. The Seven of Pentacles Witches Tarot can be a reminder to you to find out if you need to readjust your life or even make a total change. You are not yet deeply attached to a particular path or lifestyle, but in the future most likely. You should know that you can still change. This card is not a card of the end. The game is not over yet, it is just taking a momentary break. Once you have recovered and assessed the strategy you are pursuing, get ready to get back on track and work even harder than before.
IV. The Seven of Pentacles Witches in a Tarot spread
The Seven of Pentacles Witches Tarot is a card of the Earth element. Like the other Pentacles cards, it is associated with money and material prosperity. The appearance of the Seven of Pentacles in a Tarot spread indicates that you have worked hard in the past and now is the time to reap your rewards. Now you need to stop what you are doing and evaluate the achievements of the work done. You need to know where you stand and what you can achieve. The Seven of Pentacles in the upright position will give you peace of mind because things are actually going very well.
The Seven of Pentacles Witches Tarot often refers to the profits earned from investments. "Investment" here can be literally like opening an account at a bank to earn interest or figuratively like investing your time, effort, and energy into a relationship. You will reap what you have worked so hard to sow. This is generally a positive card.
In general, the Seven of Pentacles Witches Tarot brings a sense of security to you for a certain period of time. Everything will go well. Also, you will find hope in the future with good reason. You may need to make a decision as to whether to invest your energy in certain things, people, or situations with which you are involved or to devote your energy to things that will yield more fruit for your own life. Let's make a wise choice.
When the Seven of Pentacles Witches Tarot appears with the Chariot and the Star, it indicates that your achievements will be many times greater than what you have worked for. When combined with the Seven of Swords, the Seven of Pentacles suggests that there may be someone who is trying to take credit for what you have achieved. When combined with the Fool, this pair indicates a joyful event. Therefore, you will live a joyful and fulfilling life.
In terms of work, your work will most likely go smoothly. Plus, you will receive awards or bonuses for past efforts. This achievement may already be coming to you, otherwise, it will be in the incoming time. The financial situation seems to be quite positive. You will certainly receive more than before.
In terms of love, the Seven of Pentacles Witches Tarot is a prediction that everything related to the person you love will go well. But if you don't have a partner yet, you may need to think more openly and open your heart to other potential relationships. Don't let yourself fall into feelings of doubt or fear. Everything will get better.
In terms of finance, the Seven of Pentacles Witches Tarot is a very good sign from a financial perspective. You will have some kind of wise investment, be it one of the more traditional forms of investment or an investment of time and energy. However, you should also remember that this is not the time to invest by chance. Being cautious and thoughtful about investing what you have (especially what you just have) is the key to a successful decision.
In terms of health, your current state of health is a result of past lifestyle and behavior. However, improving health is still an important self-responsibility that is never too late to do. What you plant today will be what you order to reap later. Let's take a look and assess yourself. Do you find yourself showing symptoms of illness or a perfectly healthy person? Remember, even if your time and energy are depleted by everyday life, you can always take a few seconds to think positively.
In terms of spirituality, you will be led to the fact that life is a series of samsara. What we do today will certainly bring results/consequences in the future. Remember that when you are sure you are being generous regardless of time, energy, or money, it is an investment in your own future. Know how to give what you have and gratefully receive what you are given.
The Seven of Pentacles Witches Tarot, whether it appears in the upright or in reverse in a spread, tends to predict the results of an investment. You will most likely find that to some extent. Besides, you are enjoying the results of your past giving/investing even though you are content with what you have now. The reversed Seven of Pentacles urges you to define what success means to you and to think about what your goals will be when met. This is not the time to live a goalless life. You will never reach unrealistic goals. Let's be realistic!