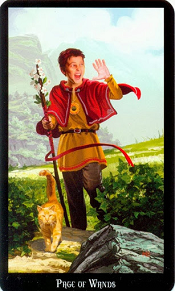 Page Of Wands – Witches Tarot Deck
I. Keywords and corresponding associations to the Page of Wands Witches Tarot
Upright keywords: Impatience, messenger, expect exciting and joyful news to come from a young person, determination and imagination, an invitation or an opportunity.
Related elements: Fire and earth, Fire is a natural element associated with the Wands, while all four Page cards are associated with the element of earth.
Reversed keywords: Office gossip, rumors and hints, bad news.
II. Meaning of the Page of Wands Witches Tarot
The youthful Page of Wands Witches Tarot is traveling. In the background, we can see the mountain range and light blue sky. He is a teenager with dark red hair and gray eyes. He wears his athletic travel outfit which is a soft golden tunic and a scarlet cape. The element of fire is represented by the warm colors of the boy's clothes and gold pendant. Around his neck is a large pendant with the shape and color of sunflowers. In his right hand, he holds a hawthorn wand tied with a ribbon like a walking stick. His left hand is raised and gathered in front of him as if shouting a call. The boy's expression tells us he is screaming for all he deserves. He is a messenger and takes the job seriously and does it with pleasure.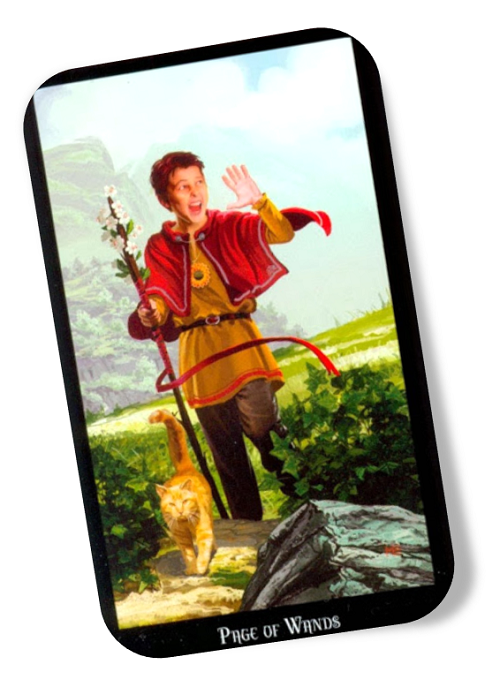 The Page of Wands Witches Tarot brings enthusiasm and happiness wherever he appears. Accompanying him on the trip is the orange tabby cat. The cat is a close friend and runs around with the boy. Cats are traditionally associated with the element of fire, and this intelligent orange tabby cat is a suitable companion for our little boy as he travels abroad and shares the good news. Sunflowers are associated with miracles of the sun, success, and fame. The ivy bushes on either side of the Page of Wands and his companion symbolize good luck and ward off negative things.
III. Message of the Page of Wands Witches Tarot
The Page of Wands Witches Tarot may announce a new job opportunity or promotion. He may foretell the birth of a baby (especially if the Ace of Cups also appears in the spread). Let's wait for an invitation or an opportunity. The Page of Wands cannot wait to shout this message to you: it is time to use your imagination and determination to successfully achieve your goals.
This is a message that gives you opportunities for passion. The character in the card offers real opportunities to experience the creativity, courage, passion, and inspiration – magical features of the Wands. In a Tarot spread, the Page of Wands Witches Tarot suggests that an opportunity is likely to arise that will excite you, foster your talents, or challenge you to achieve greater goals. When you see such an opportunity, grab it!
The Page of Wands Witches Tarot can also represent a child or a young-at-heart adult whose interactions with you involve self-control, high energy, risky behavior, or shared enthusiasm. Sometimes the Page of Wands means that your whole situation is filled with excitement and adventure. At times like these, allow yourself to feel free to express your ego and abilities with complete detachment.
IV. The Page of Wands Witches in a Tarot spread
In general, the Page of Wands Witches Tarot is about projects that are about to bear fruit. Something you have invested in for a while starts to give a positive signal. Another meaning to pay attention to in a spread is that the Page of Wands often represents someone in your life. This is an active, energetic, accomplished one that brings great vibrations into your life. In addition, the Page of Wands card also reminds you to be careful of lack of concentration. Energy, success, and enthusiasm are good but don't get too focused on the rewards.
Identity cards like the Page card often refer to an ordinary person in our lives. In the case of the Page of Wands Witches Tarot, this person may be a younger woman than the querent. People represented by the Wands are usually warm, ambitious, and effective achievers. If the card does not refer to any person, it can evoke the influence of distraction. Therefore, you should try to concentrate. This card shows that what you have started to do before is now gradually coming to success. It can also indicate a need for something new such as an adventure, a new solution, or a new idea. The Page of Wands gives us positive energy. However, we also need to pursue it to the end and be determined to do those things.
You need to always pay attention to what other cards appear in the spread. Do you have a lot of Pentacles cards? If so, maybe the new inspiration you get will bring you a lot of money. When many Cups cards appear with the Page of Wands Witches Tarot, the message here is that there is a great energy that is stirring up your love life. If you have a lot of Swords cards, watch your actions because they are easy to annoy others, even if it is not what you intended. If the spread has many Wands cards, creativity is playing a big role at the moment.
As is known before, the Royal cards will reveal important elements about the relationships in your life. In this case, the pair of the Page of Wands and the other Court cards will reveal something about your important relationships. You should be mindful when the Page of Wands and the Shadow Side appear together. At that time, the negative aspect of the Page of Wands is emphasized and expanded. You are relying too much on the comfortable side of life, thereby creating a lot of troubles for yourself. On the contrary, the Temperance card balances the negative aspects of the Page of Wands, thereby helping the card to fully spread its power.
In terms of work, this card can represent a woman who is willing to help you. That woman can also be a little girl younger than you. If you are waiting for a decision on a job you have applied for, this card almost always brings good news. Work can also be better and more enjoyable than you expect.
In terms of love, messages of love and a feeling of being loved may be coming your way. If you are alone, a very adventurous chaser may appear in your world. Take that opportunity, but only when you are ready for a relationship. If you are in an unhappy relationship, consider whether you and your partner can do anything to improve the situation and how long it will take. Both parties need to be willing to work together in a relationship. If your partner does not give effort, it may be time to let go of the relationship.
In terms of finances, your situation tends to improve when the Page of Wands Witches Tarot appears. Profits of what you have invested in deals (in the form of good energy) are more likely to come to you. This is a great time to start planning for the long term, even if you are only in your early twenties. What do you want to achieve financially by the age of thirty? How will you make that goal happen?
In terms of health, the Page of Wands implies a need for action. You will have to make little effort to improve your health. Consider whether you need more exercise? Do you need to learn about the nutrition field to make sure you eat better? Remember to always have useful resources at hand. Nothing can change if you just sit around and wish things would change for the better. Take control of your life. It will not be easy at first, but you are able to do it.
In terms of spirituality, this can be a time of creativity for you and a good time to return to your childhood – the days when dreaming, playing, creating took up all your time. You never know where your creativity will lead at this point, but either way, you will have fun and this game will enrich your life.
The reversed Page of Wands Witches Tarot represents confusion and hesitation. You might consider asking someone to help you make some important decisions. Sometimes the reversed Page of Wands can be a message about some unpleasant news coming your way. Usually, this news will not be too terrible or scary, but just one or more things you do not want to happen. This card also implies that you need to be more focused and decisive.