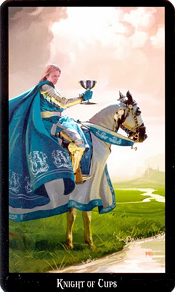 Knight Of Cups – Witches Tarot Deck
I. Keywords and corresponding associations to the Knight of Cups Witches Tarot
Upright keywords: A romantic young man, love, marriage proposal or date, the act of chivalry, the union of the Divine Feminine, dreams, quest, and travel.
Related elements: Water and Fire, Water is the natural element associated with the Cups suit, while all four Knight cards are associated with the element of Fire.
Astrology: Pisces.
Reversed meaning: Unfaithful man, vanity, deception, villain, flatterer.
II. Meaning of the Knight of Cups Witches Tarot
The handsome Knight of Cups Witches Tarot is riding his horse leisurely across the green fields. The castle looms in the distance and clouds billow in the background. Riding on a beautiful gray horse, the knight follows the shimmering river towards the castle. The blond knight looks at the silver cup in his hand with a dreamy expression as if he is seeing something reflect inside. The cup held by the knight in this card can be considered the Holy Grail which is a traditional symbol of the Holy Maiden.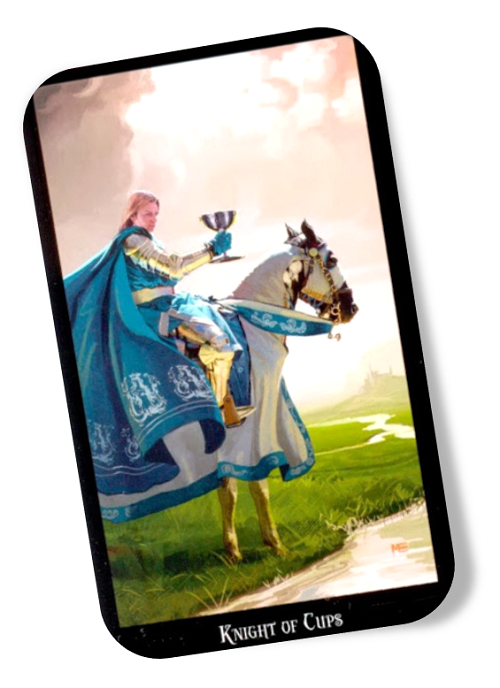 While the Knight of Cups Witches Tarot has no sword, he still wears silver armor with a beautiful and soft blue cloak. This knight is elegant and peaceful. To connect him more deeply with the water element, there is a sea wave decoration on the edge of the horse's bridle. The two-tailed mermaid embroidered on his robe symbolizes eloquence, loyalty, and truth. Mermaids are Melusine which is the elemental spirit of spring and rivers. The Knight of Cups can be erratic and violent, but he always listens to his heart. He is a symbol of pompous love and honor.
This knight can take you with him on his quest. How far do you think it will go? He can take you on an adventure or be your friend and befriend you on a road trip or spiritual journey.
III. Message of the Knight of Cups Witches Tarot
A romantic and intuitive guy with blond hair and green or blue eyes will soon appear. This Court card usually represents a sensitive, gallant, and chivalrous man. He is responsive, empathetic, and perhaps a bit reserved. He carefully guards his emotions through the armor. The Knight of Cups Witches Tarot portrays a sincere and genuine person who believes in miracles, chivalry, and honor. They are the good friends one looks forward to. Also, they may fall in love only once but deeply and profoundly. This card often appears when there is a marriage or proposal. It symbolizes travel or something similar or representative action. Expect romance, visions of things, miracles, new, creative opportunities to come.
The challenge of Knight of Cups Witches Tarot is whether you can peer through the surface of the cup to see what it is or look for an illusion of a future lover? Follow the water element and find the answer to your mystery. On the positive side, the Knight of Cups carries a sensitive soul. He is a poet and a lover of all things romantic and delicate. He uses his imagination in magical ways and penetrates the deepest levels of emotions. He knows how to create beauty and share it with others. On the negative side, the Knight has a tendency to be overly flighty and dreamy. His reformed state is like a fairy tale or a myth and his emotions often overwhelm him. He is also erratic and easily offended. He cannot stand the discomfort and will always let someone else handle it for him.
In a Tarot spread, the Knight of Cups Witches Tarot shows that his sensitive personality has something to do with the situation, that of someone, or the atmosphere in general. You need to ask yourself whether this Knight's energy will benefit you or hurt you? If his demeanor is obvious, then the balance is needed. Are your feelings appropriate or exaggerated? Is your daydreaming unrealistic? Is someone else's moody state irritating you? Is your family life driven by emotions instead of consciousness? This may be the time for a change.
If the energy of this Knight is lacking, then poetry may be needed. Are you too self-absorbed? Feel free to express your feelings. Do you always make realistic choices? Try a slightly more irrational choice instead. Are you avoiding your inner self? Take some time to think inside yourself and think about your life. Let the Knight of Cups Witches Tarot take you into his beautiful and romantic world.
IV. The Knight of Cups Witches in a Tarot spread
Riding on a white horse and holding a silver cup high – this is the image of the knight on the Knight of Cups Witches Tarot. The Knights of the Minor Arcana always represent changes in your life, although each card will change in a different direction. The Cups card is related to each person's emotions, and so is the Knight of Cups. This card is a positive signal as it indicates progress through which can bring happiness and emotional health to us. The knight on the card challenges us to follow our dreams. He tells us to trust our intuition as life presents us with life-changing choices.
The Knight of Cups Witches Tarot, like most of the cards in the Cups deck, is a good and optimistic card when it comes to a spread. Like all Knight cards, the Knight of Cups often appears with messages. These are often good messages that we want to receive. This Knight will tell you that things will get better. You may feel energized and ready to take action. It usually means that good news (especially in your inner world) seems to be coming to you.
The pair of Judgment and the Knight of Cups Witches Tarot should be taken seriously. When they appear together, they express that you are looking for a great opportunity that can completely change your life right now. The outcome of that event will be permanent, so you will want to pay special attention to the other cards around to see which aspects of your life will change. When the Knight of Cups appears with the Chariot, it means that the change will bring a sense of victory to you. This improvement will be easily receptive, so don't stress over anything new!
In terms of work, your projects will almost always take place in a positive way and sooner than you expect. You should be proud of your achievements and contributions. Whatever project you are working on will flow smoothly and deliver fruitful results. If you are thinking about changing jobs, the Knight of Cups Witches Tarot says it is a good idea. Trust your instincts when choosing a new path.
In terms of love, this is an extremely positive card when it comes to love matters. If you are single or not in any relationship, this card often implies that someone is about to impress you. If you are already in a relationship, this Knight can imply a proposal. At least in the context of the love-related question, this card will always carry positive messages and things that you will love to hear. Be open to discovering your own limitations.
In terms of finance, this card can indicate that you will soon receive good news about your economic matters. Knight often implies joyful and positive messages. 
In terms of health, if you are waiting for the results of a physical test, relax and rest assured that the upcoming news will be really worth the wait. This Knight means that you will soon feel better and even healthier than you were before.
In terms of spirituality, you are ready to enter new realms of your spiritual exploration. The Knight of Cups Witches Tarot often implies that you will soon undergo some good spiritual enlightenment and this will open up new perspectives for you. Pay attention to what appear to be random occurrences. That is often how the universe reveals to us.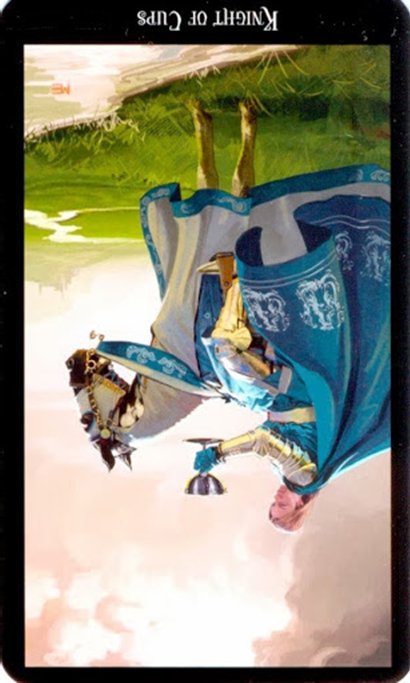 The reversed Knight of Cups Witches Tarot is generally a good and optimistic card when it comes to a Tarot spread. Usually, with the Cups suit, these messages are bright. The Knight of Cups in reverse means that everything will turn out well, although right now you may be feeling confused and feel hesitant at the crossroad. It reminds you to observe and weigh all your options before jumping into something new. Know how to prioritize the right and important choices.