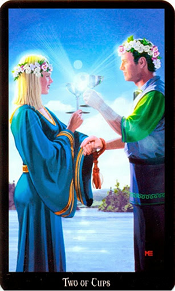 Two Of Cups – Witches Tarot Deck
I. Keywords and corresponding associations to the Two of Cups Witches Tarot
Upright keywords: Romance, commitment, engagement, marriage, reconciliation, partner relationship, equality, true love.
Reversed keywords: Difficulties in your relationship, debate, disagreement, break up, divorce.
II. Meaning of the Two of Cups Witches Tarot
On the Two of Cups Witches Tarot, there is a man and a woman standing in front of a beautiful, peaceful, and sparkling lake. They are facing each other and smiling happily. The woman's dress is long and ocean blue with the sleeves drooping down. The man's outfit reflects the blues and greens of water in harmony with the water element that the cards of the Cups suit represent. Two hands in front of each person hold and raise a silver cup together. Their backhands are tied at the wrist with golden lace, symbolizing engagement. Where the two sides of the cups touch, a shimmering light is radiating.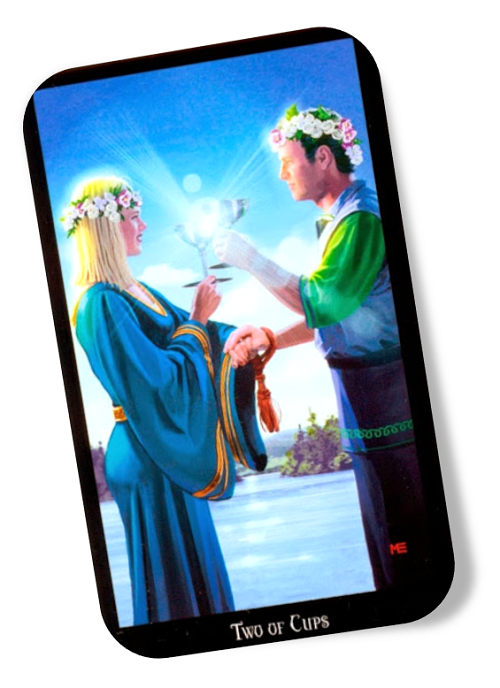 Both wear flower wreaths on their head which are made of violets, white roses, purple-white lilies, and dark green ivy. Violets are sacred to the Goddess Venus and speak of a loyal lover. The white roses on the couple's wreath symbolize new beginnings and true love. The lilac flowers tell us that the couple shares loving thoughts while the ivy represents the fidelity of the marriage vows to be kept sacred.
III. Message of the Two of Cups Witches Tarot
  The Two of Cups Witches Tarot specifically represents the relationships between two people. This card symbolizes balance and equality. This is a magical union that binds the heart, body, and soul together in the most possible way. When this card appears in a Tarot spread, it symbolizes love, engagement, happy marriage, or romantic relationship. This card can also be a sign of an upcoming wedding or engagement, depending on the cards surrounding it. For example, the Four of Wands and the Two of Cups can be a close friendship or a happy and successful business partnership. It depicts the hope of a new journey together as a couple. Likewise, it shows us that there are always new emotional opportunities for encouraging and understanding friendships, as well as lasting and authentic love.
To understand the Two of Cups Witches Tarot, all you have to do is look at the picture of the card. A man and a woman are staring at each other, ready to cheer (emotional). This is a very romantic and sexually suggestive image. The energy between the two of them can almost be seen and felt. The Two of Cups shows the beauty and power created when two people come together. This is a card for those in love. In fact, the Two of Cups Witches Tarot is a Minor Arcana card that has the equivalent of the Lovers in many ways.
The Two of Cups Witches Tarot also has a deep meditative meaning. Whenever two resources come together, there is a possibility of existing cohesion: a link is formed. This card can represent the union of two entities that are people, groups, ideas, or talents. If appearing in a Tarot spread, the Two of Cups suggests that you look for connections in your life, especially personal relationships. This is not a time to live in isolation or stand on the sidelines, but to mingle with people and work together as partners. If you are in the midst of a conflicting argument, look for a truce and an opportunity to forgive and be forgiven. If you are struggling with two choices or tendencies within yourself, find a way to reconcile them.
Usually, the Two of Cups Witches Tarot is welcome in a spread, but it can also be a warning. The energy of the Two of Cups is very attractive. If you have ever been around two people in love, you will understand this kind of energy. They create a world of their own between the two and completely separate from those outsides. Make sure your tendency to pair up does not create a sense of incompatibility in your situation.
IV. The Two of Cups Witches in a Tarot spread
In a way, the Two of Cups Witches Tarot is very similar to the Lovers of the Major Arcana suit. This card depicts a man and a woman, facing each other and each of them holding a cup. This card depicts a budding romantic relationship, a close friendship, or a strong blood relationship. The Two of Cups is rarely indicative of a person. So when it appears in your spread, rethink your romantic (as well as informal) relationships. Another element represented by the Two of Cups is the balance through the symmetrical image of a man and a woman on the card.
The Two of Cups Witches Tarot often refers to a love relationship, but that is not the only meaning of this card. It also implies balance, friendship, joy, and sharing. Overall, this is a card that gives the message that things are likely to go well. You will feel more loved, cared for, and satisfied than usual.
When the Two of Cups Witches Tarot appears with the Fool, it indicates love at first sight. This is a sign that Cupid is about to shoot an arrow of love at you. If the Five of Wands appears alongside the Two of Cups, it indicates a rift in your platonic relationship. And if not handled properly, that relationship will suffer more damage. Be open and honest in your communication.
In terms of work, the Two of Cups Witches Tarot shows that you are appreciated for your ability. Therefore, you will feel more comfortable and at ease at work, even if you don't like your job. And if you are looking for a job, it looks like you will find it soon.
In terms of love, this card represents true love, a balanced relationship, responsibility, and most of what we usually want when it comes to love and relationships. Anyway, it does not mean that no matter what your relationship/love will always be strong. Rather, the Two of Cups only shows the foundations, elements of reality, stability, and potential for true love and existing charm. And if you are looking for love, you should relax because it looks like love is about to knock on your door.
In terms of finance, the Two of Cups Witches Tarot implies balance and fairness. You are not exactly content with money, but at least for now and for the foreseeable future, you will find you have more than enough to meet your needs. And that is just the beginning.
In terms of health, if you are facing a health problem, you may need to find a therapist or someone you trust and can work well with. It is they who will help you "heal" the disease. The Two of Cups Witches Tarot is also a pretty good omen when it comes to health. You should also keep a positive attitude which is so important (and supportive) for your energy to get better.
In terms of spirituality, you may feel your energy and the universe as one. This is one of the cards that represent the chakra and is the gateway to the heart. You will feel more love for everyone and everything than usual. Please share that good energy because the world always needs more love!
The Two of Cups Witches Tarot often implies a romantic relationship even when it is in reverse. The reversed Two of Cups also means balance, friendship, joy, and sharing. However, be careful not to cause problems or dilemmas in your friendships simply by paying too much attention to your love life. This reversed card can signal a lack of communication in one's own relationship which leads to undesirable consequences. This suggests that you need to find a way to communicate properly with the other party and learn to be more direct in expressing your thoughts and feelings.