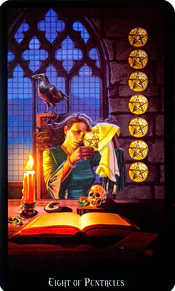 Eight Of Pentacles – Witches Tarot Deck
I. Keywords and corresponding associations to the Eight of Pentacles Witches Tarot
Upright keywords: Diligence, skill, attention to detail, study and practice magic, work in progress, a near-finished and successful project.
Reversed keywords: Lack of commitment, no ambition, delay project.
II. Meaning of the Eight of Pentacles Witches Tarot
On the Eight of Pentacles Witches Tarot card, we can see a witch sitting behind a wooden desk in the alchemy room at dusk. She has a pensive expression on her face. Her dress is green with lace trim on the sleeves. She holds a large gold coin in her hand and is polishing it meticulously with a cloth. Her hair is curly and tangled as if she has been working hard for a long time. Her eyes are green and focused only on work.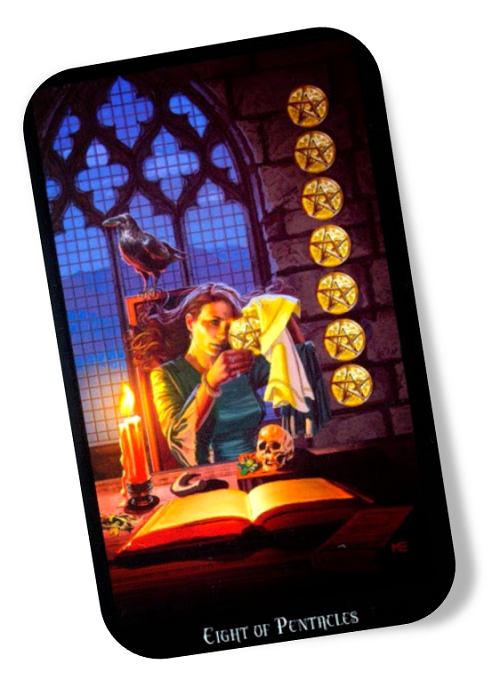 On the table in front of her are pieces of deer antlers, handfuls of fresh herbs, and a skull. Her friendly crow perches on the top of the chair and seems to be observing the room for its master. Representing mysteries and Freemasons and magic, the crow is the Oracle's traditional ally. Behind the witch, on the stone wall along with the large barred window, there are seven other coins hanging neatly. She is nearing completion and is polishing the eighth coin one last time. Her work will be done soon. She will add the last coin to the other seven that are carefully displayed on the wall. In this card, we can see the witch is more concerned with the completeness of the work rather than the glory when the work is completed.
III. Message of the Eight of Pentacles Witches Tarot
  When the Eight of Pentacles Witches Tarot appears in a Tarot spread, it tells us about the time for practical knowledge, determination, and skill. This is a moment of hands-on training or in-depth study of your profession or the occult. This is an opportunity to immerse yourself in a creative project like art or writing. Let's stay focused, disciplined, and diligent with your project, you will put all skills to good use. By incorporating all abilities into hard work, your success will come. This is not a card about fame. It reminds you of how effort, focus, and creativity often bring growth, benefit, and a sense of success. This card can also appear in the spread when there is a related, long-term project that is nearing its end and is successful.
The Eight of Pentacles Witches Tarot often indicates the time to promote diligence and concentration. The card advises you to strive for what is important at this time whether it is a project at work, some family obstacles, a personal goal, or an uncomfortable task. Sometimes we can enjoy random luck and joy. But also sometimes we have to work harder than usual to be able to achieve those results, joy. The Eight of Pentacles Witches Tarot represents times when you try to 110% of your ability. All you need to do is jump in and get going. Fortunately, what we do energizes and brings us to spectacular results. Working in the Eight of Pentacles clearly reflects a sense of satisfaction and high productivity.
The Eight of Pentacles Witches Tarot can also represent motivation to learn and to push the boundaries of one's knowledge. Sometimes we need to develop new skills. We do research, discover facts, or seek expertise. The Hermit card searches for knowledge from within, while the witch in the Eight of Pentacles is looking for external sources of knowledge, the ways and causes of the physical world.
This card can also represent a call to develop meticulous concentration. People who pay attention to every little detail are often seen as over-the-top thinkers. Their more-than-usual efforts help ensure that everything is perfect and just as it should be. This is a matter of concern. Take the time to examine every little detail. Now is not the time for negligence and irresponsibility to emerge. Look for the mistakes and fix the things that are not right. The key to success is an extraordinary effort. No matter what your mission is, the Eight of Pentacles Witches Tarot is a message that urges you to do your best every day.
IV. The Eight of Pentacles Witches in a Tarot spread
The young witch is completely focused on her work, there is still a lot of things left. That image is depicted on the Eight of Pentacles Witches Tarot. This card represents hard work although at first, you may think it is tiring when you see it on your spread. Sometimes the card simply indicates the huge amount of work that awaits you ahead whether it is in your personal life or in your professional life. You need to be prepared for all of that.
The Eight of Pentacles Witches Tarot can refer to a period when you work very hard. This is not a negative thing, but you need to be mentally prepared for it. Think about what or for whom the work you do. This can be personal work or professional work. Be ready to ask for help if you feel you need it. In general, the Eight of Pentacles Witches Tarot implies the necessary efforts. You will have a lot of work to do. Dedication and focus on the tasks at hand are important and admirable, but doing it for your own sake can backfire. Let's be clear about the work you are trying to accomplish and try to maintain balance. No one can work everywhere all the time.
When the Eight of Pentacles Witches Tarot appears with the Sun, it says that all your efforts, in the end, are worth it. The Sun card emphasizes the devotion and commitment to your dreams that the Eight of Pentacles refers to. If you are lacking focus when this pair appears in your spread, it is time to go back and plow again. When the Eight of Pentacles appears with the Lovers, it indicates that you are capable of repairing both personal and professional relationships. The power to do both is rare. It is a lot easier to just walk away. But you do possess the ability to make more progress when conflicts arise. If you are going through a difficult time in your relationship, the other couple tells you not to give up. Reconciliation is possible when you give up the effort.
In terms of work, the Eight of Pentacles Witches Tarot may imply that you will be recruited into a new position that will require a lot of your skills and be very demanding. Have faith in yourself that you can do what it takes to succeed in that position. If you already have a job, it is likely that you will be overwhelmed with more responsibilities and tasks than you can handle well. Don't hesitate to ask for priority support from supervisors or superiors.
In terms of love, if you are currently in a long-term committed relationship, the amount of work you or your partner is carrying is more than likely affecting your connection. You should always pay attention and give enough time and space to your relationship. If you are in the stage of finding love, the appearance of this card often indicates that you are really so focused on money to the point that it is difficult to really invest enough time in a new relationship. Let's take a look at your priorities and see where you are investing your time and energy. If you want to fall in love, make sure you invest and spend enough effort on your relationship.
In terms of finance, the Eight of Pentacles Witches Tarot tells you that you may receive the financial support you have been waiting for or expecting. However, do not waste this resource. Be careful and think for the long term. This is not the time for unsafe or risky investments. Remember that the money you have now is the result of your work and efforts, not from luck.
In terms of health, you may need to take some action to improve your health. Even if you feel like there is no way to improve your current health, there are actually many things you can proactively do to support yourself. Think about what those methods might be and follow them. Every action makes a difference. Let's think positively.
In terms of spirituality, you can consider the spiritual side of life in your work-life whether or not your profession is a traditional job. Why are you doing what you are doing? What development are you feeling? You will benefit more from actively reading spiritual books and talking to people who share your beliefs than just talking to yourself. Be open-minded, and you will benefit from it.
Whether you are willing to work hard all day or not, the reversed Eight of Pentacles Witches Tarot tells you that in order to be successful and happy in the future, you will have to do your part. Everyone fantasizes about their get-rich-quick schemes but forgets the fact that those kinds are not free and come naturally. Just do what you need to do. One day you will be glad you did. Just like the upright card, the reversed Eight of Pentacles is a card that brings the message that there is traditional hard work in one or more areas of life that are demanding you to complete. However, this workload can be slightly reduced. Above all, this reversed card implies tasks that you should not ignore or even things you will not be able to ignore. Be aware that these tasks/jobs benefit you, not someone else. The energy of the card calls for you to make a to-do list, consider which tasks need to be prioritized, and then proceed. When it is all over, you will feel very happy about what you have accomplished.