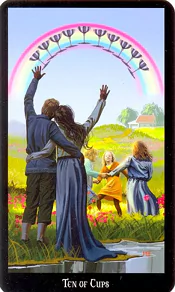 Ten Of Cups – Witches Tarot Deck
I. Keywords and corresponding associations to the Ten of Cups Witches Tarot
Upright keywords: Love, imagination, fulfillment, joy, euphoria, happy family; family life is guaranteed, comfortable, and enjoyable; friendships and fun groups are part of a magical community.
Reversed keywords: Dissatisfied, not seeing miracles or joy in your life, feeling as if you are an outsider in a family or group, being treated as a cannon fodder.
II. Meaning of the Ten of Cups Witches Tarot
On the Ten of Cups Witches Tarot card, there is a blond man and a brown-haired woman standing on the bank of a meandering river. Hand in hand, they look up at the blue sky where a brilliant rainbow illuminates the family. Inside the rainbow are ten silver cups. Each person raises one hand as if in celebration. As they hug, their three children are dancing happily and holding hands in a circle next to their parents. The children add energy and excitement to this card. While the parents are celebrating quietly, the children are spinning in circles and having a great time. Children need to laugh, move, and dance around the flowers.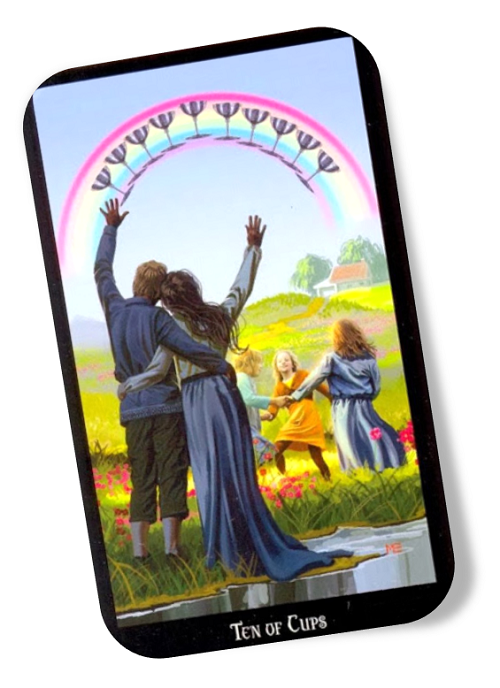 Pink verbena flowers grow beautifully around the meadow and at the feet of this family. In the distance, green willows and a pretty house can be seen on the hill. The river in the Ten of Cups Witches Tarot card is a symbol of happy emotions flowing through this scene. The pretty shelter on the hill is a clear symbol of a happy family. The willow tree is associated with the miracle of the goddess and the element of water. Finally, in the language of flowers, pink verbena means happy family bonding.
III. Message of the Ten of Cups Witches Tarot
When the Ten of Cups Witches Tarot card appears in a Tarot spread, it is a good omen. This is a card of a happy family, a healthy marriage, or a stable relationship. This card also symbolizes the attachment of friendship, comradeship in the community, or the emotional bonds formed in a close and joyful group. Naturally, while action and care are required to maintain these good relationships, a positive and joyful outcome will still be achieved. Celebrate the loving relationships you have in your life. Your friends and family are precious, so let's cherish them.
On the Ten of Cups Witches Tarot card, we can see a picture of a couple with their children playing carefree. This family's house is located in the distance surrounded by trees and a small stream. A rainbow carries the cups overhead as if to bless the whole scene. Those who like to compete and are jealous may mock that romantic scene. In fact, the scene in this card is a symbol of our love life at its fullest. The emotions that arise in this context are idealistic and completely within the reach of each of us.
First of all, the Ten of Cups Witches Tarot card represents joy. Joy here includes happiness, fulfillment, and enjoyment. It is the feeling that comes when we know well that we have all of those things. Unfortunately, this is not quite a common feeling! Many times we are blindsided and overwhelmed by life's challenges and difficulties. However, joy always exists and is a basic right of every human being.
Peace is another aspect of the Ten of Cups Witches Tarot card. It is the feeling of serenity that comes when all other factors are in harmony. Everyone has inner peace and feelings of outer peace that affect each other. When you are in harmony with yourself, then you will enjoy harmony in your environment. When you see the Ten of Cups card, know that the possibility of ending hostility is possible. If there are conflicts or struggles around you, this is the time when those things can stop. If you are in conflict with yourself, trust that you can find peace.
In Tarot spreads, the appearance of the Ten of Cups Witches Tarot card often heralds a time when you will receive abundant blessings and joy. The card tells you that you will be able to get what you deserve. Plus, good things will come to you. Find ways to recognize the joy and build peace. You can find the key to happiness right in your family. No matter what, your family is still the group of people you have the most emotional attachment to! If your family is experiencing some kind of trouble right now, then try to restore harmony. This is the right time for people to become closer.
IV. The Ten of Cups Witches in a Tarot spread
The Ten of Cups Witches Tarot depicts a happy family celebrating. Above their heads, a rainbow made of ten cups and a joyful surrounding appear. This card represents family ties and celebrating this life with others. The bright meaning of this card is more communal, in contrast to most other Cups cards, which are primarily personal. This card tells us that everything will be in order when we know how to cooperate.
The Ten of Cups Witches Tarot also exudes happiness in the context. This happiness tends to be more mature and expansive, as opposed to the full and personal satisfaction that the Nine of Cups promises. In general, the Ten of Cups implies a happy family life (even if you are single). That happiness is also for the people you care most about, such as parents, siblings, children. The image of the card also reflects mental satisfaction. Regardless of how it appears in the context of the question, this is a very positive card.
The Three of Pentacles when combined with the Ten of Cups Witches Tarot speaks of the work environment. It says that you and your colleagues are getting along well which brings a lot of positive emotions into your life. When the Ten of Cups appears together with the Tower, it means that you may have to deal with problems with family members or with close friends. Let things settle down before starting to fix something or you will find yourself part of the trouble!
In terms of work, the Ten of Cups Witches Tarot shows that you have reached an irreplaceable position at your current job. This is a good thing, but don't get too excited that almost no one can replace it! Looks like you are on the right track, just remember not to get complacent and distracted. Always do good work.
In terms of love, if you are worried about your romantic relationship, the Ten of Cups Witches Tarot tells you that you have nothing to worry about. You and your lover are both looking in the same direction. If you are in a relationship but have not made any commitment about the future, that moment is soon to come. Don't ruin things by causing trouble when there is nothing to worry about.
In terms of finance, money may not be an issue (or at least not a big deal) for you when you receive the Ten of Cups Witches Tarot. The card implies this is your period of prosperity. Just remember to let your money work for you to be worth the effort you put in. Share your fortune to the extent that you feel possible and comfortable doing so.
In terms of health, your health is likely to improve significantly if you currently have an illness or health-related problem. This card implies that that condition will still be maintained in the future. You can also think more deeply and look at what you can do to continue to improve your health, such as eating well, exercising, and assess possible causes of damage to your health that you have no control over. 
In terms of spirituality, the key message that the Ten of Cups Witches Tarot wants to convey is to live in the present. You will have it all if you develop good energy and maintain a positive attitude. It is important to share those attitudes with everyone around you, especially those who are desperate and need a source of positive energy.
The reversed Ten of Cups Witches Tarot is still a card full of promise and joy. This card implies overall happiness. Besides, it is also a warning not to get too caught up in the contentment of life. Let's live for today. You may not be expressing your feelings openly, especially with the people you care about which will cause more serious problems in the long run. The advice of the card is that you need to be open and honest with those you consider close. Those who truly love you will listen, no matter what the affliction.