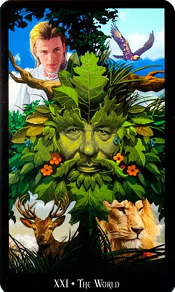 The World – Witches Tarot Deck
I. Keywords and corresponding associations to the World Witches Tarot
Upright keywords: Rebirth, wholeness, fulfillment, joy, victory, achievements, successful completion of a journey, miracles and wonders of the natural world, spiritual connection between people and/or group members.
Divinity: Woodman, goddess Gaia.
Astrology: Saturn.
Reversed keywords: Late completion of a project, recurring problems. Turn your back on the magic of the natural world.
II. Meaning of the World Witches Tarot
The World Witches Tarot represents the end of the Fool's journey and is the culmination of all the cards before it. He has gone all the way through the mysteries of Major Arcana and has found fulfillment. The Fool appears in the upper left corner of the card. Now he is older and wiser and has completed his miraculous journey. In the other three corners of the World, we see a representation of the gifts he obtained during the expedition. In the upper right corner is an eagle flying in the sky. Eagles are the gift of intelligence, courage, and faith. In the lower right corner, we see a grown-up lion. The Lion is the gift of strength, passion, and rebirth won by The Fool. In the lower-left corner is a powerful deer. Deer symbolizes pride, balance, and integrity. Our older and wiser Fool can now easily use all these gifts both in magic and in everyday life.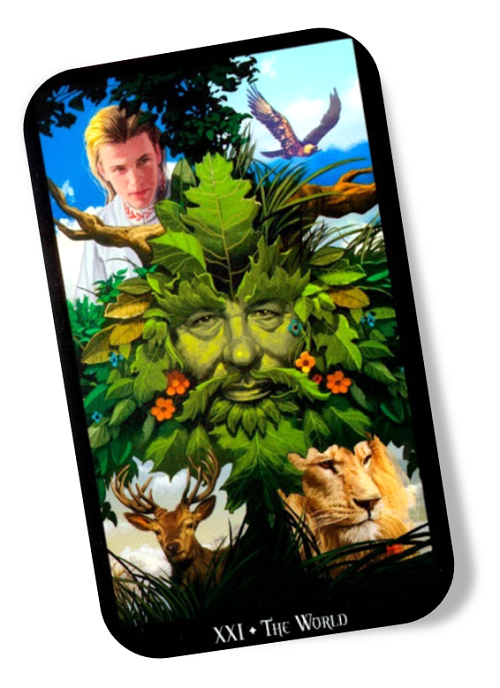 The Green Man in the center of the World Witches Tarot smiles at us with foliage surrounding his face and branches woven into a crown. The branches that sprout from the Green Man's head are an imitation of the antlers of the God of Nature. For the Witch, the Green Man is a wonderful and sensual representation or the model of the mystical and magical powers of the natural world. It is a perfect representation of the final card of Major Arcana as the Green Man and the World are both symbols of revival, rebirth, and regeneration.
III. Message of the World Witches Tarot
When the World Witches Tarot appears in a spread, it is a sign that spiritual lessons have been absorbed. It is a feeling of freedom and harmony to be enjoyed. Newly acquired knowledge, strength, and even spiritual insight will now be put to good use. It can also symbolize the full success of a project, personal revival, or even strong and healthy connections between people and/or team members.
We all recognize this emotion: It can come anytime, anywhere, and is always welcome. This feeling can be either quiet and simple or wild and glorious. What is this feeling? Where does it come from? The World Witches Tarot can help us find out. The key ingredient to happiness is unity – the feeling that everything is working in harmony. It is not in a quiet way, but dynamically balanced. Connectivity is also important. To be happy, we must feel connected and attached to what is around us. There must also be mention of complete fulfillment for we know that we have a goal and are moving toward it triumphantly. When these factors come together, we feel fulfilled and blessed.
The World Witches Tarot represents these moments as well as everything associated with it. When interpreting cards, this is a very positive sign that you are ready to achieve your desire. This will always make you feel great. However, this 21st card is a symbol of dedication and service voluntarily. When we have the World in our hands, we must devote ourselves to it. That is the source of true happiness! 
IV. The World Witches in a Tarot spread
If you are confused as to what the World Witches Tarot means, stay calm as this is inherently a good card when drawn in a spread. Maybe you have had a hugely successful project or you are in a very fulfilling relationship. Either way, the World tells you that you are very close to making your dreams come true in the field the spread is about. The card often talks about excellent completion. If you are not getting there yet, stay calm and know that everything will work out well. The World also directs travel. You may be traveling a lot right now or in the future. The good thing is that everything related to this trip is positive.
The World Witches Tarot signals that you are really feeling the weight of the world on your shoulders. Which means it is not a comfortable position. This is the best time to see how well you can ask for help when you really need it. Remember that you don't have to do everything yourself. This card can be considered a card of completion. You have worked hard and you are close to the finish line in a sense. You are almost done, don't give up! You almost certainly need a well-deserved vacation. You are getting closer to your "true self" at the highest levels.
The World Witches Tarot is about having more understanding of your role in the big picture. Maybe that picture is a big project or a community you are in. The general meaning is that you are more attuned to the world around you which is a nice loop. The more successful you become, the more connected you feel to others and the more motivated you are to give back. You may be receiving a message from the universe about being open to other external factors around you. Try to be receptive and broaden your horizons.
When the World Witches Tarot and the Magician appear in your spread, you are inspiring and drawing people to your vision. When Justice appears with the World, it says that you are well connected with the way things work and are definitely about to enjoy great success. Remember, the World is the 21st Major card so the 4 Aces all have a special meaning when they go with it. When coupled with the Ace of Cups, you can expect great emotional rewards. When combined with the Ace of Wands, something you have been waiting for is finally coming into your life. The duo the World and the Ace of Pentacles indicate that your financial situation is about to improve very quickly. The World and Ace of Swords mean that your influence will get you the help of great people.
In terms of work, there is a high chance that you are working too hard while receiving too little recognition as well as wages. This is really important if you are in a situation where you need to stand firmly on your ground to ensure that others don't inadvertently overlook your positive achievements. You also need to probe the external market to find useful information about how other people do the work you are doing – this can lead to very interesting experiences.
In terms of love, if you are traveling during this time, then you may meet someone along the way. On the other hand, if you have been in a serious relationship for a while, you will probably notice that it has progressed to the next level. Any things related to your love story will be interesting, in a good way, of course. Don't be shy about joining a crowd or talking to strangers.
In terms of finances, if money issues have always been a barrier for you, then the appearance of the World Witches Tarot is a good sign. This stagnation will soon disappear leading you to find yourself becoming prosperous again. Besides, this is an important time to start saving and protecting yourself in case of tough times. Anyway, right now, you can be more comfortable and enjoyable than before.
In terms of health, your well-being is improving. You may be helped by a physician who conducts unconventional medical approaches such as acupuncture or yoga. This is not to replace medical therapy but to combine it with traditional treatment modalities. Your doctor may not be happy about this if he or she tells you that you cannot do yoga because it could interfere with your arthritis treatment. If that is the case, it is best to find another doctor. Follow your intuition about what you think is best for your health. Look for instructors who have more knowledge than you. Learn your best and support yourself.
In terms of spirituality, it is likely that during this time you will be enlightened with important spiritual insights. Always keep a notebook on hand and take notes. Share them with others, both online and offline. We are all on a spiritual journey and your insights may help others as well.
In the reversed position, the World Witches Tarot implies that you are having difficulty completing a major project or achieving fulfillment in your life in general. Take time to figure out why this is happening. Is it because you are not trying your best? Or are you taking a shortcut? Make sure your goals are meaningful not to anyone else, but to yourself. The correspondence between your values ​​and your goals will make it easier for you to achieve your goals and to do whatever it takes to achieve them. 
The other meaning of the reversed card is an imperfect ending. Maybe something has ended in your life, leaving you feeling empty and hollow. You find it difficult to let go. However, you need to make conscious efforts to end it. This is an important step to help you move forward. The World in reverse also signifies a delay in the project and calls for more work to be put into it in order to achieve success.