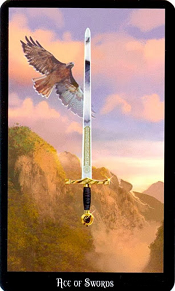 Ace of Swords – Witches Tarot Deck
I. Keywords and corresponding associations to the Ace of Swords Witches Tarot
Keywords: Success, truth, awareness, victory, determination, take action now, a clear awareness and closer connection with the divine, Air element.
Reversed: Illusion, ambiguity, cruelty, injustice, stay calm and focused for balance.
II. Meaning of the Ace of Swords Witches Tarot
A lone silver sword flies vertically in the air and is the main focus of the card. Right behind the sword is a red-tailed falcon flying in the sky. We can see the misty mountain range in the background. The sky is blue with light pink clouds drifting by. The dawn is just breaking. The Ace of Swords Witches Tarot is associated with the element of air, which is mountains, windy locations, and raptors.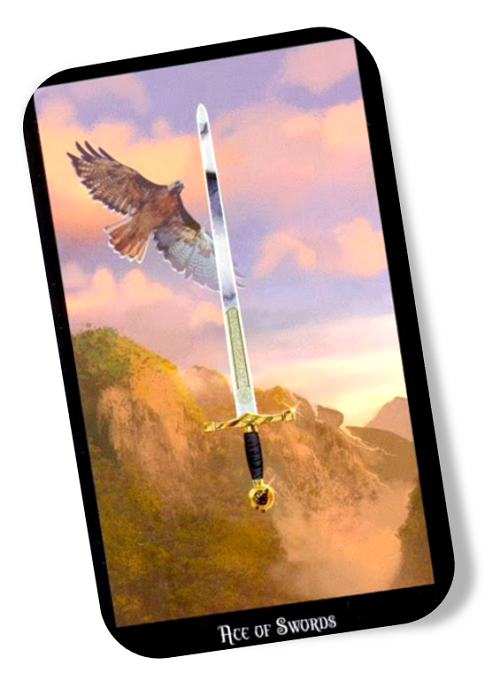 The mountains depicted in Ace of Swords show that although we face many challenges, we can win due to perseverance and persistence. The falcon in Ace of Swords is a messenger. It invites us to move forward, be open to new ideas, and discover our own strengths and true purpose in life. Success can be achieved, but you need to reach for it. The Ace of Swords Witches Tarot describes that spiritual awareness leads us beyond fiction to real and lasting truth.
The Swords suit represents the element air and all its combinations: wisdom, sharp wisdom, and truth. The cards of the Swords suit show an intelligent path to knowledge and understanding through advanced ideas, knowledge, discernment, and mind power. This suit depicts the power of more ambiguous emotions, mental activity, intelligence, and prophecy. It develops the initial spark of ideas through communication. The elemental being associated with air is the fairy, so if you look closely at the cards of the Swords suit, you will see some fairies with wings fluttering around. Winged creatures such as hawks, falcons, nightingales, and dragonflies are also related to the element air and will appear in this suit. The Swords cards also incorporate mystical plants and flowers. The flowers depicted are either related to the element air which is lavender, mistletoe, and lily of the valley, or carries specific messages from the language of flowers that match the card.
In the Swords suit, you will see many powerful scenes. There are high mountains, windy locations, moonlit rooms, midnight forests, and misty castles looming in the distance. The Swords suit is traditionally associated with those born under the Zodiac sign of the air group: Gemini, Libra, and Aquarius. Physically, the Court cards of the suit of Swords represent those with brown hair and gray, green, or hazel eyes. In addition, the people depicted in the Swords suit tend to be talkative, social, and public. These strong and intelligent people let their thoughts and dreams guide them. They are the best planners and clever organizers in the world.
III. Message of the Ace of Swords Witches Tarot
  The Ace of Swords Witches Tarot is the strongest and purest form of the masculine air element. When this Ace appears, you receive a message that it is time to take action. This is a card of wisdom, heroism, victory, justice, achievement, new beginnings, and victories. One of the most important lessons of this card is that you are given the opportunity to think in a new way. Get over the illusion and embrace what you have. The truth hurts, but sometimes it can also heal and make room for a new and improved reality. Success can be achieved. Victory is very close to your reach. Take it with both hands!
The Ace of Swords Witches Tarot is a symbol of ability in the field of wisdom, argument, justice, truth, clarity, and courage. In a Tarot spread, it is a sign that the seed of clear understanding has been planted in your life even though you may not realize it yet. When the seed sprouts, it can appear in nearly any form. It can be a compelling idea, a desire for truth, a call for justice, or a need for honesty. On the surface, it can be an offer, a gift, an opportunity, a meeting, or a multifactorial event happening at the same time.
Sometimes the Ace of Swords Witches Tarot is representative of a challenge for you in some form. Life never goes smoothly forever. Sooner or later an obstacle will arise, and the Ace of Swords can tell you when it is coming. This card is also a reminder to you that you must face your challenge, whatever it may be, with courage, honesty, and a firm determination. In every challenge, there are always chances.
When you see the Ace of Swords Witches Tarot, take a look at your life to see how the clear and sharp energy of the card can help you. Think about your problem objectively. Look for unfair or misleading situations and address them to correct them. Above all, make a commitment that you will always be honest and uphold your morals. This card will tell you that you have the inner resources to overcome all obstacles and find the truth about your situation. That is also a promise of the Ace of Swords.
IV. The Ace of Swords Witches in a Tarot spread
The Swords suit belongs to the Minor Arcana with the meaning of communication. As the first card of the Sword suit, the Ace of Swords Witches Tarot is the most important card. Basically, the Ace card is the simplest card in the Tarot deck as it is considered to be the most powerful of the Minor Arcana. So every time it appears in your spread, completely focus on it. The Ace of Swords means clarity and rationality in your thinking and communication with others. It involves observing the truth as well as accepting it, even if you have denied it many times already.
As with all Aces, the Ace of Swords Witches Tarot can be a sign of a new beginning in something or an aspect of your life. This beginning can also appear in many aspects of your life at the same time. Sometimes this new beginning can be preceded by some separation such as a separation from a relationship or from a situation related to your work. While this will cause some concern, of course, it will give you a fresh start in the end. So although it may not look good on the outside, the positive energy it brings will help you do anything or go anywhere you want.
Overall, the Ace of Swords Witches Tarot urges us not to hesitate to take the leap if it is in our best interests. It tells you to be brave. You already have a good idea of ​​what you need to do! The hardest part is just getting to the real thing. Get started today.
When combined with Justice, it is an indicator that the truth will not be hidden anymore. If there are many Swords cards in your spread, with the Ace of Swords Witches Tarot in focus, this indicates a lot of conflict going on without healthy exchanges. If that is the case, it is important to think twice before jumping right to the conclusion, especially when you are facing someone who tends to misrepresent your words.
In terms of work, the Ace of Swords Witches Tarot can mean that you will soon be experimenting with a different work strategy or may even choose to leave the job you are currently doing. If you are determined to stay where you are, you might have some good ideas for new policies or procedures that can make people's jobs and daily lives easier. Don't be afraid to converse with your colleagues. If you don't care who benefits, what you do will be more impressive. You will then gain credit for the good things you bring. Building trust is not an overnight thing.
In terms of love, the Ace of Swords Witches Tarot means that you are ready to make a fresh start. If you are in a romantic relationship, there may be a problem that makes you want to stop giving effort. Don't hesitate to speak your mind. When there is something that frustrates or deeply hurts you in your relationship to the point that you cannot take it anymore, don't be depressed as if you have really lost everything. You are simply leaving a toxic relationship and aiming for a better one. If your partner sympathizes and loves you enough, he/she will try his/her best to work it out together with you rather than just letting it go. 
In terms of finances, the Ace of Swords Witches Tatoy tells you to be satisfied with what you have. This is not the time to look for money-related opportunities without thorough research. Don't invest if you sense that you cannot afford it. Maybe someone will ask for a loan from you. No matter how pitied you feel for them, it is probably best to politely decline their request. The card foretells that you may not be able to recollect the loan. In the worst case, you may lose the relationship with the person you lent the money to. You should only lend if you are ready to take the risk.
In terms of health, it seems that you have finally recognized the negative influence of your bad habits on your body and stopped them. You may feel a little worried when you realize these things. Take good care of yourself because only when you do that will you know how to appropriately care for others. Exercise daily is especially necessary for you, but don't overdo it.
In terms of spirituality, you may find it is time to let go of some inappropriate and unhealthy beliefs about yourself. Don't try too hard if you feel those beliefs are no longer relevant. Everyone makes mistakes at some point or gets stuck with misconceptions. You will find spiritual truths that work for you. Don't be afraid to talk to someone about what you think would help them spiritually.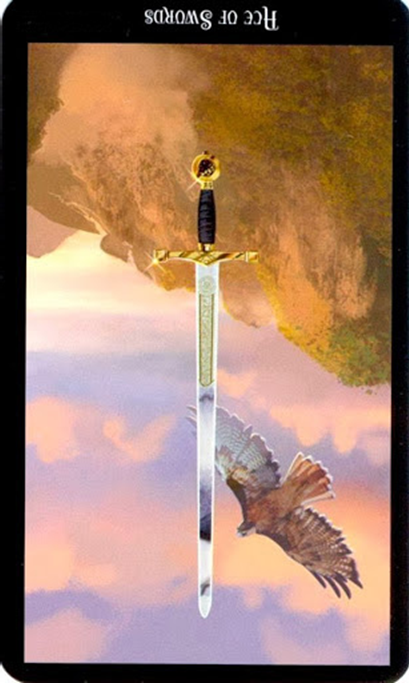 The reversed Ace of Swords Witches Tarot, although generally positive, is also a warning that you must be very careful with your thoughts. When this card appears, you will easily have the feeling that something seems very positive on the outside, but in fact, it is not. Seek advice and thoughts from others as well. Overall, the reversed Ace of Swords indicates that you need to be careful about illusions. It is easy to trust the wrong people and to get the idea that "this time" you will be successful. Always think carefully and thoroughly.