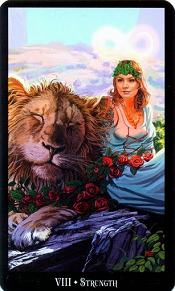 The Strength – Witches Tarot Deck
I. Keywords and corresponding associations to Strength Witches Tarot
Upright keyword: Strength of personality, personal capacity, discretion, keep calm, self-control, confidence, determination.
Divinity: Apollo, Helios.
Astrology: Leo.
Reversed keywords: Feeling uncontrollable, inhibition, fear, doubt, control problems.
II. Meaning of Strength Witches Tarot
In the Strength Witches Tarot card, we see a brown-haired lady sitting quietly at dawn with a lion beside her. The lion is magnificent, and he leans against her contentedly for comfort. She is smiling, calm, and can control the lion with only gestures and touch. The girl wears a crown of green oak leaves; represents strength.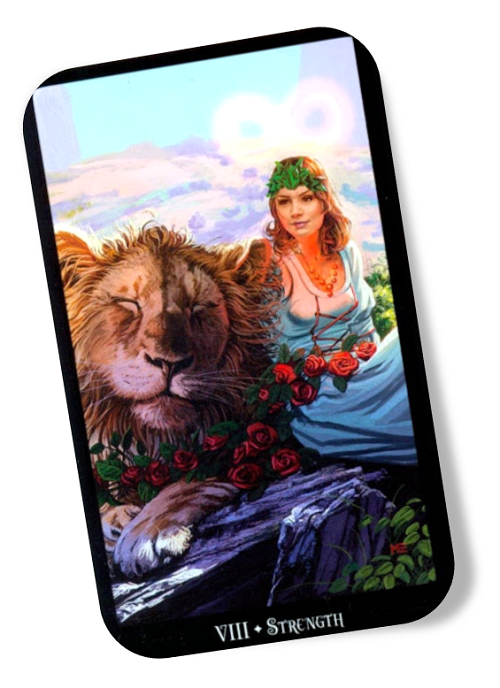 Curve number 8 – the symbol of infinity – shines above her head and shows her as a divine and mystical being. Her dress is white and red; both of these colors are related to the Goddess. Around her neck are eight bright red rubies. The number of these stones is a reminder, a reference to the card number of the Major Arcana. The necklace is an important symbol for her, as rubies are used to enhance positivity and courage.
The lush red rose wire represents harmony and beauty lying across the lion and the girl, connecting them – raising the question of who possesses the power in this card. Is it the girl, for her strength, peaceful energy, and enjoyment of the situation? Or is it the lion, for it is strong enough to tame wilder impulses, to control itself, and to allow itself the pleasure of experience?
III. Message of Strength Witches Tarot
Gentle strength, calmness, vitality, and peaceful individual energy are the themes of this card. If Strength Witches Tarot appears in a Tarot spread, it is a reminder that brute force is not needed in the present situation; however, it is the wise use of individual energy, self-control, determination, and personality strength that matters. Sometimes, the most powerful thing we can do is have confidence in ourselves and our individual abilities – to be strong enough to act calmly and steadfastly on whatever challenge we may face, with great care and full self-control.
Often we think of the concept of strength as physical – huge arms, big chests, strong legs – but what about inner strength? Inner strength comes from exercising the muscles of the heart. That strength comes from patience, perseverance, courage, determination, and composure – qualities that help us to withstand the storm. In the past, people with inner strength were often referred to as people with strong character, someone you could trust in your darkest hours. The number 8 card represents this energy, the energy of peaceful determination. Strength Witches Tarot is not a flashy card, but a card of reliability and stability
The number 8 also symbolizes patience and compassion. It is easy to get angry when the situation is difficult while staying calm to solve the problem requires real strength. Just like acceptance and forgiveness. We need the strength to navigate the situation softly. The Chariot controls everything with power and authority while Strength is softer and more subtle, it uses love. Notice how the lion (which in itself is a symbol of strength) has been tamed and obeys the gentle hand of the girl.
Strength Witches Tarot appears in the spread when qualities need to be expressed. It can be a reminder not to get discouraged and give up. You have enough inner mental strength to endure and win glory. If you are being pushed too hard, this is when you need to know how to get out of reality and require yourself to be patient. If someone or situation is driving you crazy, remember: Strength comes from love and enduring self-control. These things will find you in your most challenging moments.
IV. Strength Witches in a Tarot spread
Strength Witches Tarot emphasizes the power of will to overcome disturbing circumstances and reminds you to focus on the things you want instead of not wanting in life. The point is that you have enough power to control your thoughts so that it works best for you, not anyone else. It is not only your ability but also your responsibility. Beat your fear, control your impulses, and never lose patience with yourself and what you are doing. The key point is to make time for meditation and reflection. Don't allow yourself to drown in your fears and worries. External things will be fine, the most important thing is to keep your mind clear.
As the 8th card of the Major Arcana, Strength Witches Tarot represents discipline, order, and confidence. In the traditional Tarot deck, the Strength card depicts a woman and a golden lion she has tamed. This card depicts a non-brutish image, but she does not stop doing her job and doing it with lovely grace. Strength is about the ability to act in a positive and social way. It also talks about personal growth and becoming extremely successful by taking the reins to lead yourself on your own path, without harming others.
This is a very powerful card, and it is a good omen in your Tarot spread. Of the Major Arcana cards, Strength acts for the best when paired with The Magician and Temperance. With this combination, the powerful aspect of Strength increases further and success is at hand. This trio means that you get what you want. While The Tower's message can be hard to swallow in most spreads, Strength neutralizes its negative properties, making this a promising pair too. Paraphrasing the message here can be: You will have the strength to overcome all chaotic situations. No matter what obstacles The Tower points to, you will defeat any enemy and overcome any difficulty. This pairing also shows that the risks you have considered are adequate.
In terms of work, if you are looking for a job, know that you have the abilities and skills to get the position you want. If you already have a job, there is a possibility of change, do not hesitate to negotiate to get what you deserve. You may be surprised by what you get. If there is no possibility of a raise or promotion, think seriously about changing jobs or the prospect of starting up. You have more options than you think.
In terms of love, it seems to be a close relationship where both sides support and benefit each other. If you are looking for someone, this is a promising stage. You have to be confident first, so go out and join the world. You might be surprised how things turn out.
In terms of finance, your financial condition is moving in a good direction. Make sure you don't forget to save some, even if you haven't done so in a while, and feel the need to use the money to take care of yourself and the people you love. You may be ready to purchase important items like a house or a car. And of course, don't borrow more than you can afford.
In terms of health, your condition and vitality are at their best. This is a very good time to adjust bad habits to protect health. Small goals like walking for 10 minutes a day can greatly improve your performance. You will feel healthier and more energetic than you do now.
In terms of spirituality, even if you don't have faith, now is a time for your spiritual growth. To be truly strong, you need to pay attention to all three elements that make up who we are: Body, mind, and soul. Make sure you spend enough time with all three. When things get tough, faith is power and it is what enables us to generate the inner strength to defeat all the challenges the universe brings.
When Strength Witches Tarot is in the reversed position, it does not mean that you are not strong, but on the contrary, it means that you are actually stronger than you think in the current situation. If you don't know where that "power" source comes from, ask your close and trusted associates to get a list.
The reversed Strength card means that you need to learn to appreciate what you have and need to quickly recognize the blessings in life. People always want more, and appreciating what you have is the key to getting more.