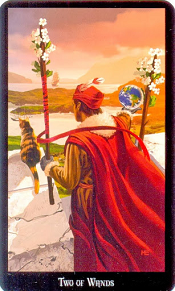 Two Of Wands – Witches Tarot Deck
I. Keywords and corresponding associations to the Two of Wands Witches Tarot
Upright keywords: Preparation for a favorable change, partial success. good advice from the advisor, successful business partnerships.
Reversed keywords: Possible delays, unfulfilled promises, hesitation, disillusionment.
II. Meaning of the Two of Wands Witches Tarot
A light brown-haired man is looking out over the water at dusk. The man is rich and successful, wearing a metallic gold outfit with fur trim and a burgundy cape. He stands in front of a waist-high stone wall. In his left hand, he holds a tall blooming hawthorn wand. To his right is the other wand leaning against the stone wall. The man seems to hold the world in the palm of his right hand, but he is still staring off into the distance as if searching for more. Is he feel trapped by his choices?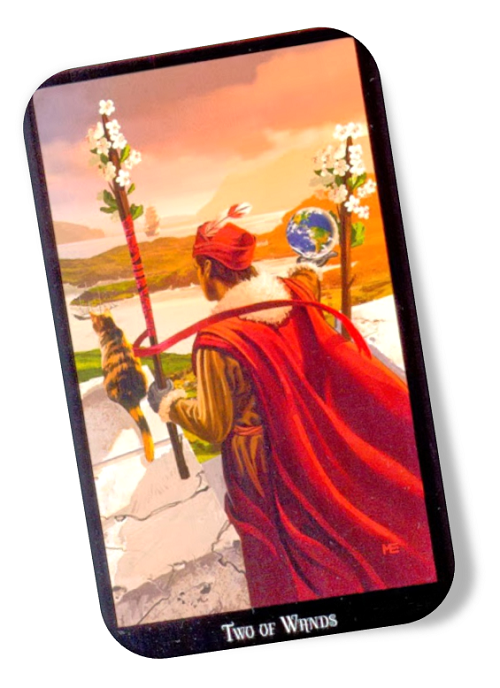 In the distance, we see two ships on the water and mountains on the horizon. The ships on the water symbolize the hopes and dreams of people in the future. The man is preparing for a favorable change. On the ledge of the stone wall, a calico cat sits comfortably next to the man as if to watch the ships with him. The calico cats are considered lucky. Interestingly, their three-colored furs are considered to represent the Triad of Goddesses. The calico cat is his ally and friend and is also a symbol of his mentor, support, and good advice that will help guide him to success.
III. Message of the Two of Wands Witches Tarot
The Two of Wands Witches Tarot represents partial success. While people may think you have the world in the palm of your hand, you may find yourself wondering where to go next. Situations like this happen when an unexpected promotion or career advancement leaves you wondering what to do next. This is just a part of success. Therefore, you can feel like you are in the middle of your personal goals. There are many choices and serious decisions to make. But look around: there is help, support, and advice from a mentor. Take their good advice and enjoy this new business and career opportunity. In summary, this card can symbolize a successful business partnership.
The Two of Wands Witches Tarot honors one's courage and greatness. This card has the same energy as the Magician; however, there is one important difference. The Magician represents the archetype of power which is an energy source that does not include personal creativity and strength. Meanwhile, the Two of Wands represents the power of the Earth being infused into yourself. Self-strength is a powerful force that floods you and gives you the courage to be great. A strong person is like a magnet, attracting everyone else in a certain area.
True power always comes from the Divine, passing through each of us and spreading throughout the world. When we understand this connection, we are blessed because this flow of energy brings a strong sense of expansion and completeness. We feel as if we can accomplish anything. Problems arise only when we forget that we are not the source of power but only its transmission. We must be careful not to let the intoxicating feelings that come with strength and power overwhelm, obscure our senses, and blind us to our true desires and intentions.
In a Tarot spread, the Two of Wands Witches Tarot implies that strength is the main issue in the questioned topic. You or someone else has or wants this source of power. When you see this card, carefully consider your goals and activities to ensure that you are using this power wisely. Don't just desire power just for its nature but know how to use this power to serve purposes that are worthwhile to you. Accept this gift and use it to shape your environment in the most positive way.
The Two of Wands Witches Tarot can also represent courage and creativity. When you see this card, believe that this is the right time to take bold and creative steps to surprise. Forget the old and boring methods as well as the subtle elements. Allow yourself to be free and you will be surprised at the results.
IV. The Two of Wands Witches in a Tarot spread
The Two of Wands Witches Tarot represents the first acts or planning of a new path in life which involves willpower to accomplish great things. Moving towards your goal, whatever it may be, is important. This card represents your determination to go out into the world and achieve success. You have the power to make your dreams come true by reaching for your highest aspirations.
The Two of Wands also represents personal power as well as a reminder to each of us that we are in control. Therefore, it is important for you to eliminate any procrastination in moving forward. Fortunately, the Two of Wands also gives you confidence in your knowledge. Plan and know where you are going before you start your journey. Let your inner strength manifest itself. You have the force of life within you and are capable of accomplishing many things in life once your mind is ready.
The Two cards in any minor suit usually imply balance. You need to stay balanced in every way you can, even the mundane things like eating right and getting enough sleep. These will be very helpful to you during this time. The Two of Wands Witches Tarot also often implies a partnership with another party.
Overall, this card reminds us to stay rational about the give and take that is necessary for any successful relationship. If you feel like things are out of balance for you right now, rest assured that they will gradually improve for the better. Focus on the desires you are seeking and maintain or seek positivity.
The Two of Wands Witches Tarot can be combined with the Fool and the High Priestess. The Fool knows nothing while the High Priestess knows everything. The Two of Wands represents the future and will play the role of balancing the other two: no matter what the future holds, everything will be fine. The World can also be combined with the Two of Wands. When the World card appears, your options are nearly endless with countless different possibilities. It is up to you to choose which offers you will accept.
In terms of work, you will put things together in novel ways. Work is about to go a lot smoother. If you are looking for a job, this card is a message that you are about to find the right job for you. Don't let anyone destroy or hinder your progress. You will be more organized and balanced than you might realize at work.
In terms of love, if you are already in a committed relationship, it will gradually become more equal. Focus on ideas of equality and balance and share them with your partner. If you are looking for your significant other, someone who could be very nice to you is likely already a part of your life. Don't judge others by their appearance. If someone is interested in you, give them a chance. This relationship might be what you are looking for.
In terms of finances, your income and expenses are moving towards a better equilibrium. The Two of Wands Witches Tarot implies fairness and equality, so do not hesitate to ask for what you really deserve. You will be pleasantly surprised at your ability to improve your financial situation.
In terms of health, the key to balance is especially true for this card. Energy working to balance your chakras and/or your body/mind/spirit will be especially effective and beneficial for your health at this time. Are you focusing enough on all three aspects above? If not, then it is time to rebalance. The benefits will outweigh any level of effort you can put in. Your health will almost certainly be much better than you fear.
In terms of spirituality, a spiritual partnership with another person can be very beneficial for you right now. Remember that you are also always in a spiritual partnership with yourself. Remember to take the time and space to care both mentally and emotionally. This is an essential element to having a successful spiritual relationship with others. Let's start with yourself first.
The reversed Two of Wands Witches Tarot can mean a surprising joy or pleasure that will soon come to you. Take time to think positively and be grateful for the gifts life is giving you. Allow yourself to enjoy pleasure and comfort in the smallest of things. In general, the Two of Wands in reverse reminds us to put our emotions into perspective. Sometimes what you feel does not quite reflect the situation. Therefore, you have to make changes and try new things to enjoy life. Focus on the balance if you are considering taking risks and/or making major life changes.