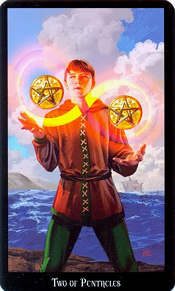 Two Of Pentacles – Witches Tarot Deck
I. Keywords and corresponding associations to the Two of Pentacles Witches Tarot
Upright keywords: Multitasking, second chance, moonlight job, pay attention to your personal finances, balance your budget.
Reversed keywords: Feeling overwhelmed, lack of focus, withdrawing more than the amount in the bank account.
II. Meaning of the Two of Pentacles Witches Tarot
On the Two of Pentacles Witches Tarot, we can see a boy is juggling two gold coins. He wears green and ocher clothes which is a visual connection to the earth element. The gold coins he juggles are in mid-air and above his outstretched hands. The two coins are in the knot of the horizontal infinity symbol which is the eight curve symbol on the Magician and Strength cards. The boy closes his eyes as if he is so skilled at juggling that he does not even need to look at the coins.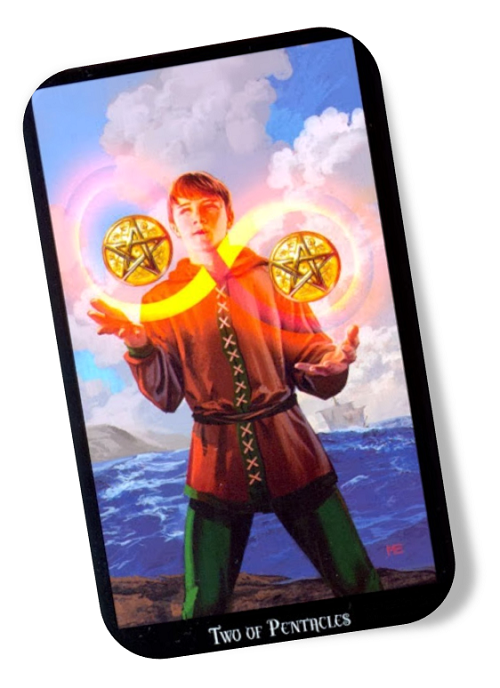 The Two of Pentacles Witches Tarot shows us a happy and easygoing person. It does not matter what environment he is in, he still finds a way to juggle things and succeed. In the background, behind the boy is a light blue sky and fluffy clouds on a clear day, the sea, and a ship sailing through the waves. Despite the rough seas, that ship is still moving. Here is a nudge to remind you to do the same.
III. Message of the Two of Pentacles Witches Tarot
When the Two of Pentacles Witches Tarot appears in a Tarot spread, it shows that it is time to develop new skills. For you, however, this will be a problem as you are proficient at juggling several things at once with ease and comfort. This card also describes that you may have to choose two different material things. This is a card of a second chance or perhaps taking on a second job. The Two of Pentacles is a card of multitasking. In summary, this card also indicates the time to be careful with money. Keep track of your personal finances and balance your budget.
In the movie First Knight, Lancelot takes on the challenge of walking along a line full of blades cutting in front of him with uneven spacing. He successfully passes the challenge because he is always alert, agile, and persistent. He knows when to step forward and when to stop. He glides through the danger and enjoys every moment of this deadly obstacle challenge. Lancelot is the source of the power of the Two of Pentacles Witches Tarot.
There is no feeling quite like that which is both elegant and effective. The Two of Pentacles has a picture of a young man dancing as he tries to balance the worries of the world. The image of the infinity sign around the two coins shows that this guy is capable of solving a multitude of difficult problems. In the background, we see a ship easily riding on the waves which symbolize the image of riding on the ups and downs of life.
In a Tarot spread, the Two of Pentacles Witches Tarot tells you that you can juggle any request directed at you. In fact, you will enjoy the fun at every challenging stage. If you don't feel confident right now, this card reminds you to believe in yourself. You have everything you need to achieve your goals and reach beyond. Just accept the challenge.
IV. The Two of Pentacles Witches in a Tarot spread
If you are feeling like life is forcing you into a constant state of busyness, chances are you will draw the Two of Pentacles Witches Tarot as the focus card of your spread. This card depicts a man with two gold coins in each hand, connected by a string, which somehow appears under the infinity symbol. It is true that he is stuck in the act of juggling. The Two of Pentacles is about finding balance. It is no wonder that in life we ​​feel like we are juggling. It is easy for us to fill up our lives and even easier to suffocate due to life events. The Two of Pentacles shows that you are trying to divide your time into two parts, or more, for different aspects. Either you are super busy (which can be a good thing) or maybe you just don't take the time to consider what is most important in your life.
The Two of Pentacles Witches Tarot is a card of balance, often referring to the aspect of the partnership. You tend to want to maintain the balance of the two broad areas of your life such as money and health or love and work. This card is generally considered a good sign. There are two main issues that are important to keep in mind. You need to stop focusing on too many things. Multitasking is not right for you right now. Also, you may need to cut back on what you are doing to focus on just two key priorities. Your financial situation may need to be rebalanced and make sure you focus your attention on that.
When the Two of Pentacles Witches Tarot appears with the Hermit, they indicate that your rushed lifestyle is leading to isolation. The important thing to do is to slow down and spend more time with the people you love. When appearing with the High Priest, this pairing means that you are (will soon be) feeling trapped. Therefore, you are also searching for freedom. Often this combination comes about when you have just had an argument with your partner about your independence in the relationship.
In terms of work, maybe it is time to consider taking risks. You can limit the opportunities or choices you want to make, but you cannot completely avoid them if those choices arise. Don't tie yourself into knots. Focus your attention on only two main tasks. If you are looking for a job, look for the two most potential places to apply. Besides, you should prepare well for the interview rather than scattering opportunities by sending your resume around without careful and thorough research.
In terms of love, if you are currently in a romantic relationship where both parties have engaged, then it is likely that you and your lover are more likely to be having some trouble in spending time and health together. Make sure your relationship remains a high priority in everyday life. Your lover will not be there for you someday if you keep taking them for granted. If you are single and looking for love, don't fool yourself into thinking you are ready for a serious relationship while you are not. You don't have to be a perfect person from the start but you will need to be willing to give your time, space, and health to the romance of love.
In terms of finance, the Two of Pentacles Witches Tarot tells you to pay attention to the results. Make sure you understand your financial condition thoroughly. Maybe you need to balance things out like spending less or setting aside more money to take care of your future personal economics. Additionally, this is a good time to invest wisely. But this is not necessarily a good time to spend or speculate.
In terms of health, you need to balance your health efforts with personal responsibilities in your personal life and professional life. Make sure you make time for your own life, get proper rest, relaxation, and healing. If you put yourself at the bottom of your list of things to take care of, your health will definitely take a turn for the worse. Let's get started now. Remember that your goal is to progress gradually, not to become perfect all at once.
In terms of spirituality, huge charges can make you feel as if you don't have time to take care of your mental side anymore. But think again. It may be true that you don't have much time, but even a 5-minute walk to kill time is a good choice rather than doing nothing. Remember that you must provide nutrients not only for the body and mind but also for the spirit to be truly balanced.
The reversed Two of Pentacles Witches Tarot can be a sign that you have too much to balance and can also be a reminder that you should take a break. It is still better to take a short break than to keep going and then feel tired. If you feel like you are overburdened and cannot handle everything, then it is better to pay attention to those feelings. Ask for help if you need it because you and everyone else live this life together. If not, at least give yourself some space to relax and regain your spirit. Just return to the challenge with a refreshed mind.