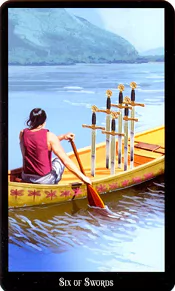 Six Of Swords – Witches Tarot Deck
I. Keywords and corresponding associations to the Six of Swords Witches Tarot
Upright keywords: Travel by waterway, moving, new job, move to a new home, leisure travel; progress, improvement, and smooth sailing await.
Reversed keywords: Short-term improvement, challenges for your progress, travel delays or troubles.
II. Meaning of the Six of Swords Witches Tarot
On the Six of Swords Witches Tarot, we can see a man sitting at the end of a small wooden boat. He wears a soft purple tank top showing his muscular arms and gray pants as he rows across the water to a distant shore. In the distance, around the lake is the mountain range. A slight breeze blows his hair behind his face. We can see a slight angle of his right side. The man is quite content and focused on his journey.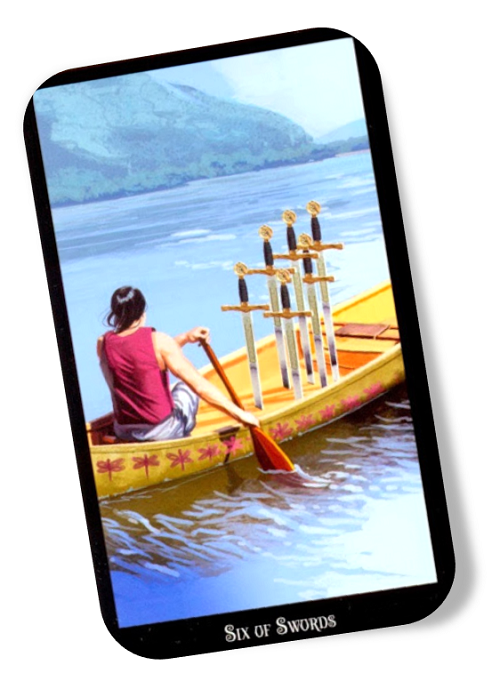 To connect the Six of Swords Witches Tarot more deeply with the element of air, a dragonfly motif is drawn along the body of the golden boat. Inside the wooden boat are six swords standing upright, pointing down, and neatly lining up in front of the man. The swords do not damage the boat. Maybe they are plugging the holes. These six swords show that even if you carry your troubles and concerns with you, you don't have to squirm over them. Blue skies and bright horizons indicate that this is a good time to travel.
III. Message of the Six of Swords Witches Tarot
Traditionally, when the Six of Swords Witches Tarot appears in a Tarot spread, it means traveling by water. Today, it represents movement and growth in any form. The querent may be planning a vacation or business trip. This card signals that this is the right time to move, change and experience what travel has to offer. Let's hope for mobility, improvement in the current situation, a new job, a move to a new home, and, of course, leisure travel. Enjoy the journey. A smooth sailing trip is waiting for you.
Sometimes the Six of Swords Witches Tarot shows a vague and listless state. Nothing is seriously wrong, but nothing is completely right either. You are overcoming, but not thriving. In the card is the image of two people on a boat, emotions seem to be very sad and surrendered. Life really lacks interest when we feel bored.
The Six of Swords Witches Tarot can imply improvement. This is especially true if you have just been through a difficult or traumatized time before. During this period of suffering, you have always felt indifferent and disconnected. There is nothing more important in your soul. You are now entering the healing phase and trying to cure the wounds in your life. The man on the boat is at least moving forward. He is heading to a new land, even if he is not eager to hit the shore.
The Six of Swords Witches Tarot can also indicate a journey or move in every sense. It means a real change of circumstances, a position, or a trip. A journey can also take place within you as you move from an old frame of mind to a new one. Although the card does not promise great joy, it also does not refer to extreme disappointment. A swamp is not a bottomless hell, but merely a place where sadness and despair are present. When you see this card, know that even though the situation may not be ideal, you are still moving to a new and more positive place. The opportunity is still there, and hopeful conditions lie ahead.
IV. The Six of Swords Witches in a Tarot spread
On the wooden boat, there are six swords stuck on the floor, but they do not cause the boat to sink. The symbol of the Six of Swords Witches Tarot is one of the easiest to understand in the Minor Arcana. The central meaning of this card lies in the boat, which represents the trip, the journey, is implied or real. The swords embedded in the boat indicate the burdens that have brought about changes in life. However, they are considered guarantees. Even though negative things have caused you to change your lifestyle, everything will be fine. This baggage you are carrying is not permanent, as long as on your journey, you find a way to leave it behind.
When the Six of Swords Witches Tarot appears, it is a message that this is a very good time to move or travel in any form of meaning. It also implies a metaphor for the prospect of achieving a new step forward or a change within you. Often this is a change for the better, both internally and externally. Think about where you want to go.
In general, the Six of Swords Witches Tarot represents a slight decrease in feelings of stress and mentorship. Things may not be perfect now, but they will gradually change for the better than what happened in the recent past. Take this time to maintain hope and decide where you are going. Even a short break or a change of circumstances will do a lot for you. However, this does not necessarily mean spending money.
When the Six of Swords Witches Tarot appears with the Tower, it means that the coming change will have a permanent impact on your life. There is nothing you can do to stop the event, but what is coming will give you time to prepare. Make sure you don't let anything go unplanned and stand strong enough to withstand the effects to come. The Six of Swords and the Lovers together are a call for honesty. If you have put your best effort into any relationship and things still don't work out, it is time to end it. Stop wasting energy on it, then you will see your life brighter. The sudden end of a relationship with someone is often difficult and a traumatic experience, but in the end, you will become a better person when it happens.
In terms of finances, the appearance of the Six of Swords Witches Tarot can mean that your financial situation is trending toward change. It either changes for the better if you are trying or for the worse if you are too impulsive from time to time. If you are in the first case, you can save yourself small expenses and use your cash flow wisely. If you are in the second case, be prepared to cope with difficult shortcoming times. This is also not the time for risky investments.
In terms of health, if you are dealing with health issues, your current health care professional or doctor may not be the best person to help you. You can refer to some reputable medical centers or clinics in your area. Except for serious health problems, the Six of Swords Witches Tarot can show that what you really need to do is go on a vacation trip or experience a change of scenery. Find a way to meet this need for yourself, even if the only way you can do it is to talk to someone you have never talked to before.
In terms of spirituality, some of the spiritual answers that have eluded you are now suddenly entering your consciousness. This is sometimes tied to a change of habit. It may be a pilgrimage or experience with different spiritual cultures. Pay attention to your dreams. They reward you for everything you missed during the many hours of walking.
When the reversed Six of Swords Witches Tarot appears, you may be ready to say what you are feeling. However, communication at this time is generally a bit challenging. Think twice before you speak. Make sure the important information on your computer is fully backed up at this time. In general, the reversed Six of Swords shows that you can make new discoveries and new decisions. Also, you may have some important information that you want to share. However, how you convey it is just as important as what you intend to say. Think carefully about what you need to present.