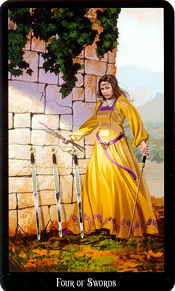 Four Of Swords – Witches Tarot Deck
I. Keywords and corresponding associations to the Four of Swords Witches Tarot
Upright keywords: Take time to rest for yourself, rest and allow yourself to fully recover from your illness, make up for lost energy, cast spells like a hermit for short periods of time, find your focus.
Reversed keywords: Feeling of being kicked out of the group, rejection, burnout.
II. Meaning of the Four of Swords Witches Tarot
On the Four of Swords Witches Tarot, there is a hazel-eyed woman in a yellow dress with purple trim standing to one side of the picture. The gentle breeze ruffles her long brown hair. In the background are the mountains. The feather pattern on the hem of her yellow dress represents the element of air. To her right are three swords, leaning neatly against the castle wall. The woman looks a little tired. She holds the fourth sword with the tip down as if she is looking for a place to put it down. In her right hand, she holds a few short willow branches. In the language of flowers, willow symbolizes recovery from illness. Therefore, this is a reminder to rest and regain strength.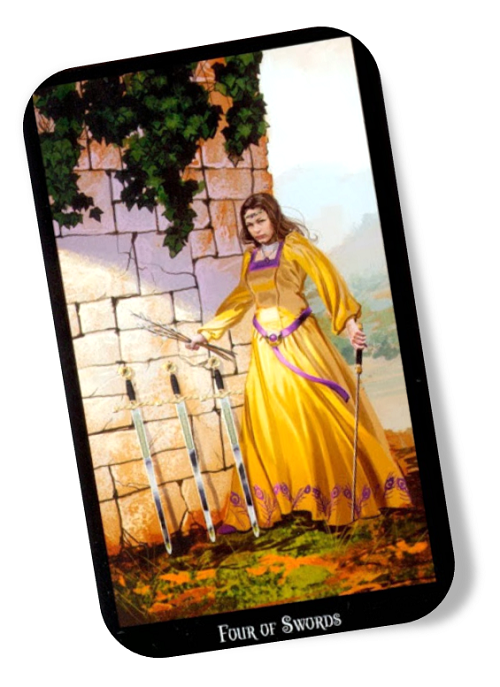 The ivy on the castle wall is a mystical connection of healing. Amethyst adorns this woman's headbands, necklaces and belts. This enchanting purple stone helps with sleep, healing, and lucid dreams. This card describes that while she still takes care of herself and shows her best appearance by wearing a lovely dress and beautiful jewelry, the pressure begins to set in. She longs for some peace and being alone.
III. Message of the Four of Swords Witches Tarot
When the Four of Swords Witches Tarot appears in a Tarot spread, it is a sign that you need a break for yourself. You may need a retreat or a day off so that you can make up for lost energy and regain strength. You may feel overwhelmed by the outside demands and tension. There is the need to go away and escape the hectic day-to-day routines of life. This card symbolizes that you need to give yourself time to recover from illness. It can also represent a need to separate from the magic group for a bit. You will silently find many solutions to mysterious problems on your own.
The cards in the Swords suit often represent experiences of something, but the Four of Swords Witches Tarot brings a sense of peace and tranquility. Why is this card so different? Because it represents the challenge to calm down! Sometimes, resting and doing nothing is the ultimate challenge. Once you get used to exercising, it is very hard to stop. There is always so much to do. Modern society directs us to indulge in things that attract and distract us. As a result, we forget that sometimes we need to stop and calm down.
In a Tarot spread, the Four of Swords Witches Tarot is often a sign that you need to slow down, take action, and take some time off. If you are recovering from an illness, allow yourself time to recuperate. Even if you feel perfectly fine, you can still get sick if you don't rest properly.
The Four of Swords Witches Tarot also represents a time spent thinking things through without a rush. It is important to take a step back and have an overview to evaluate everything. This is especially true when you are facing a challenge or a major event. You need some quiet time to prepare to gather strength and focus your energies before facing that challenge. Imagine an Olympic diver on a trampoline. She does not climb the stairs and then jumps straight down. She will rather stop momentarily and motionless until her body is ready for the leap from her feet. Stopping, calming down, and resting is the only way to bring out the best in ourselves.
Sometimes, the Four of Swords Witches Tarot implies that you are or can shift your focus from the outside to the inside. When we are silent, we can easily enter consciousness. For active addicts, rest and quiet are like death to them, but that is certainly not what the card is about. It should be known that silence holds its own values, but people must find and recognize those values ​​themselves.
IV. The Four of Swords Witches in a Tarot spread
At a glance, the Four of Swords Witches Tarot does not look favorable. However, this card is not that terrible as it is a symbol of rest. Depending on the specific situation, this card can mean that you are not taking enough time to relax or are avoiding your responsibilities for too long. The more important message in this card is that you have full control of the situation and are at a point where your fate can be determined.
The Four of Swords Witches Tarot is a card with the meaning of taking a break (or needing a break) from everyday life. This can also mean that you or someone in your life may withdraw or regress for a while. This withdrawal does not last forever. The card sometimes also means illness, hospitalization, or even more rarely, penitentiary. This is a pretty clear sign of a private space for oneself.
This Swords card usually means that you are in need of your own time and space. Maybe you are spending a little too much time and attention on other people or things. Don't hesitate to draw boundaries for yourself or say no. Conversely, when others say no to you, respect that. Trying to get in the way or go against them, otherwise, you will get yourself in trouble.
The Shadow Side card when paired with the Four of Swords Witches Tarot indicates that there is a force in your life that is the reason you are looking for solitude. You may need to carefully assess who is giving meaning to your life and who is dragging you down the mud. Adjust things based on that assessment. And it is okay to say that you need your own space. If the card appears with the Star or the Moon, it means that your alone time is best spent preparing for what is to come. It is time to embark on those creative projects you have been putting off. Besides, reading new books and learning new skills can be beneficial in the future. Time alone does not mean you are alone.
In terms of work, this is a great time to take a vacation if you can (even consider enjoying a longer weekend than usual). You need to rest and reflect a bit. If things don't work out the way you want, don't do them alone or make things more complicated. Sometimes we just need to be patient with the process. But if you cannot be patient, it might be time to start looking for a different position or career.
In terms of love, if you are in a committed relationship, you may feel a little disconnected. It is important to let your partner know what you are thinking. However, remember that your feelings are your own, they don't always have to make you feel good. Maybe the two of you just need to be away from each other for a while. Each of you can find your own space. Don't hesitate to do so. And if you are looking for love, you don't have to rush. You are better off finding out in a specific way exactly what you are looking for in a relationship. There will come a time when you will meet someone, but maybe not for the time being.
In terms of finances, you need a different plan if you are responsible for your own expenses and you don't know how to make money. Think of new ways to earn extra income. If you are in business and are lending money, try to get those loans back quickly. If you wait for the borrower to voluntarily pay you, it may take you quite a wait. However, this financial deadlock will not last long. If possible, consider making a small donation to a cause, fund, or business that you believe in as long as you can happily do it from your heart. Then you will be able to open a new flow of prosperity into your life. And if nothing happens, this support will still make you feel comfortable even for a short time about what you are holding.
In terms of health, the Four of Swords Witches Tarot is the message that reminds you to be happy with what you have. Your health may not be as perfect as you would like, but it is certain that you still feel better than most people. Be satisfied with what you have. The Four of Swords can also be a call to slow down and rest more. Exercising when you feel tired can make you more sick or injured. Everyone needs a break and needs some alone time.
In terms of spirituality, this card shows that you are in need of personal space. You need time and quiet to really get in touch with your soul and the universal energies that surround us all. If you make yourself a priority, you can still save a minute or two for yourself. Find, capture, and make the most of that time. Your sanity, as well as your soul, are calling you to meet this need.
When the Four of Swords Witches Tarot in reverse appears during a Tarot spread, it is a sign that you or someone very close to you is exhausted in every respect. This is not the time to push yourself beyond your limits. You may risk everything you have worked so hard to get including your health, your work, and your relationships if doing so. The most important thing right now is to just rest. In general, the reversed Four of Swords indicates that in addition to feeling tired, you may also feel a bit isolated. Give yourself a break. You should always remember that the relationships and friends you need are coming your way. Handle one thing at a time, slowly but surely.