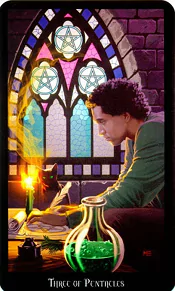 Three Of Pentacles – Witches Tarot Deck
I. Keywords and corresponding associations to the Three of Pentacles Witches Tarot
Upright keywords: Effort, work, progress, success through dedication, use energy creatively, learn the spells and achievements.
Reversed keywords: Missed opportunities, laziness, not persistent with the details, unpaid work.
II. Meaning of the Three of Pentacles Witches Tarot
On the Three of Pentacles Witches Tarot, we can see an apprentice witch in a patterned red-and-blue shirt sitting thoughtfully in front of an old wooden table. Beside him, on the stone wall, is a large domed stained-glass window frame decorated with three coins. The young man is diligently holding a quill and is persistently making a talisman on the goatskin in front of him. The star he is drawing represents the powers used to manifest magic and is a symbol of his spiritual growth. Although he is still an apprentice, he uses his powers skillfully and creatively. The young witch is quietly and surely finding job satisfaction and skill advancement.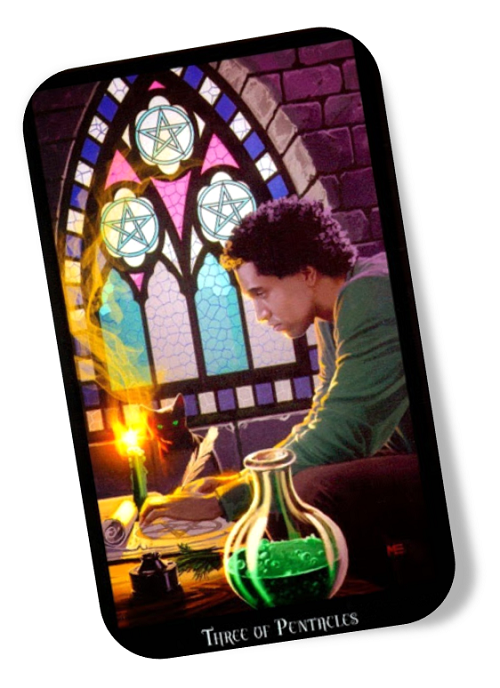 On the table are other specialized tools: a bottle of ink, a burning green candle, a handful of fresh herbs, and an effervescent potion. The enchanted cat with emerald eyes sits friendly beside him and watches the young man while golden smoke rises from the spell candle. In due course, the apprentice wizard will become a master of his craft due to his dedication and hard work.
III. Message of the Three of Pentacles Witches Tarot
  When the Three of Pentacles Witches Tarot appears in a Tarot spread, it announces that success will come with focus and hard work. This is a positive card of progress. It reminds you that your creative energies must be used properly. These abilities will bring you success and additional income if you so desire. This is the card of freelancing and apprenticeship, hence its theme is of apprentice witch. An apprenticeship can actually be an opportunity to learn a new career skill or you may have the opportunity to participate in a job training program. The Three of Pentacles can represent learning a magical profession. You may be starting a new course in magical studies or perhaps working your way up the ranks of the wizarding group. Your efforts will be recognized and appreciated. Now is the time to perfect your career.
In the first section of the movie Mission Impossible, a group of specialists are on a dangerous mission. Team members strategize, gather resources, and use their members' skills and qualifications to complete missions. That is the spirit of the Three of Pentacles Witches Tarot: teamwork, planning, and accomplishing goals.
The Three of Pentacles is one of those Tarot cards that focus on teamwork or community (similar cards are the Three of Cups and the High Priest). The image of coins is firmly linked to the earth and used to symbolize a group of people doing a certain task who are working together towards a common goal. Not much work can be done alone. We need the support and help of others in order to achieve our goals. Sometimes the Three of Pentacles is a sign that you will be more productive if you work with others. You don't have to do everything yourself.
The Three of Pentacles Witches Tarot can also be a sign of a need for planning and preparation. This is not the time to rush things or start a project while you are very vague about it. You need to think things through, consider every possibility, and make sure you pay attention to every little detail. Be prepared in advance because what you do will reap the results. Another characteristic of the Three of Pentacles is the ability to achieve (excellence) and the ability to get things done. Nowadays it is very difficult to find a person who achieves this. The card tells you that you have all the skills and knowledge you need. You can attract talented people and create an environment of success. Keep in mind that while times are (or will be) very favorable, it is important to make sure you stay focused on getting your work done well. Be proud of what you do and how you do it. Then you will complete your "impossible" mission.
IV. The Three of Pentacles Witches in a Tarot spread
The natural element of the Pentacles suit is Earth, and it indicates elements related to specific material possessions such as money, ownership, and work. In the traditional Tarot, the Three of Pentacles Witches Tarot depicts a young apprentice discussing an architectural plan with two forebears in the church. In the Witches Tarot, the card depicts the image of a wizard apprentice who is apprenticed next to a black cat in a church setting. Three coins are mounted high in the stained glass window. These coins are mainly related to the Pentacles suit.
The Minor suits are concerned with everyday events which are governed by the laws of human nature, not the colossal laws of the Universe. This card predicts a specific material event in your life and that is a good prediction. Success in many areas is coming, but still, you need to contribute to it. Learning and teamwork should be encouraged. When the Three of Pentacles appears in reverse, it warns of selfishness and jealousy.
The Three of Pentacles Witches Tarot is a very positive card, especially when it comes to work and career readings. And in general, what you are doing is very favorable. The Three of Pentacles tells you that the people around you appreciate you and your efforts and see the quality of the work you do even if you are not being paid for it. It reminds you to keep up the good work because you are on the right track. There is still room for improvement. You don't have to discard or terminate something and start over.
The circle symbol with the five-pointed star in the center is known as the coins. The appearance of many Pentacles cards and the Three of Pentacles Witches Tarot predicts financial abundance to come. The practicality of the Earth element can be washed away by the element of Water (emotions now control all) when a powerful card from the Cups suit appears. When the Three of Pentacles is combined with one or more Major Arcana cards, it tells you that everything will be fine if you can see the big picture. The Three of Pentacles can indicate some satisfaction that comes from daily work, but cards from the Major Arcana can indicate that this work is in line with the larger laws of the universe and of your lifestyle.
In terms of work, the Three of Pentacles Witches Tarot is a very good sign when it comes to working as well as career questions. The card tells you that what you do is being appreciated and generally getting a lot of attention. That is a good trait for you to develop yourself. Similarly, if you are looking for a job, then this card is a sign that you can fully expect success in the future.
In terms of love, the Three of Pentacles Witches Tarot is also a good sign. Especially if you already have someone to love and care for, this card gives the message that that person sees a very positive light in you and that you are someone who meets the standards they are looking for. So let's be patient. If you are single and are looking for love, this card indicates that you will most likely meet that person in the course of work (yours or theirs). Stay alert and wide-awake in this search!
In terms of finance, the Three of Pentacles Witches Tarot is a good sign when it comes to money. The card can imply that your opportunity is coming, even if it still comes with a warning message that you will still have to fulfill your duty. This is not a card that indicates that you will receive blessings from heaven but fair compensation and reward for what you do and for the quality of the work done. Keep a positive attitude, always work hard, and the rewards will come. Everything will go well.
In terms of health, your energy tends to improve in a positive way, not as a miracle, but as a result of what you are doing to improve your well-being. Therefore, this card is a sign that you are on the right track. Just continue to maintain and promote it.
In terms of spirituality, by studying ancient organizations, communities as well as ancient traditions, you will be able to learn a lot. You don't have to join certain organizations or communities unless you really want to. In fact, this knowledge and contemplation can be found simply by reading and meditating on the belief systems of those places. Learn about the rituals of the past which will help you deepen your spiritual knowledge and experience.
The reversed Three of Pentacles Witches Tarot is generally a positive card, especially in the context of work and career questions. However, it also carries the message that this is not the time to allow yourself to be distracted. Work is the most emphasized aspect of the image of the reversed Three of Pentacles. This is an important time to do your best instead of looking for the simplest solutions. Once you do, you will have many chances to achieve great success.