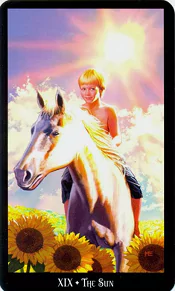 The Sun – Witches Tarot Deck
I. Keywords and corresponding associations to the Sun Witches Tarot
Upright keywords: Achievements, personal abilities, good times, fun events, friendship, vitality, joy, enthusiasm, fame, growth, success, happiness, the magic of the sun, winter/summer solstice and spring/autumn equinox.
Divinity: Child of the Sun, Apollo, Brigid, Helios, Sunna.
Astrology: The Sun.
Reversed keywords: Need to return to reality, compete, the need for public attention.
II. Meaning of the Sun Witches Tarot
The blond boy is riding a white horse through a field of brilliant sunflowers. Above him, in the clear summer sky, white clouds are illuminated by the shining sun. On a dynamic day which is the summer solstice, the harvest is at its peak. The boy depicted in the card is sweet, smiling, happy, and having an adventure. He is the embodiment of excitement, enthusiasm, and cheerfulness. If you listen carefully, you will hear him calling you to join the adventure. The boy is the son of the divine Sun.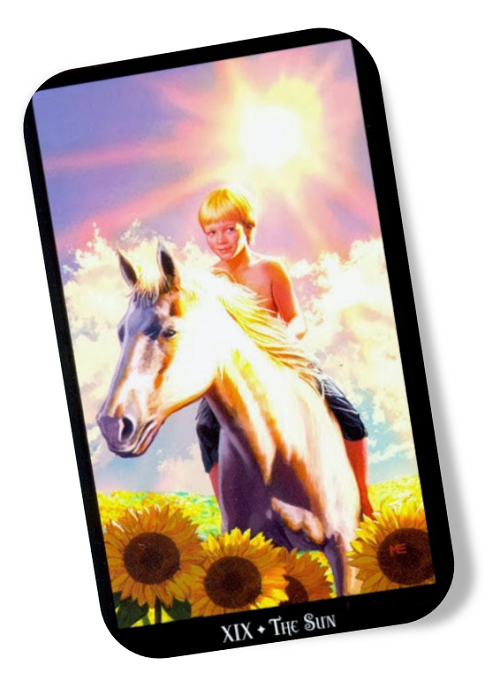 Naturally, sunflowers face the sun during the day. In the language of flowers, sunflowers symbolize fame, success, and esteem. The white horse represents action and progress. In many myths, the white horse symbolizes dawn, life, light, and enlightenment. Similarly, white horses are associated with magic and the world of Wonderland. The white horse, the blond child, and the sunflower are all classic symbols of the sun. This delightful Witches Tarot card is also related to personal energy and celebration of the spring/autumn equinox and winter/summer solstices.
III. Message of the Sun Witches Tarot
This is one of the most unexpected cards in the Tarot deck. The Sun Witches Tarot is a card of auspiciousness, luck, success, creativity, and breakthroughs. Let's dance in the sun and perform some solar miracle. Success is within your reach. Let's hope for happier times, good health, energy, and vitality. Spiritual integrity has been accomplished. You will spend good times with your close friends. Most likely, magical events and celebrations will come as you wish. Personal power is at its peak. Focus on that attraction and see where it takes you. Things are going your way, so hold on tight and enjoy the ride!
Mighty, Brilliant, Twinkle – many words take the form of power and the splendor of light. When we turn on the lights in the room, it means that we illuminate the room to every corner. And when we turn on the light in our minds, we are enlightened. We see clearly and understand the truth. Both inside and outside, the energy of light expands our limits and makes us shine.
Throughout history, people have honored the Sun as the source of light and warmth. In the legends of many cultures, the Sun is the supreme being – always full of strength and bravery. The sun is an essential source of energy so that all living things can exist. The Sun Witches Tarot represents vitality and magnificence. It is certainly not a card of docility and staying still.
In a Tarot spread, you will understand this 19th card if you imagine yourself as the God of the Sun. How do you think and feel? You will feel completely confident for sure. You are not complacent, but completely confident in your own strength. You have unlimited energy and great health. You have greatness all around you and feel like excelling. Finally, you see and understand everything that is going on inside your crystal ball. When you see this card, know that you will be successful in what you are doing. This is the time to let yourself shine. 
IV. The Sun Witches in a Tarot spread
The appearance of the Sun Witches Tarot in a Tarot spread is a good sign. This card speaks of joy, warmth, optimism, and success. The Sun understands that you are having a good time in your life. Every project is a breakthrough. Likewise, everyone around you is grateful and respected. It looks like you have accomplished everything you put your mind to with little effort. The Sun indicates that you are being enlightened. You have a more profound understanding of many things in your life and a deeper sympathy for the things that bother you. The Sun brings joy and happiness. You feel full of life, energy, and brilliance! It is time to think about taking a vacation or experiencing something new.
When the Sun Witches Tarot appears, it is a sign that you will probably feel freer for a while – possibly years. This is a great time to travel and experience many different things. The Sun speaks of vitality, freedom, joy, and self-expression. Things, in general, could be going very well. However, that does not mean that you lose focus on the things that are really important in your life. This is a good time to mingle, meet new people, and make friends.
If The Sun Witches Tarot combines with the Chariot in a spread, this is a sign of great success and a higher social status. The Sun pairs with the Lovers refers to great love in your life or indicates that that great love is coming to you. When it appears with any Ace card, your skills in some area of ​​your life become more qualified.
In terms of work, if you are looking for a new job, you will receive an opportunity you have been waiting for. Be humble and share the fruits of your work with those you work with, whether you have done all or most of the work. In short, your work is well organized and is moving towards new advancements.
In terms of love, if you are in a committed relationship, this is the time when you and your lover need personal space more than ever. This is not the time to be inadequate, dependent, or overly needy. And if you are looking for love, you probably will meet someone new.
In terms of finances, your condition may be more favorable than usual. Be prepared for unexpected expenses, though. If you are waiting for others' settlement, you will get the results that are worth listening to.
In terms of health, your mental health and emotional well-being are at their peak. This is a great time to rest and enjoy life if you can. Resting here means both spiritually and physically – if you look back, you may find that your attitude has been very positive lately. This can directly affect your body. Find out what you have done right and keep improving!
In terms of spirituality, this is when you can see the true meaning of life. That meaning implies a lot of beauty, joy, and happiness in life if you have searched enough and found the right place. Spread this very important message to everyone who wants to hear it. This is a great time to experiment with different spiritual approaches to see if they work for you.
When the Sun Witches Tarot appears in reverse, it is still a sign that you are enjoying the liberation of life. However, this freedom will be less obvious and you will probably have to work harder to get it. Still, this is a great time to travel and experience a variety of cuisines and cultures. Things could generally be going very well for you.
Besides, you need to make an exceptional effort and focus on your blessings. No matter who you are or if something is wrong in your life, there is no doubt that you have much to be grateful for. Be discerning about these things and many blessings will come your way.
The reversed Sun indicates that there are some clouds blocking your glare at the moment, but if you focus on it, those problems will be easily dealt with. It reminds you to be more careful with how you express yourself under certain circumstances. You may want to consult a loved one to make sure you are acting reasonably.