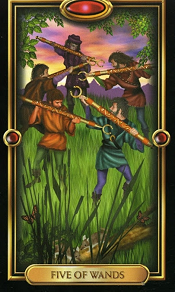 Five Of Wands – Gilded Tarot Deck
I. Meaning of the Five of Wands Gilded Tarot
In a clearing in the woods, there are five people competing against each other. Each person holds a stick in his hand, clearly showing his will and ability to decide victory or defeat. In doing so, they recognize their own strengths and weaknesses and help their opponents do the same. Just like the Hierophant – card number V in the Major Arcana Gilded Tarot Deck, it speaks of the greatness of collective achievement. The Five of Wands Gilded Tarot, therefore, shows us how we help ourselves and others to perform to the best of our abilities and thereby contribute to the common good.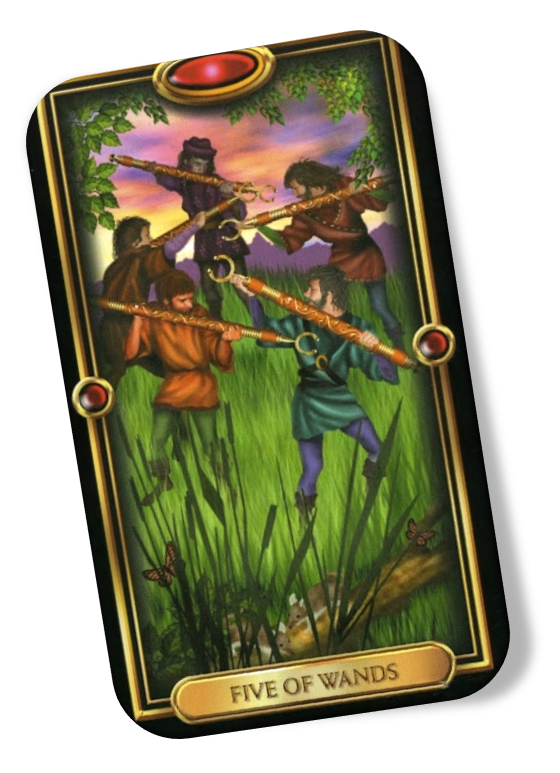 II. Message of the Five of Wands Gilded Tarot
The Five of Wands Gilded Tarot carries the message that you are in a competitive situation. You should see the situation for what it is: an opportunity to grow and help others grow. Even though you are competing with others, you are actually competing with yourself. Do your best for your own benefit and that of others. Watch out for inappropriate motives. Compete with the mindset to improve yourself and society, not to hurt or destroy others. Let's play by the rules. Be confident and don't try to gain an unfair advantage by cheating.
III. Interpretation of the Five of Wands Gilded Tarot in a spread
The Five of Wands Gilded Tarot represents a time when circumstances seem to be working against you. Nothing in your life is going smoothly. People work with conflicting goals. The characters in the card are at war with each other. No collaborative effort or consensus appears here. When this card appears in a Tarot spread, the message to you is to prepare for an upcoming challenging journey. You will need more patience to get everything done. The Five of Wands does not mean great obstacles, but only many small difficulties and annoyances.
The meaning of the Five of Wands Gilded Tarot depends a lot on where it appears in the reading. In the past indicative position, it speaks of a past conflict that has directly affected the present situation. Depending on the other cards in the spread, the event that the Five of Wands points out here could be your moment of success, but it could also be a time of your utter failure. Either way, past actions are the cause of present things. The Five of Wands in your current position means that your life may be in turmoil right now. Backstabbing and gossip can be a source of your stress. However, you need to remember that you can get through it without getting hurt. Keep yourself upright and don't downgrade yourself just to please others. If you keep your head held high, in the end, it will lead to a better ending.
When the Five of Wands Gilded Tarot appears in the future position, you have plenty of time to assert your status before someone jumps in and causes trouble. Use the time you have to find your own stability, so that the insecurity of others cannot affect you later.
When the Five of Wands Gilded Tarot appears, you need to believe in yourself stronger than you ever believed. Keep your head high and have faith that you will get what is yours. You may be contemplating a career change. Know that you can absolutely succeed.
In terms of work, the Five of Wands Gilded Tarot reminds us to be vigilant. Chances are, someone you work with is actively invading your work for personal gain. As long as you continue to be fair and keep the right distance, you can get rid of your partner's meanness, and ultimately get other benefits for your career path.
In terms of love, the Five of Wands Gilded Tarot is not a good sign. It does not necessarily indicate a breakup but rather a warning that it will happen if you and your partner do not work through your problems. Sometimes it points to infidelity, but it is important that you get clear evidence before jumping right to a conclusion. If you are looking for love, the Five of Wands says that the one you are interested in is also being chased after by others, and you will have to compete with them. You will have to decide if that person is worth the effort, or if you should find someone else that is not so out of your league.
In terms of finance, you should pay attention to your balance when the Five of Wands Gilded Tarot appears in a financial spread. Chances are that your investment does not go well, or that the company you are working for is not so profitable. Financial difficulties may arise, but you have plenty of time to plan for it. The Five of Wands also indicates that this financial loss is only temporary, so you can expect things to recover soon.
In terms of health, for those who are having problems with their fitness, it is very normal for them to receive the Five of Wands Gilded Tarot in their spread. As long as you are making good choices in life and following your doctor's instructions, you will be fine.
In terms of spirituality, the Five of Wands Gilded Tarot says that it will not be easy to grow mentally if you are lacking in direction. You should take the time to rest and do nothing at this time. Create a space for yourself to calm down and listen to the sounds of your surroundings. Life is not always about fighting and struggling. Everyone needs their own space sometimes to be themselves. Give yourself the gift of time and space, and from there you will see and feel spiritual growth.
When the Five of Wands Gilded Tarot is in reverse, it signifies that you are gradually overcoming difficulties. You may still feel the negative effects of the event, but it is only for the time being. It is important that you neither dwell on the past nor focus your energy on the future. If you are looking to end things, remember that the only person who can do it is you. You cannot wait for someone to come and make you feel better. And absolutely, you have the ability to bring things to an end with your own strength. You can expect that when all of this is over, you will become your better version.
Like the upright meaning of the Five of Wands Gilded Tarot, you need to really believe in yourself. If something or someone makes you doubt yourself at the moment, trust your instincts. However, no matter what happens, think twice when you want to make things more stressful or make decisions that cannot be undone. Don't rush, no matter how angry you may be in the next few weeks.
In terms of work, there may be some controversy about what will happen when the reversed Five of Wands Gilded Tarot appears. Think carefully and calmly and do your best to avoid falling into arguments and conflicts. Make sure you have prepared your defenses appropriately, such as keeping track of your actions, having written records, and having witnesses during the argument. If you are looking for a job, do not be discouraged by the challenging competition you are facing. Be confident that you have your own outstanding strengths to show. Think positively.
In terms of love, if you are in a romantic relationship where the two of you are committed to each other, the reversed Five of Wands Gilded Tarot suggests that what looks like conflict on the surface may actually benefit your relationship (as long as both sides "fight" fairly). You will learn a lot about yourself, about your partner, and remove the tension. If you are looking for love or are interested in someone who just does not seem to care about you, know that their "closed-heart" is largely due to their problems, not yours. If you really want to be with this person, you will need to learn to be patient.
In terms of finances, if you have money problems right now, this is the time to carefully question old assumptions. You may have thought you cannot cut off your spending, how to make more money, or how to achieve a higher rate of return on your investment sessions. Think again carefully! Try looking at your situation but from an outsider's point of view. What would you advise them to do?
In terms of health, the reversed Five of Wands Gilded Tarot can imply that you are trying to deal with physical pain (it may be true if you have experienced these pains before the reading is done). If you are injured, you should not ignore any signs and make sure your health care provider pays attention to every detail, even if there is no clear reason to explain these pains. This pain affects the entire quality of your life if it is not relieved. Take serious care and do what it takes to help ease your symptoms. A change to your diet can be beneficial for you. Cupping therapy, acupuncture, acupressure, and massage are also beneficial treatments.
In terms of spirituality, you should know that spiritual growth is not a struggle. When the reversed Five of Wands Gilded Tarot appears, people may try to convince you that you need to grow in a certain direction and at a certain speed. You should also understand that spiritual growth can also involve resolving and accepting some glaring contradictions. Try to train yourself to be comfortable with inconsistency.