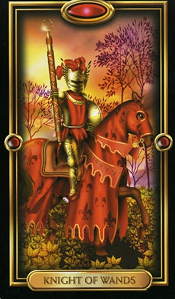 Knight Of Wands – Gilded Tarot Deck
I. Meaning of the Knight of Wands Gilded Tarot
On the Knight of Wands Gilded Tarot, we can see a knight in well-equipped armor riding confidently and purposefully. His stance and temperament show passion and courage. He is well-rested and ready for adventure when he finds it. This means your passion is moving you forward very quickly. Whatever you are facing, you are excited about it. You feel nothing to fear, although you certainly feel the harsh ferocity of what is to come. You are ready for a big adventure. If that adventure does not come your way, you will go out and find it.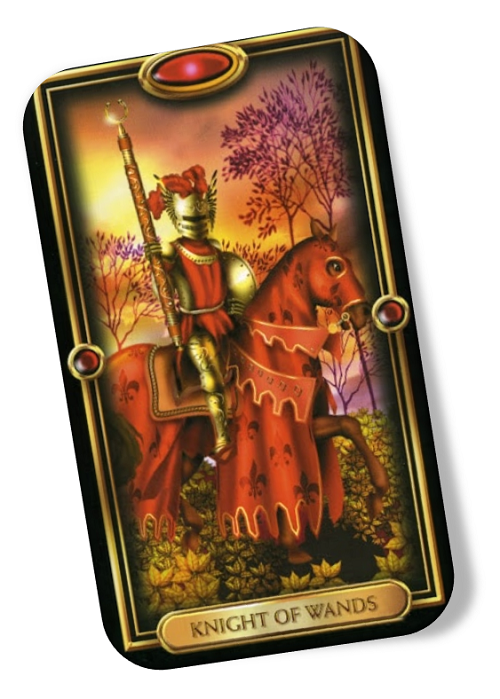 II. Message of the Knight of Wands Gilded Tarot
The message of the Knight of Wands Gilded Tarot is that you will feel energized and mentally ready to get anything done. Your confidence will tend to increase and that will help you achieve your goals. Pay attention to recklessness. Remember the Fool and the Knight of Wands only appear where even angels are afraid to step. Always be careful.
III. Interpretation of the Knight of Wands Gilded Tarot in a spread
The appearance of the Knight of Wands Gilded Tarot in a reading is a positive sign. It indicates that you should start a project with energy and enthusiasm, but you need to remember the excessive nature of the card to balance everything. You may find yourself full of energy right now, but don't take advantage of everything. You may find yourself in situations that can't be helped and their consequence becomes a burden on you.
In Tarot readings, the Knight of Wands Gilded Tarot shows that the confident and enthusiastic style of the knight in the card is related to your personal situation, someone else's, or a general atmosphere. You need to ask yourself: will this knight's energy benefit or hurt you? Is your confidence really complacent? Are you always irritable and impatient? Are you infatuated with someone you know will break your heart? Is your company in a hurry to invest risk without being well prepared? This could be the time for a change.
The Knight cards are usually cards with many messages, and in the Wands suit, this message is very positive and oriented towards the work and career of the querent. Your projects will be more likely to succeed than you expected or anticipated. You have many reasons to feel proud. So you can enjoy that feeling.
In terms of work, the appearance of the Knight of Wands Gilded anticipates a change in work or that you may be asked to go somewhere as part of your duty. Everything will be fine, and you will have a good time. The arrival of the Knight of Wands card brings opportunities for starting a business. You have the necessary entrepreneurial skills, and if a golden opportunity presents itself, rush in and grab it.
In terms of love, the presence of the Knight of Wands Gilded Tarot indicates that your relationship will be wild, exciting, emotional, action-packed, and dramatic. But be careful with all that because something that shines too quickly takes effort and goes out just as swiftly.
In terms of finance, things are going well in financial matters when the Knight of Wands Gilded Tarot appears. However, be careful not to overdo it. You should save some money by eliminating unnecessary expenses.
In terms of health, the appearance of the Knight of Wands Gilded Tarot means that you are healthy. However, you are inclined to overwork. Beware of injury and burn yourself out!
In terms of spirituality, you may suddenly be introduced to a new way of seeing things that impressively grabs your attention. However, take some time to learn and discover this "new method" before spending a lot of time or money on it. Donate some money, time, and energy if possible to spiritual rituals in which you believe. It is one of the good prayer schemes.
When in reverse, the Knight of Wands Gilded Tarot implies a lack of composure, procrastination, stress, and anger. You might be getting left behind on your project, and you are starting to become blunt and rushed because you want to get things done quickly. In that case, you need to think carefully before you act and consider the consequences first. The appearance of the Knight of Wands in the reversed position indicates a little tension and quarrel in a certain relationship. Stay calm, don't rush, and get to the bottom of the matter.
When the Knight of Wands Gilded Tarot appears in reverse, although it sometimes implies failure or delay in some way, it is generally an optimistic and positive card. The card can also refer to someone in your life who is usually a relatively cheerful, kind, and energetic person. This person is generally trustworthy. It is a sign that you are about to receive a message, whether the card appears in the upright or in reverse in a Tarot reading. Unfortunately, in the reversed position, the message of the Knight of Wands will imply "a delay", and "you will have to wait". If so, try to wait patiently.
In terms of work, there will be some interruptions in your work. For example, you may be transferred out of a job you enjoy to attend a training session or meeting. Or the building you are working in may need maintenance for a few days. Try to take these things with the most positive attitude you can. If you are looking for a job, hiring decisions regarding you may be delayed. Don't worry too much because anxiety will not bring you any benefit.
In terms of love, the reversed Knight of Wands Gilded Tarot can mean that tension and minor disagreements will appear in your relationship. Let's take a closer look at what is really going on. The essence of all real friction is often not what it seems! If you are looking for love, you are likely thinking that you will be able to find your other half and move toward a vision of an eternal bond (which can be a marriage). Make sure you know everything involved in a relationship before you make any significant decision. Note that you may be in too much of a hurry.
In terms of finances, sometimes there are disagreements over money when the Knight of Wands Gilded Tarot appears in reverse. Stay calm and take it one step at a time. Make money with passion. Many people often have arguments about the money issue and what is attached to it is not what they seem on the surface. This is absolutely not the time to invest by luck.
In terms of health, this is not the time to over-exercise or experiment with a new wellness regimen. Of course, you have to take care of your health, but don't sabotage your body with excessive enthusiasm. Be honest with your health professionals and take their advice, or simply take some new supplements. Anyway, don't try to make your health "perfect" excessively.
In terms of spirituality, when the Knight of Wands Gilded Tarot appears in reverse, it is possible that you suddenly want to end a ritual experience or leave a spiritual community that you have long been in/joined. This is not a wise decision, and many of your friends or loved ones will not accept or understand it. At the core, though, all of these decisions are directly related to your soul and life, and if a spiritual tradition no longer "makes sense" to you, there is no reason that you have to pretend it still exists. This change does not have to happen immediately, you can pull it out gradually if necessary. You should replace your departed spiritual ritual experiences with something that means better to you, even if "that" includes only you.