Page Of Cups – Gilded Tarot Deck
I. Meaning of the Page of Cups Gilded Tarot
On the Page of Cups Gilded Tarot card, we can see the young man holding a cup with obvious carelessness. He also stands with a very relaxed posture exuding arrogance and contempt. He is facing a moment of truth and believes he understands it best.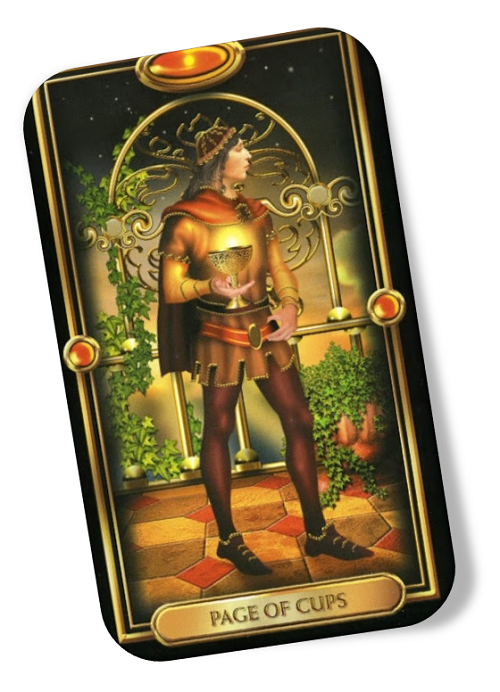 II. Message of the Page of Cups Gilded Tarot
The message of the Page of Cups Gilded Tarot is that you are in an emotional situation, one that you probably don't really have much experience with. You have the strength of faith and show a calm face to the outside world. However, due to lack of experience, you feel a little nervous under this mask of your confidence.
Pay attention assuming you know everything and ignore all advice. Emotions are surprising. Even if you think you have everything prepared, chances are you just can't see everything! Don't ignore the advice of someone more experienced than you. The Page of Cups card can indicate a message, often related to a romance, a creative or artistic project, or an emotionally binding situation.
III. Interpretation of the Page of Cups Gilded Tarot in a spread
When the Page of Cups Gilded Tarot appears, the card is a sign to allow the youthful side of you to manifest. Like most of the cards in the Cups suit, the Page is a positive and encouraging sign of affection and emotion felt in a Tarot reading. The card can also show that someone who seems smaller than you is coming to you with a message.
On some certain level, the Page of Cups Gilded Tarot also represents a need to recreate, dream, unwind and have a little joy. When this card appears, it sometimes means that you are taking your life too seriously. Learn how to balance being serious and professional in the necessary work and winding down, enjoying the simple pleasures for yourself.
The Page of Cups Gilded Tarot can also refer to a child or a childlike adult that correlates with you in emotional need, status, love, intimacy, or spirituality. Sometimes it indicates that your heart is completely filled with love and emotion. At these times, feel free to express and enjoy how you feel without regard for anything else. In Tarot spreads, this Page of Cups shows an opening that can come to stir your emotions, draw you into your deepest emotions, and bring you great joy. When you see such an opportunity, grab it now!
When appearing in a Tarot reading, the Page of Cups Gilded Tarot indicates new news in business or the beginning of a new creative project. The card encourages you to act on your intuition. Trust your instincts and your dreams as you approach the events of your life. The Page of Cups almost always brings good messages or good news from the people you love. Maybe you are about to receive news about a marriage proposal or wedding. It could be news of someone being pregnant, or a new relationship, and the like. 
The appearance of the Page of Cups Gilded Tarot in your spread means that this is a time to be a little cheesy and romantic, as well as to let all your other emotions be revealed. Don't hesitate to let your heart guide you at this moment. If possible, forgive the person who has hurt you in the past.
In terms of work, when the Page of Cups Gilded Tarot appears, you should look at the current problem from a different perspective. This is the time to carefully listen to your intuition and trust your dreams. Even if doing so is virtual and not reasonable at all. If you are not happy at work, this card tells you that there will be hope and positive things to come.
In terms of love, the Page of Cups Gilded Tarot instructs you to let yourself be overwhelmed with emotion and romance. Let your heart lead the way. You might start a love relationship with someone new or get closer to someone – especially someone you really like. You can strengthen your friendship now by sharing personal stories, as well as showing empathy and listening.
In terms of finance, when the Page of Cups Gilded Tarot appears, it carries the message that you should trust your gut when it comes to investing. Your financial situation can improve, as long as you dare to consider your longing interests, whether it is a risky business or an investment plan. You may hear unexpected news about the market, as well as business expansions and new business options, and you should also be ready to jump into action.
In terms of health, when the Page of Cups Gilded Tarot appears in a health reading, it usually refers to consideration and energy levels. You should go back inside and listen to what it is saying. Also, listen to your physical body and find out what these physical signs mean.
In terms of spirituality, you may need to re-examine your spiritual practices if your traditions are fading. This can be helpful to allow yourself time and space to consider where you can pursue spiritual information that appeals to you. Let's explore. Read spiritual stuff from other belief systems/cultures instead of your own.
When the Page of Cups Gilded Tarot is reversed, it implies that someone is having problems with emotions or that someone is immature, insecure, and unsure of themselves. This person may be abusing alcohol as well as drugs to escape reality and deal with a lack of love and self-acceptance. It could be someone you know or a hidden side of yourself. 
Often the Page of Cups Gilded Tarot in reverse points out disappointment in love, as well as feelings of hopelessness accompanied by some form of addiction. This reversed card frequently brings bad news. It could be a breakup, an annulment, news of illness, all kinds of news that bring out emotional frustration and pain. Since the upright Page of Cups speaks of creativity, the reversed Page of Cups, therefore, indicates that creativity is blocked, work is delayed, and requires more effort.
In terms of work, when the Page of Cups Gilded Tarot appears in reverse, it shows that you are basically appreciated at work. However, you need to be careful not to disregard the rules or be too sloppy even when you are working for yourself. If you are unsure of what is going on or why you are in trouble, seek advice from an experienced, trusted friend or family member.
In terms of love, the reversed Page of Cups Gilded Tarot card carries a warning when it comes to questions about love relationships. When it comes up, you may be setting your heart on someone who is not ready at all. Pay attention to the signals you are getting. Sometimes it is best to set a time limit on how long you will allow yourself to focus on someone if that person does not want to be with you. We all have more than one chance to find a soul mate and many more chances to be happy. Don't force all thoughts on just one person.
In terms of finance, when you draw the reversed Page of Cups Gilded Tarot, this is the time to be very cautious with your payouts. You may be shopping just to satisfy your own needs. Think twice before frittering away. Think carefully about a large item before you purchase it.
In terms of health, the reversed Page of Cups Gilded Tarot can show that you, in some ways, need to be inclined to engage in the most modern and refreshing activities in the hope of improving your health. Indeed, natural methods can still be good and effective for your health care, but you need to make informed decisions. Also, it is best to always have your doctor's permission. Don't squander a bunch of money for "miracle cures" without any knowledge about them. Most of them are scams.
In terms of spirituality, the Page of Cups Gilded Tarot means that you may now be susceptible to confusing illusions with reality, and this affects your spiritual practice. Think clearly about what you are experiencing, and you can also benefit from discussing it with others who are looking for other spiritual solutions. If you feel like you need help or feel confused, just ask for help. We are all on the same spiritual journey.