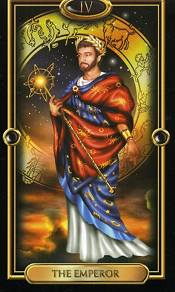 The Emperor – Gilded Tarot Deck
I. Meaning of the Emperor Gilded Tarot
The Emperor Gilded Tarot is a reflection of the Empress in many forms. One obvious feature is the contrasting colors in their clothing. The passionate red on the Emperor's clothes is the passion that radiates from his appearance, just like his actions. Surrounding the Emperor are not abstract empress symbols, but authentic zodiac signs. The Emperor represents authority, showing external control. Guided by love and a desire for the best for everyone, which is represented by the symbol of a blue robe, the Emperor is more concerned with the practical issues of everyday life. At the social level, the Emperor seeks stability to ensure that society develops well. As a Father, he wants to create a solid foundation for his children and allow them to express themselves at their best.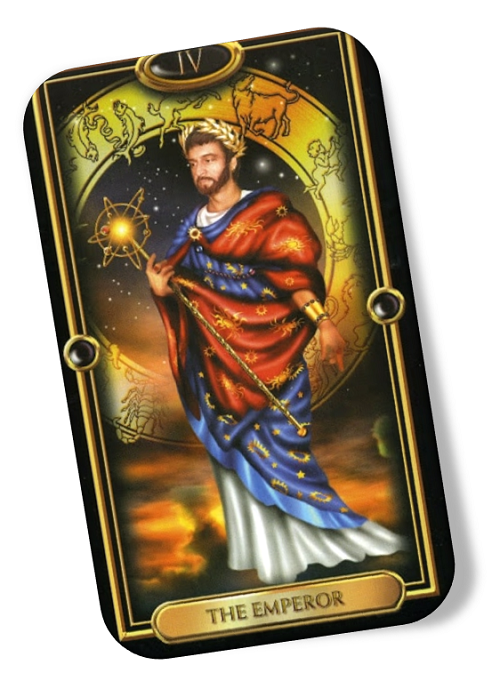 II. Message of the Emperor Gilded Tarot
The Emperor Gilded Tarot directs the message to the stability of health. Create an environment where you can express yourself at your best. Look for rules in life within the family, workplace, and relationships. Appreciate the social rules that will make life easier and more peaceful.
Always be aware of restrictive rules and regulations. The creation of rules in life is simply meant to constrain, not liberalize. Know when it is time to question social obligations and customs.
III. Interpretation of the Emperor Gilded Tarot in a spread
The Emperor Gilded Tarot can have many meanings in the upright position depending on where it is in the spread and also the surrounding cards. In the position of indicating the past, the Emperor represents a certain event in which an authority figure plays an important role. That situation has a direct effect on the dilemma of the querent. In the current position, the Emperor is interpreted that the querent has reached the stage of holding some important position or is currently under the influence of an authority figure. If that is the case, it means that the querent has ascended to a leadership position or he/she has an important position in the relationship/personal relationship. It is good to be a supporter to others, as well as a person to be consulted in a relationship, but you need to decide if your role is good for everyone involved. As a future position, this is a sign that the querent will eventually have to lead. This is an indication that soon you will be the main decision-maker.
In terms of work, if you are plowing for a promotion, the Emperor Gilded Tarot implies that your efforts are about to bear fruit. The sign is very strong that you will get to the position you desire. If you are not working for a promotion or raise, the Emperor is still a good omen of new opportunities. If you have worked hard for a long time, you will soon get the benefits.
In terms of love, in a new relationship, the Emperor Gilded Tarot is a good sign as it signifies stability and security. Chances are your current relationship will last as long as both of you are accountable to each other and keep your roles in the relationship. The Emperor indicates that a person will have more power in a relationship. This is not a negative actually. For example, in a family relationship, some people are secure and stable in terms of finance while others are good at taking care of the family members in terms of mentality. It is important that the querent decides if such a situation is okay for them.
In terms of finance, the Emperor Gilded Tarot is a guarantee that your future economic condition will be stable. If you are considering buying or selling something big, now is the time to make a decision. Besides, you need to make sure that you handle all the paperwork and make necessary phone calls.
In terms of health, if you are having health problems or are worried about your physical condition, the Emperor Gilded Tarot carries good signs. This card says that your health will be fine. Based on the cards around, the Emperor can tell you to take time to relieve stress if you feel under a lot of pressure.
In terms of spirituality, take time for yourself to satisfy your spiritual development if needed. Don't just focus on aspects like logic, reason, order, let other information be considered. Logic can lead you to the spirit world, if you allow it. Reflection and meditation (which is very disciplined) will be easy for you if you put in the time and effort.
When the reversed Emperor Gilded Tarot appears, trouble also comes. Maybe you or someone you know has a habit of manipulative power. In some cases, the reversed Emperor is a sign of rising up against those in power, but careful consideration should be given to the consequences based on the interpretation of the surrounding cards.
In terms of work, it sounds like you are not in the mood for structured, organized, or serious work. But of course, you may have no other choice. Do your best to meet and demonstrate the discipline, order, structure, and order that the job entails. But of course, don't forget to give yourself short breaks when needed.
In terms of love, the problem is most likely a lack of order and lack of organization with this relationship. If you see yourself as a neat, orderly person, then you may be in love with someone who is completely devoid of this quality (or this is about to happen). Consider how you can compromise and empathize with each other. Otherwise, the relationship will not be able to continue.
In terms of finance, if you are in financial trouble and you draw the Emperor Gilded Tarot in reverse, you need to seek outside help. Find someone who is good at logic and clear in setting up financial plans and dealing with taxes and cash flow, etc. You will not be able to solve the situation if you continue to lack a plan and mess around like this.
In terms of health, you need advice from someone who is logical, clear, and actionable to help you realign your health regimen. Increasing and improving self-discipline will bring many benefits. If you are having a health problem, insight can be found by writing down the symptoms, checking, and figuring out where the problem is coming from.
In terms of spirituality, it looks like a mentor who will help you (he seems to be an older man than you) is near. But be careful when taking advice from him as nobody is perfect. The most important thing is to listen to your heart no matter how others praise the person who gave that advice. And no matter who comes into your life, be strong and self-conscious. The reversed Emperor Gilded Tarot tells you to learn from this person, but don't ignore your own preferences.