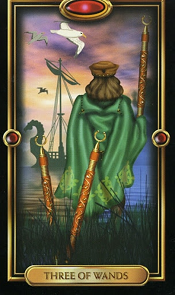 Three Of Wands – Gilded Tarot Deck
I. Meaning of the Three of Wands Gilded Tarot
On the Three of Wands Gilded Tarot, we can see a man standing on the shore watching the boat sail out to sea. Or maybe it is coming back? Either way, he is focusing on that boat. Whether he succeeds or fails, in the present moment, his future is no longer in his control. You cannot influence the outcome. This is perhaps the most difficult of the Wands. Like the Empress Gilded Tarot – the third card in the Major Arcana – this is a time for incubation, not for action or control.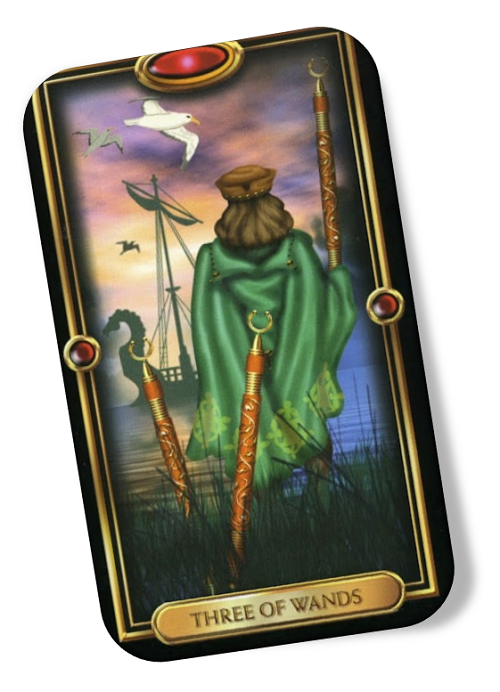 II. Message of the Three of Wands Gilded Tarot
The message of the Three of Wands Gilded Tarot is that you have made your choice and now have to wait for the results. It does not matter whether you are patient or not – it has no bearing on the outcome. Still, it is a good opportunity to practice patience and self-restraint. Besides, you should be careful with aggressive behavior. Even if staying still makes you feel uncomfortable, let things happen their way. Don't get angry unnecessarily.
III. Interpretation of the Three of Wands Gilded Tarot in a spread
In tarot readings, the Three of Wands Gilded Tarot is a message calling you to look beyond. Don't react hastily, but step back and consider. Analyze and "apply" the current situation to the bigger picture. This card asks you to become a visionary who is always eager to conquer challenges beyond the present. It can imply premonitions or an intuitive sense of things to come.
A long-term vision is the quality of a leader, which is another meaning of the Three of Wands Gilded Tarot. As we look further, we gain more knowledge to guide others to the best future for them. A person who understands the way will show others to follow. As we see the Three of Wands, know that now is the time to embrace your vision and be confident that you can lead others to pursue it.
The position of the Three of Wands Gilded Tarot in your Tarot spread will determine what the card's message is. In the past position, the Three of Wands needs more information from the card in the present position to be able to indicate which specific areas of life are being influenced by the past. In the past, you have hoped for a particular thing, but the outcome was different from what you expected. Maybe it was an incomplete love affair or an offer to work for someone else even though you had expected it for quite a long time.
In the present position, it indicates that you have put a lot of yourself into the current situation. Depending on the surrounding cards further, the Three of Wands Gilded Tarot asks you if the situation is worth all of the efforts or if you should end it to allow better things to happen. The future position is the most favorable position for the Three of Wands. Here, the Three of Wands indicates the future will reward all the efforts you have invested in the present.
When the Three of Wands Gilded Tarot appears, you seem to be about to find that your financial affairs are getting much better. In fact, this could be the month when your luck will come. You will probably feel very powerful with perfectly good reason. You may end up experiencing some significant success after overcoming the difficulty.
In terms of work, the Three of Wands Gilded Tarot is one of the best signs you can expect. It tells you that you need to put time and energy into your work, and soon your efforts will pay off. Your boss has certainly noticed your hard work, as well as your enthusiasm for the company. You will get your reward which is sooner than you think. If you are still looking for a job, this is a strong indicator that you will find a position that matches your expectations. You have the talent and passion needed to make it happen, so don't lose hope.
In terms of love, the Three of Wands Gilded Tarot means that things are going well in the relationship between you and your partner. Chances are you are about to start something new or learn something more from your special one. Be open and honest about your expectations and don't be shy about bringing up your deep concerns about the future. This is the best time to find out if you and your partner are on the same page, or if you want two different things in life.
In terms of finance, as a great card when appearing in a financial spread, the Three of Wands Gilded Tarot implies that all your efforts are paying off, whether you realize it now or not. You may experience some uncertainty at the end of the month, so make sure you put your money in a hedge fund. It is also a good idea to share some of your possessions with others as a donation now can open another door for you in the future.
In terms of health, if you are sick, the Three of Wands Gilded Tarot hints that good fortune is on your way. Therefore, you should try to learn more about alternative treatments combined with the recommendations of your doctor. Your efforts will pay off, you just need to be patient.
In terms of spirituality, you are at least mature to some extent and have a profound spiritual vision. Even with that, you still need to realize that if you can focus fully, you will grow mentally and so your mental outlook can change and develop over time. Don't be afraid of change and new information.
When the Three of Wands Gilded Tarot is reversed, it is a warning to you. Be careful what you wish for because it may come true. Chances are when this card appears in reverse, you are in a chaotic situation in your life. The important thing you need to do is to properly identify your role in the situation. Are you doing everything you can to improve the situation, or are you waiting for someone to come and solve your problem? You should take action now because the only person who can fix everything is you. In general, the reversed Three of Wands can indicate a wish that is about to come true in a positive direction. Think carefully about what you really want and why you want to achieve your dream. You may find unexpected insights coming your way, be it about yourself, about others, and about the world. Overall, you can count on this newfound knowledge.
In terms of work, when the Three of Wands Gilded Tarot appears in reverse, it tells you that you will make great leaps in your career. You might even be prepared to start your own business in some way. Overall, you can expect good things about what you are doing. Don't hesitate. Let your talent shine for everyone to see and collaborate with others.
In terms of love, recent difficulties in your love life may end when the reversed Three of Wands Gilded Tarot appears. If you are in the process of finding love, someone might be looking to build a relationship with you. As the saying goes, "Don't judge a book by its cover". If you are looking for your other half, give them a chance. You will be able to get a big surprise in a positive way.
In terms of finances, just like the upright meaning, the reversed Three of Wands Gilded Tarot can imply that things will improve financially in the short term. However, this growth will be entirely tied to cooperation with others. Don't try to do everything alone. If you have questions about the financial sector, seek out a good advisor.
In terms of health, the Three of Wands Gilded Tarot in reverse implies that your upcoming health reports will be better than you imagined. You are on the right track in taking care of yourself. Hold on to this progress and promote it. If you feel the need to use support to help sustain and maintain your efforts, there are many people around. You just need to ask.
In terms of spirituality, you may be about to make a concerted effort to grow spiritually when the reversed Three of Wands Gilded Tarot appears. Know that you can do it and that the benefits from this development are immense. Inspiration and new information can come from the most unexpected sources. Let's go step by step.