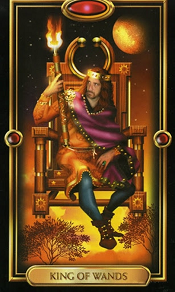 King Of Wands – Gilded Tarot Deck
I. Meaning of the King of Wands Gilded Tarot
On the King of Wands Gilded Tarot, we can see a tough man sitting comfortably on a throne and staring at the stick with flames on its tip. He is being hypnotized by it and paying no attention to anything else.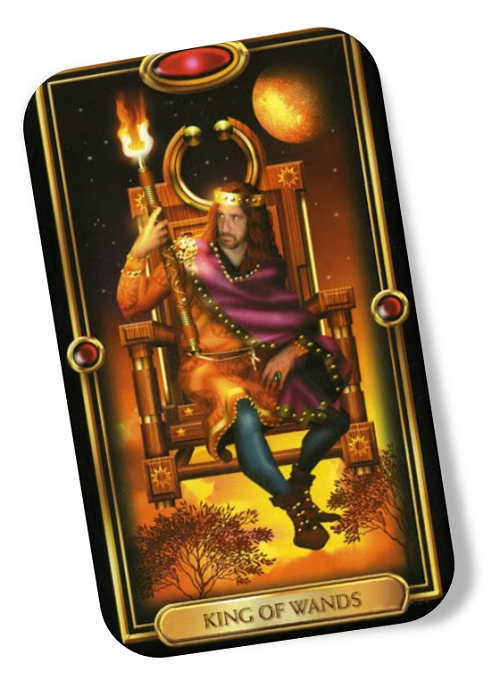 II. Message of the King of Wands Gilded Tarot
The message of the King of Wands Gilded Tarot is that you are very focused, determined, and hard-working. Something is capturing your total interest and you are channeling all your energy and skill in that direction. You have a strong sense that you are right in everything related to this job. Your ambitions or social needs are attracting attention. At this point, they are all that matters to you. Be aware of believing that you are right and that your way is the only way. You may run the risk of becoming too bossy or intolerant of others.
III. Interpretation of the King of Wands Gilded Tarot in a spread
Overall, the King of Wands Gilded Tarot is a positive sign. Even if the card does not represent a specific person in your life, it still implies that a certain man around you always wants to give you help and give you good thoughts. You will feel ambitious and goal-oriented among other things. You will have enough financial resources to accomplish what you are thinking. Think positively.
The position of the King of Wands Gilded Tarot in the spread will help interpret what the card's message is. You also need to consider what the question is which will help you better understand whether this card represents you or another person. In the past position, the King of Wands indicates a distant past when you left a project unfinished. The message is that the failure to pursue that project to the end is the foundation for your current situation. Learn from the past, even if you cannot change it. Also, you should take responsibility for your past mistakes and make up for them now. The past does not necessarily have to hold you back if you accept and take the lesson from it.
In its current position, the King of Wands Gilded Tarot can have two meanings, depending on the question you asked. The first is that you are about to experience a positive energy surge, which you can use to secure your future. If you have been thinking a lot about stepping down a new and more creative path, now is the best time to start. You are also in a very good position to lead, being promoted to a higher position is possible at this time. The King of Wands in this position can also indicate a certain male character in your life. This person could be a consultant, a friend, or a partner who has brought positive things into your life. Maybe you have not met this person yet, so keep an open mind when meeting someone new. In general, this person will bring many benefits to you.
As a future indicator, the King of Wands Gilded Tarot is a good omen. It implies that whatever hard thing you are experiencing will be worth it. Take the time now to focus more on developing your talents and skills as it will greatly benefit you in the future. Have faith in yourself and your support system because everything will work out for you in the end.
In Tarot readings, the King of Wands Gilded Tarot asks you to take actions within your power. For example, creating masterpieces, leading, taking risks, or drawing attention. This King can also represent a man or woman doing the same, or depict an atmosphere of excitement, boldness, and drama. During a reading, he tells you that his particular energy flow is something that will be of great help to you right now. Let yourself be inspired by the King of Wands in whatever form he comes into your life.
In terms of work, the King of Wands Gilded Tarot is a good sign. This means that you can expect good business in the future or an improvement in work conditions if you have been deeply concerned about it in the past. This is also a good time to practice any, as well as all, creativity (with permission, of course) in your work. If you are currently looking for a job, the King of Wand is an indicator that the job you have been waiting for is now available to you. Now, strong self-expression and confidence are the keys to getting the job.
In terms of love, the King of Wands Gilded Tarot is not a great card, although it does indicate a healthy and loving relationship. If you are looking for love, this means that you and your crush are feeling the same way and that you are being encouraged to express your feelings to him/her. If you are in a relationship, the King of Wands means that you need to spend more time with your partner. It is possible that having such a rush of energy makes you focus more on your career and pastimes. So make sure your partner knows how important they are to you.
In terms of health, the King of Wands Gilded Tarot directly refers to your state of psychological and emotional health. If you are feeling stressed or experiencing feelings of despair, it is not surprising that the King of Wands appears in your Tarot spread. If that is the case, you may want to take more time for yourself to relax and unwind. Your mental and emotional life will affect your physical health if you don't take care of it, so make sure you have enough time in your life.
In terms of spirituality, the King of Wands Gilded Tarot is a sign that you are ready on the path of venturing and discovering your spiritual side. However, these are also warnings of a possible tendency to neglect and push things too far. Spiritual development is a process that cannot be achieved overnight. Therefore, allow yourself the time and space to practice that. If sitting still and thinking is too difficult for you, then you need to put in the time and effort to do so. Let's start with 30 seconds, all you need to do is to focus. Meditation by walking alone can also be very effective. In short, do what works for you.
When the King of Wands Gilded Tarot is reversed, it is still an effective card. At this time, it means a source of positive energy and a good mood, as well as good things coming into your life that can make you more agreeable than usual. Usually, this card in reverse will appear to people who agree with everything. Make sure you check all the details before jumping into any new project or a new relationship. Be impartial in discovering your rights and in trying new things, but at the same time, be mindful of your actions and their consequences in the future.
The reversed King of Wands Gilded Tarot can represent the image of a man who has been through many years in his life, and therefore he is generally a warm, kind, and understanding person. He himself has a great source of energy. However, as an experienced man, he has begun to understand that not everyone can match him in many respects. If this card does not refer to a real person in your life, it can represent intense feelings and a tendency to be tolerant of others. If this connotation reminds you of your children, then think carefully about whether tolerance is the best answer for them.
In terms of work, the reversed King of Wands Gilded Tarot on one hand can refer to a kind man, but it can also refer to a specific man who may have a tendency to be condescending and superior to you. Depending on the situation, you may need to accept some of this. However, if this man is causing you too much trouble or is no longer the right mentor for you, you may need to speak up and stand your ground. You don't have to accept situations of exploitation or work that is completely inappropriate. However, don't let yourself fall into a state of narcissism.
In terms of love, the reversed King of Wands Gilded Tarot is a good sign when it comes to emotional matters, especially if you are interested in someone older than you, someone who is enthusiastic, kind, and warm. Regardless of who you are interested in or related to, this card still implies that the person you love may need time to think through what he/she needs and wants in the relationship with you. It is important to be patient and open up when they find the answers to those questions. Take each step with certainty in this relationship.
In terms of finances, when the reversed King of Wands Gilded Tarot appears, it is usually a clear sign that you can count on some financial advice from someone experienced – even if you are already a professional financial expert! Don't be so arrogant that you won't make a request even if you feel it is necessary. You will also tend to have more money to spend on small investments. Don't just hide your property, let it work for you. However, caution when spending money is not superfluous advice either.
In terms of health, the reversed King of Wands Gilded Tarot is an absolute sign of good mental/physical health. Meeting and talking with a physical trainer or a nutrition consultant can bring unexpected benefits to you. You need to open your heart to listen to what they have to say and implement their advice. If you have new health goals, be sure not to push yourself too hard and risk injury. Taking everything slowly but surely is always the best way.
In terms of spirituality, the King of Wands Gilded Tarot, whether in the reversed or upright position, is still a sign that you are ready on the path to discovering your spiritual side. You should know that you don't have to refuse to take the world to yourself in order to grow spiritually. We live here, on this planet with others, for a reason. Abundance and joy can be spiritual experiences in the same way that mortification and asceticism are achieved. And when compared between these factors, affluence and joy will certainly be much more interesting! Relax a bit, and then you may find your spiritual growth accelerates.