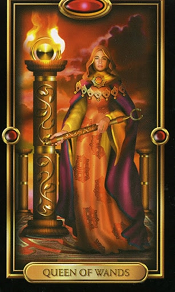 Queen Of Wands – Gilded Tarot Deck
I. Meaning of the Queen of Wands Gilded Tarot
In the Queen of Wands Gilded Tarot, we can see a woman with a seemingly serene but also very alert demeanor guarding a pillar with flames above it. She holds her fist in a calm and protective posture and places it forward relative to the pillar. She is not only ready to act, but also actively observes, and seeks. Your passion is a mysterious one. It is ready to explode at any moment. You are looking for an outlet for your energy. It could be in the form of a new project of your own or helping someone with a fun implementation. You love activity for its very nature, and you don't betray the praise of your skills and eminent personality from others.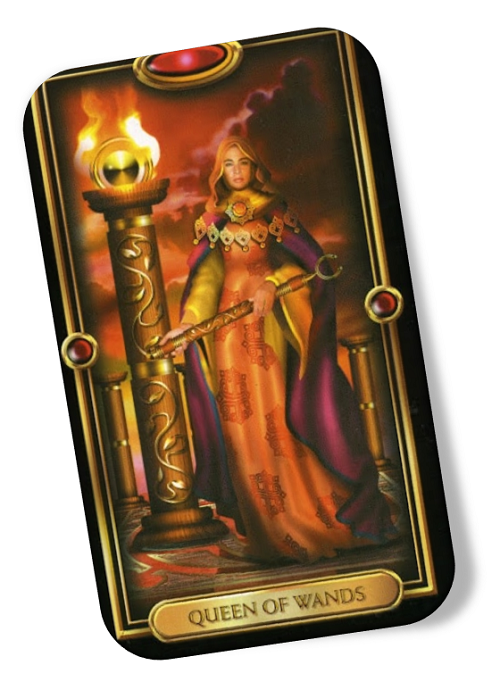 II. Message of the Queen of Wands Gilded Tarot
The message of the Queen of Wands Gilded Tarot is that you should pay attention to the ego and the desire to advance, let it have social or career relevance. Although you are a sincere and loyal friend, your ego can also prevent that from happening.
III. Interpretation of the Queen of Wands Gilded Tarot in a spread
The meaning of the Queen of Wands Gilded Tarot card changes depending on where it appears in the spread. In the past position, this card says that a happy, positive, and carefree time in the past is the basis for your current situation. Chances are that you spent too much time in the past having fun, leading to the current situation. It also means that the current situation is actually not that bad, and you can completely tap into the positive energy you had before. In your current position, the Queen of Wands says you are in a very good position – or will be soon. You are currently in a period when you can see everything clearly. In this position, the Queen of Wands says that no matter what the past and the future hold, your experiences are helping you to become a better person. Enjoy all the positives when it comes, because you deserve it. The future position is a great position for the Queen of Wands to appear. Here, the card indicates a future filled with confidence and victory.
In Tarot readings, the Queen of Wands Gilded Tarot asks you to think and feel the way she does. For instance, do you find yourself attractive? Do you believe in yourself? Are you full of energy? Can you dispel your troubles? Are you enthusiastic about life? This Queen also represents a man or woman with a personality similar to hers or implies a joyful atmosphere, full of enthusiasm and confidence. The Queen of Wands tells you that her particular stream of energy means a lot to you at this time. Let yourself be inspired by this Queen in whatever form she appears in your life.
The Queen of Wands Gilded Tarot can also refer to a woman with a lot of Fire energy, such as Aries, Leo, and Sagittarius zodiac. When not implying a real person, this card symbolizes the achievement which is related to the job or career of the querent. The Queen of Wands carries positive and superior energy. When this card represents a woman in your life, she can be a good friend who will always be there for you, even if she seems a little too self-centered. If you are trying to conceive and this card appears, this is one of the most positive signs that it may be about to happen.
In terms of work, the Queen of Wands Gilded Tarot shows that you can expect good things at work. Your labor productivity will soon hit a record or already hit one, so don't be afraid to take on a few more projects. Don't worry about your hard work not being recognized by your superiors, just maintain this above-average performance to be listed for a raise or promotion! If you are looking for a job, you will find it soon. Take advantage of this time to join the team of the boss you really like. Surprise them with your professionalism and hard work. Don't be afraid to show your uniqueness in the interview, as well as be creative in your resume. You will be asked by them to work sooner than you think.
In terms of love, the Queen of Wands Gilded Tarot is a very positive sign. If you are looking for a relationship, chances are it is just around the corner. Keep going out looking and trust your instincts when meeting new people! This is also a sign that a friend might introduce you to the love of your life, so make sure everyone around you knows you are looking for a date. If you are in a relationship, this is a strong sign that you may be having a baby at the time. If you are been thinking about it, this is perfect timing. If you don't have a plan to have a baby, the Queen of Wands Gilded Tarot still indicates a strong bonding between you and your partner. 
In terms of finance, the Queen of Wands Gilded Tarot is not a very powerful card. The message here is that focusing on family expenses is better than wasting money on new things. If you have been procrastinating replacing the carpet, mural, or something like that, you should do it now. Renovating your home does not necessarily have to cause you to be broke, and the Queen of Wands encourages you to do a few things yourself! If you have any money left over after this replacement, save it for yourself.
In terms of health, the Queen of Wands Gilded Tarot is a positive sign that your energy is about to be pumped up, and you will feel like a god again soon. This is also a sign of fertility, so if you are planning to conceive, you may receive the good news soon. If you are not planning on having a baby, make sure to take a safe birth control method.
In terms of spirituality, you may suddenly become longing for spiritual experiences when the Queen of Wands Gilded Tarot appears. While there is nothing wrong with that, remember not to let yourself get caught up in the idea that you will suddenly find the "sacred" answer to all you are looking for in your life and then give up everything you have so far to join a spiritual/spiritual community in another country. Take your time, read, reflect, talk to many people before making big changes in your life. Your discoveries are greatly appreciated. Remember, making big, sudden, and life-changing decisions without careful consideration can be to your personal detriment.
When in reverse, the Queen of Wands Gilded Tarot indicates that your ability to solve problems will soon be needed with a friend or partner. You are the one who will be consulted soon, so be prepared to jump in. If that does not sound to you at all, the reversed card now represents a woman of early age that will help you overcome problems. If life is difficult, don't be afraid to raise your hand and ask for help!
In general, the reversed Queen of Wands Gilded Tarot can mean that sooner or later you will need to help people who are having problems. The card can also refer to the possibility that an older woman wants to help you deal with the difficult situation you are facing. Her emotional support is still very helpful, however, for some reason, her intentions cannot be fulfilled. If you are facing a difficult situation, call for help.
In terms of work, when the Queen of Wands Gilded Tarot appears in reverse, it is possible that in the short term you will encounter obstacles and delays that can make you feel frustrated. Don't deal with these issues individually, but simply deal with them one by one. The likelihood that there will be an older woman in your workplace (or someone in the hiring department if you are looking for a job) is creating obstacles aimed at you. Don't get discouraged, just demonstrate to her clear reasons why she should do it your way (or hire you). Do this and you may achieve more success than you think.
In terms of love, the reversed Queen of Wands Gilded Tarot says that an older woman may have an indirect connection to your relationship. If that woman is your "mother-in-law," do your best to make her be friendly with you regardless of what you think of her. If you are looking for love, you may meet an interesting person who is likely to marry you through an older woman. Let every woman in your life know your intention to meet someone new, they will help you a lot!
In terms of finances, just like the upright meaning, the reversed Queen of Wands Gilded Tarot can imply a tendency to overspend. There is a reason why people say "money cannot buy happiness". But at the same time, you also don't need to tighten your belt unreasonably and refuse to spend any money or become rude to everyone. Moderate and reasonable spending is key to helping balance your financial situation and enriching your life and that of others.
In terms of health, the reversed Queen of Wands Gilded Tarot generally implies a healthy body and a positive state. If you are not feeling well, consult a female health care professional as she can be the one to give you very important and useful advice. The Queen of Wands is generally connected with fertility. However, if you draw this card in a situation where you are desperately trying to have a baby, it becomes an encouragement that you should not give up. Besides, take your time to seek more help outside like seeing an obstetrician and discussing your problems and efforts. Try to relax mentally to relieve stress.
In terms of spirituality, the reversed Queen of Wands Gilded Tarot tells that a persuasive woman who is older than you tends to be domineering and convincing you that she has all of the answers in the spiritual world. You may need to set limits on your interactions with this person so you don't get drawn into something that benefits her while you are not. She may be angry or hurt by this, but remember that no one has the right to tell you how to live your spiritual life. It is important that you reflect and experience this aspect by yourself.