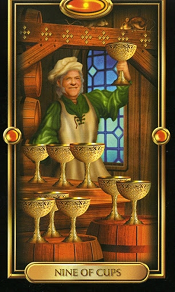 Nine Of Cups – Gilded Tarot Deck
I. Meaning of the Nine of Cups Gilded Tarot
On the Nine of Cups Gilded Tarot, in his comfortable home, an innkeeper toasts to his comfort, well-being, and good fortune. He invests in creating a place that is welcoming to others as well as safe for himself. His luck is shown through the beer crates to be cheerful and optimistic, not necessarily financial or material luck. Card numbered IX in the Major Arcana, The Hermit Gilded Tarot, departs alone to consolidate knowledge and then returns to this world to share it and help others. The man here has also found his own way and therefore has much to share with others, even mice, without fear of danger from the wooden slats overhead.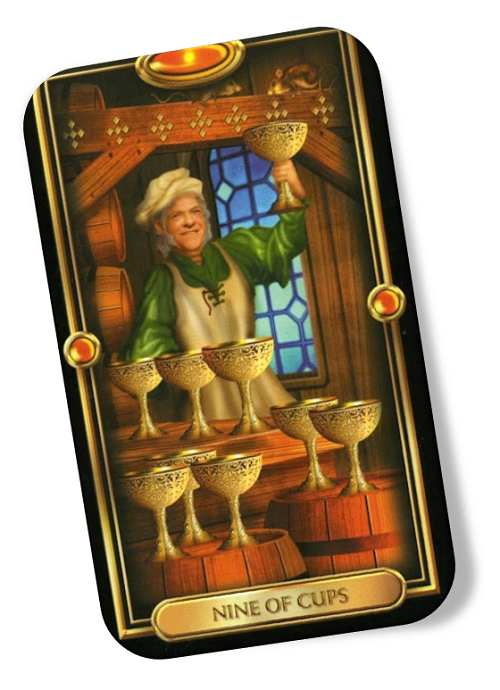 II. Message of the Nine of Cups Gilded Tarot
The message of the Nine of Cups Gilded Tarot is that you have a place full of comfort and comfort. You have many caring affections and preferences to give. You are happy with what you have and are eager to share it with others, realizing that sharing such gifts will only make them more available. Be careful not to overuse The Hermit's energy. Don't enjoy your luck alone or hoard it. Don't indulge in self-satisfaction, but share what you have with generosity.
III. Interpretation of the Nine of Cups Gilded Tarot in a spread
On a personal level, the Nine of Cups Gilded Tarot implies contentment with all that you have. Notice the image of the man raising the cup toasting with a big smile on his face. He has everything he wants and cannot be happier, as if he wants to tell us, "Look at these cups I have! Aren't they great?"
According to many Tarot beliefs, the Nine of Cups Gilded Tarot is known as the Wishing Card. This card shows that your dreams have come true. It is a wonderful prospect indeed, but remember the lessons from the old fairy tales. You need to make sure that you know what you really want, and accept all responsibility regarding your wishes. If that is the case, then enjoy your luck!
The position of the Nine of Cups Gilded Tarot as well as other cards that appear around will determine what the specific message of the card is. If appearing in the past indicative position, it means the period of time you wish to see is about to come true. If you are having troubles in your life right now, your past glories are hollow. The important thing is that you understand why this accomplishment does not mean anything good in the end and that you can learn from it. To improve your current situation, take the wisdom you gained from past experiences and apply it to your current situation.
In the current indicator position, the Nine of Cups Gilded Tarot has a strong meaning. Although the positivity and luck the card refers to is not necessarily a bad thing, it is also necessary to remind yourself to be careful about what you wish for. Opportunities are opening up in front of you, but don't overdo it. Make sure that what you do will pay off in the end, and make sure your decision is based on full consideration of the existing information. The future position is the best place for the Nine of Cups. It means that, no matter what the cards in the past and present positions say, the future will favor you. Stay focused on your goals, and you will see every goal in your hands.
In terms of work, the Nine of Cups Gilded Tarot is a strong sign of advancement. If you are plowing for a raise/promotion, that goal is about to be achieved. If you are looking for work, the Nine of Cups is a sign that your efforts are about to bear fruit. If you are waiting for a job offer, keep an eye on your phone.
In terms of love, the Nine of Cups Gilded Tarot is still a good sign. If you are looking for a special one, this is the best time to go out and date. Your ideal partner is out there, but nothing is gonna happen if you just stay at home. You are the one that decides your own fate, so keep your heart and mind open, and let it run its own search mode. If you are already in a relationship, the Nine of Cups means that it is a healthy one. You and your partner are on the same page when it comes to the future. Make sure the two of you are taking the time to celebrate the union and make the most of these beautiful moments!
In terms of finance, the Nine of Cups Gilded Tarot means that you are achieving stability. If you are worried about money matters, this is a sign that things are about to change in a favorable direction. This is the right time to invest or start your own business if you so desire. Remember, hard work and focus are still important factors at work, so don't expect your wallet to thicken just by waiting and doing nothing!
In terms of health, the Nine of Cups Gilded Tarot brings all positive news. It indicates new joyful energy has emerged, so it is time to start a new habit. If you are waiting to hear from your doctor, chances are they will tell you the good news.
In terms of spirituality, this is an important time to acknowledge and improve the application of positive statements (such as "I feel confident" or "I am sure I can do it"), visualize thoughts into your life and how they can enrich your life in every area. Trust yourself, dream big, then do what it takes to make them come true.
When in the reversed position, the Nine of Cups Gilded Tarot is a warning that your overconfidence is not necessarily good. When you feel like everything is going well, it is easy to put on more work that you are not sure you can accomplish. Be careful not to let yourself hold on to too many things – make sure you can handle what you accept.
The reversed Nine of Cups Gilded Tarot is also a sign that things are going in a good direction. Make sure you really stop for a moment and think about what you really want in life. You may be pleasantly surprised to find out how quickly these things will appear. 
In terms of work, when you draw the reversed Nine of Cups Gilded Tarot, it can be a sign that soon you will notice and feel full satisfaction in the work you do. You will get more loyalty than you think. And if you are looking for a job, this card can mean that you will soon find a suitable job. You will feel drawn to the position. Follow your heart and take your chance.
In terms of love, whether appearing in an upright or reversed position, the Nine of Cups Gilded Tarot is also a very positive sign of your love life. Existing relationships will tend to become deeper, sweeter, and more meaningful in every way. If you are still single, chances are you will meet someone with whom you can form a deep, truly meaningful relationship in the next few weeks. Let's integrate!
In terms of finance, the Nine of Cups Gilded Tarot in reverse implies that instead of focusing on your bank account balance, you should consider your current quality of life. If you are happy, healthy, and have good relationships with your family, friends, and community, then you are indeed very rich. In addition, your money will tend to increase further when you draw this card.
In terms of health, when the reversed Nine of Cups Gilded Tarot appears, you probably feel that your health is in better condition than ever. However, this is the time when you can take deeper, more concrete actions and steps to not only maintain but significantly improve your health. If you are facing a health concern, then this reversed card is a sign to dig deeper, consider more than just the basic symptoms of your illness, and evaluate any mental effects that may help support your health. 
In terms of spirituality, the reversed Nine of Cups Gilded Tarot is a signal to engage more deeply. Look beyond appearances and seem like coincidences. What is the soul/universe/God trying to tell you? Make sure you go deeper or start your spiritual practice in whatever form you want. Life is much more complicated than it seems.