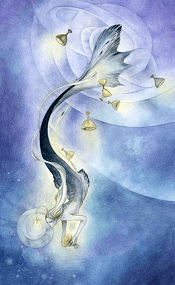 Eight Of Cups – Shadowscapes Tarot Deck
I. The meaning of the Eight of Cups Shadowscapes Tarot
The Seeker of the Ocean dived deeper and deeper to explore the depths of the black pearl pillar light. Cutting through each stream of water, the Seeker of Truth, gracefully slipped his fragile body along the flow of water and the wave and turned his back to the world's dazzling light. Like weak currents of light in the deep sea, There are some things that our eyes can only see when people are expanded in the dark, another world that is alien to reality and what we experience daily to the point of being bored. Let's dive deeper, Seeker of the Ocean!
The Eight of Cups Shadowscapes signals you to follow and dig deep into your self-discovery and inner questions. Let's turn your back and remove all the lingering remnants of the physical world, puncture the dry air with urges inside. Let's come here, try immersing your whole body into the soft embrace and affection of the ocean and in the ripples and floating your body with the current. The gentle water stimulates the senses and soothes them, all becoming more transformative and softer.
The Eight of Cups Shadowscapes Tarot dimly shined with the sun's rays overhead. They are confused and obscure when descending deep into the ocean. The remaining glimmer of light urges you to walk to grab them. It is time to give up and let the exhaustion and carelessness gradually disappear from within you, let them disappear by getting caught up in those waves.
Keywords related to the Eight of Cups Shadowscapes Tarot: Explode, withdraw, despair, escape, enlightenment, independence, relocation, farewell, change.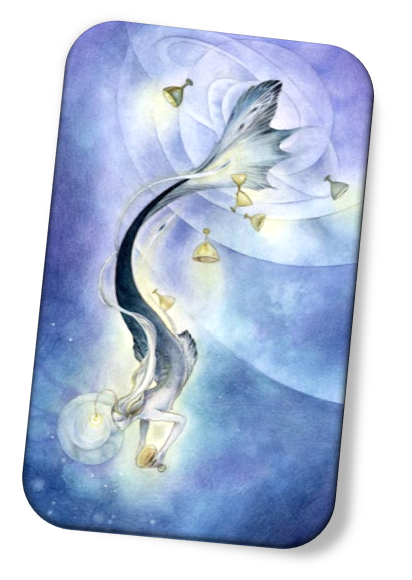 II. The Eight of Cups Shadowscapes Tarot in a spread
The Eight of Cups Shadowscapes Tarot means departure. This card predicts that you will have to let go of everything now and start over. You have to leave a relationship, a familiar way of life to start a new journey. It often carries more negative connotations. 
At this stage, you are forced to withdraw from a project, put an end to love or friendship. Also at this point, you are constantly stressed and tired. Only when you get rid of the things that are hindering you can you move forward. The good news is that you are aware of the current situation and endeavor to live your dream life.
The Eight of Cups Shadowscapes Tarot also points out that you are so disappointed that you can give up everything you have built up until now, possibly related to love or matter. It may also indicate that you have exceeded your limit and become emotionally exhausted. You may have tried your best, but right now, you have no energy to go forward, the only option is to give up. You feel frustrated with yourself but this is the right thing to do before you are completely exhausted. You may also feel that you are giving too much but not compensated.
In terms of love, Eight of Cups Shadowscapes Tarot predicts that this is a depressing phase of the relationship. Your trust for each other is showing signs of wobbling and betraying. This card tells you to stay alert. If you feel like you and your significant other still have feelings for each other, be courageous to talk frankly. Only the two of you will yield and sympathize with each other will the cold war end.
In terms of work, you start to harvest the first sweet fruits after your hard work but you don't seem satisfied with it. You may feel bored, or realize that your efforts are not appreciated. You need to think carefully about what is the best and most suitable for you; try to resolve the current situation; if it does not work out, then you should leave.
This Eight of Cups Shadowscapes Tarot card advises that if you do not feel confident in the way you are going, then start to find a different direction, do not hang around with things that are not beneficial to you. Giving up on old results will give you bigger rewards.
Eight of Cups Shadowscapes Tarot announces that the financial situation is in a stable phase. You can completely invest in a new field, opportunities always appear ahead. On the other hand, the card suggests that you should invest money in new projects, maybe you will get great rewards. In addition, you can raise money for social projects that both generate profits and can help those in more difficult circumstances.
Fortunately, Eight of Cups Shadowscapes Tarot does not carry any detrimental signs of current health. If there are just regular stressors brought about by your work, don't worry. In addition, insecurity and distrust make you feel restless, the suggestion of this card is to take meditation or yoga classes to regain balance. Make sure you are paying full attention to your diet, exercise, and get enough sleep. Keep a positive and optimistic attitude.
The Eight of Cups Shadowscapes Tarot card represents the time of conversion. This is a tiring period after a long journey, where you will contemplate new life philosophies. You are not satisfied with your current life and want to try new things. You are confused between many different choices. You realize that you have to leave familiar things to improve yourself.
It is time to ask yourself what you can do to bring satisfaction and joy to your life, apart from things related to money and material. You are looking for the true meaning of life and focus on finding out who you are. You want to get rid of the chaos of life and pursue a higher spiritual goal. You are ready to give away the material wealth in exchange for something more meaningful. Thus, Eight of Cups Shadowscapes Tarot often reflects the beginning of a journey of discovery, especially the spiritual aspect.