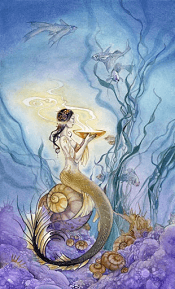 Page Of Cups – Shadowscapes Tarot Deck
I. The meaning of the Page of Cups Shadowscapes Tarot
She sank deep, through the waves, searched for a quiet place, and let her privacy contemplate her thoughts. She carried with her a cup filled with the scents of the sun taken from the afterlife of the water surface. It also contained tiny lightning bolts, drifted down to the edge of the ocean, emanated from pieces of gold coins and scattered lightning bolts of sunlight, patched in containers held in her hands. She lifted the cup just below her face, felt nostalgic for the warm kiss of the sun above the water. The temperature swirled through the water with calm and transparent tidal currents. Aura suddenly flashed through her thoughts and imagination. She felt her mind begin to drift, her vision now filled with dreams of wonderful things.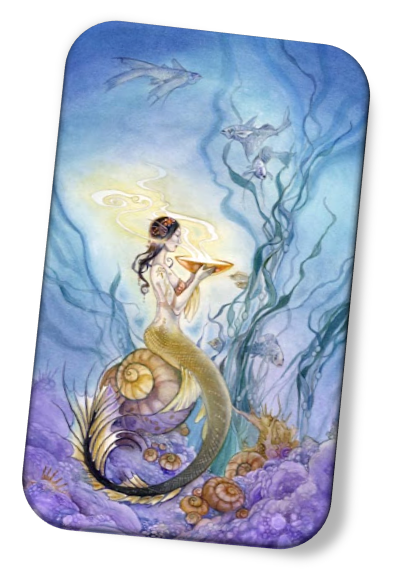 Page of Cups Shadowscapes Tarot is a card of sentiment. She was truly a romantic person, in a world crowded with so much noise and hustle, she always wished to have space and time to breathe and really satisfied with this leisurely moment. She always listened to voices from deep within, a voice with understanding and awareness, she was always daydreaming about unimaginable things.
Keywords related to the Page of Cups Shadowscapes Tarot: sensitivity, social invitation, love, warmth, attraction, comfort, kindness, gentle emotions, creative imagination, intuition, imagination, inspiration, introvert, spiritual ability, friendliness, the depth, fresh,  artistic ability, good idea, teaching, training, education, children, homosexuals.
II. The Page of Cups Shadowscapes Tarot in a spread
When the Page of Cups Shadowscapes Tarot appears, it is a sign that allows the childish aspect of you to show up. Like most of the cards in the Cups set, this is a positive sign and implies emotional encouragement. The card may also show that someone who looks smaller than you gives you a certain message.
In general, this card expresses a need to play, dream and have a little fun. When this card appears, it sometimes means that you are living too seriously. Margot Fonteyn once said, "The one important thing I have learned over the years is the difference between taking one's work seriously and taking one's self seriously. The first is imperative and the second is disastrous". Remember that difference.
This card may indicate a child or young adult who has an innocent soul that correlates with your needs for emotion, state, love, intimacy or spirit. Sometimes, the Page of Cups Shadowscapes Tarot implies that your heart is completely filled with love and emotion. At these times, you should feel free to express and enjoy your feelings without thinking of anything else. It also points out the surprise and inspiration that comes to us from the world of unconsciousness and spirituality. Inspiration is considered to be something that comes to us in the most unexpected and difficult way to understand.
Page of Cups Shadowscapes Tarot represents sensitivity, at this stage, you are overly daydreaming and sensitive to problems that were once considered normal. This is a neutral card and depends on the situation. What is certain is that you may be irritable with someone or you feel that someone is against you.
The meaning of Page of Cups represents daydreaming, you always keep your mind on the clouds. This daydream is not only in love but also in work and other relationships. This is good for cultivating optimism and the love for life.
However, sometimes, this takes time and frustrates you when reality doesn't work out the way you expect it to. Rather than all of the time, you behave quite childishly and become too sensitive and negative when troubles occur.
In a relationship, you are thoughtful and considerate. You always want to build a long term relationship. However, you have difficulty expressing your feelings. If you are going to confess your love, then you have to be courageous.
Besides, Page of Cups Shadowscapes Tarot says you are too interested in your work to neglect your current relationship. You can achieve integrity if you can balance work and life. This card warns of a relationship based on possible mutual use, so be careful.
Your job is going to be stable and your career may be on top of your success. However, the progress of the work is going too fast leading to mistakes that can occur. You only care about profits selfishly and forget about business ethics. Page of Cups Shadowscapes Tarot warns that you will feel lonely and lost if you prioritize your work first. Therefore, you should slow down, work moderately, and not bear many things at the same time.
A tight schedule can lead to some health problems. However, they are not too serious and do not affect you much. Page of Cups Shadowscapes Tarot recommends that you should continue to maintain a healthy eating habit.
Let's relax with your earnings and take the time to plan for spending. On the other hand, it is advisable to keep the cash flow flexible. You should pay attention to financial incentives for employees if you are playing the role of a superior.
The advice is to be open to new ideas. As you stick to new ideas and accept your openness, many secret doors will be opened. Page of Cups Shadowscapes Tarot calls you to promote creativity into your strengths. When facing difficulties, minimize sensitivity and apprehension. It also stands for perseverance, if you persevere in pursuing what you really want with the attitude of learning, you will succeed.
This card encourages you to have a new perspective on the difficult problems and approach them with a positive outlook of the doubt, love, and compassion. The Page Cup says that you should never stop listening to your intuition as well as stop believing in your dreams. If you stop dreaming, your dream will never come true as it no longer exists. In the darkest moments of life, dreams often bring a ray of hope. So, dare to dream.